If there's a recipe that usually pleases everyone, it's this one, which brings together the best of land and sea in a single irresistible and delicious dish. If you're a fan of carne de porco à Alentejana and you're looking for a recipe to prepare at home, look no further, because we've got what you need. Follow the instructions and let us know if you like the results at the end.
In addition to being a very tasty recipe, it is also very easy to make, only a few ingredients are needed to achieve results that will make you want to eat and cry for more. Therefore, this is one of those dishes that will be a hit at home, being a perfect recipe both for a family dinner in the middle of the week, or when you have guests at your house.
The pork
Part of the success of this recipe comes from the marinade that we are going to use on the carne de porco à Alentejana. Therefore, you should leave the pig in a marinade that includes white wine, crushed garlic, pepper, bay leaf, salt and red pepper paste, for at least 4 hours. However, for even tastier results, we recommend leaving the meat to marinate overnight.
Of course, you can always add other ingredients to your marinade to make it even more to your liking. You can, for example, add ingredients such as lemon juice, powdered or chopped garlic, beer or spices such as cumin.
The clams
You need to wash the clams very well to make your carne de porco à Alentejana. Whether the clams are fresh or frozen, you need to soak them in water for at least two hours. After this time, remove the water. If you see that they are still not clean enough, repeat the process (for example, if you think more sand is going to come out). Your clams should not open, so be careful. If one opens, give it a tap. If they close again, they can be consumed. If not, discard it.
To make your carne de porco à Alentejana, you will cook your clams in the pork marinade, after it has been fried. Your clams will be ready when they open, which should take between 5 to 10 minutes. If, at the end of that time, some clams are not open, discard them, because they could be spoiled. Finally, you just have to cover the pork with the clams and the marinade.
The use of coriander
Coriander gives a classic touch to this recipe, not least because it is a very popular aromatic herb in Alentejo cuisine. However, some people don't like its taste. If that's your case, you can always replace the coriander with another herb of your choice, such as parsley. Always try to use chopped fresh herbs to bring more color and flavor to the carne de porco à Alentejana.
Side dish
In some versions of this dish, fried potato slices are added to the meat, thus creating a complete meal at once. However, this is not mandatory, and this recipe can be served with other types of accompaniments. For example, some good options are the quick vegetable rice, the pasta with tomato sauce, the cucumber, tomato and onion salad, and the quick potato salad. All these options are quite easy to recreate at home and combine very well with the flavors of the Alentejo pork and clams recipe.
Gather the ingredients you need and make this carne de porco à Alentejana recipe at home today. We are sure that you will love the result and want to repeat the experience more often. Enjoy!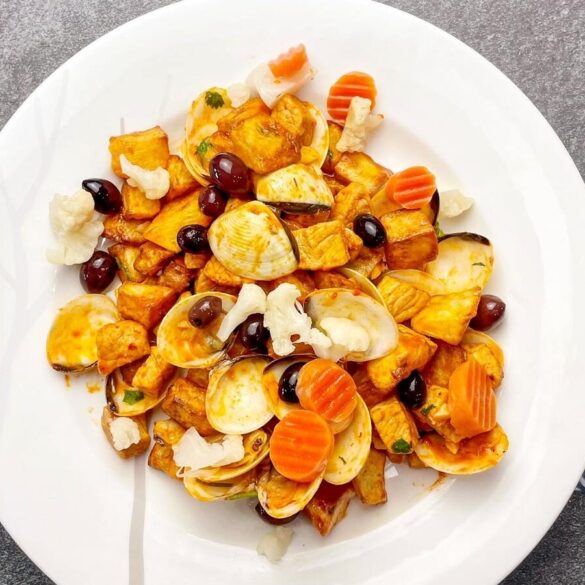 Ingredients
1.75 pounds of pork meat
1.75 pounds of clams
1 cup of white wine
3 cloves of garlic
2 tablespoons of chili paste
2 tablespoons of olive oil
2 bay leaves
1 bunch of coriander
Salt and pepper
Instructions
Cut the meat into cubes. Leave in a marinade made from a mixture of bell pepper, salt, pepper, bay leaf, crushed garlic and white wine, for at least 4 hours.
Place the clams in salted water for at least two hours. Then wash them and set aside.
Put the oil in a frying pan and fry the meat in it until it is well browned on all sides.
Add the marinade liquid and cook for another 2 or 3 minutes before adding the clams.
Stir and, as soon as the clams open, add the chopped coriander. Turn off the fire and serve.
Notes
You can leave the pork to marinate overnight.
The clams must be soaked in water for at least two hours to remove sand and impurities.
If you don't like the taste of coriander, you can replace it with parsley.