As a Portuguese woman living in the US, I often find myself craving the flavors of home. There's nothing quite like the taste of fresh seafood, cooked to perfection with a blend of herbs and spices that transport me back to my mother's kitchen.
Growing up, I was lucky enough to have a mother and grandmother who were both incredible cooks. They would spend hours in the kitchen, whipping up delicious meals that were always bursting with flavor. One of my favorite dishes was their seafood stew – a hearty and satisfying meal that was perfect for any occasion.
Now that I'm living in the US, I've made it my mission to recreate those beloved recipes from my childhood. And let me tell you, it hasn't been easy! There have been plenty of failed attempts and kitchen disasters along the way. But through trial and error, I've finally managed to perfect my own version of Portuguese seafood stew.
This recipe is packed with fresh mussels, shrimp, and monkfish, all simmered together in a rich and flavorful broth. It's the perfect dish to warm you up on a chilly night or to impress your dinner guests with your culinary skills.
But before we dive into the recipe, let me share a little secret with you. The key to making a truly delicious seafood stew is to use the freshest ingredients possible. That means finding a local fishmonger or seafood market that sells high-quality, sustainably sourced seafood.
And don't be afraid to experiment with different types of seafood! Clams, scallops, or squid would all make delicious additions to this stew. The more variety, the better!
So without further ado, let's get cooking! Trust me, once you taste this Portuguese seafood stew, you'll be hooked. It's the perfect blend of comfort and sophistication – just like my mother and grandmother used to make.
I hope you enjoy this recipe as much as I do. And who knows? Maybe it will inspire you to start recreating your own family recipes. Happy cooking! 😊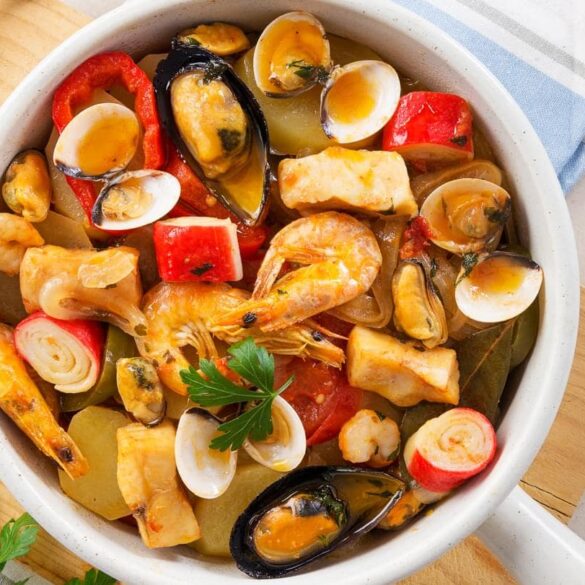 Ingredients
10.6 oz of mussels
8 large shrimp
5 monkfish fillets
1.1 lb of potatoes
7 oz of canned diced tomatoes
8 cherry tomatoes
1 yellow pepper
1 onion
3 cloves of garlic
2 cups of water
3/4 cup of olive oil
1/2 cup of white wine
3 tablespoons of coriander
1 teaspoon of paprika
1 bay leaf
Bird's eye chili to taste
Salt and pepper to taste
Instructions
Start by seasoning the seafood and fish with salt and setting it aside.
Next, prep your veggies: peel the onion and cut into slices; peel the garlic and chop it; peel the potatoes and cut them into slices; clean the pepper and cut into strips.
In a wide pot, layer the onion, garlic, diced tomatoes, pepper, bay leaf, and potato.
Pour in the wine, paprika, bird's eye chili, olive oil, and water. Season with salt and pepper.
Add the seafood, fish, and cherry tomatoes on top. Cover the pot and bring it to heat.
Let it boil without stirring for a bit. Then let it cook for about 10 minutes over low heat.
Check on the seafood to make sure it's cooked through. Cover again and let it cook until the potatoes are tender.
Remove from heat and serve hot, sprinkled with chopped coriander.
Notes
One way to enhance the flavor of this seafood stew is to use fresh herbs instead of dried ones. Fresh coriander and bay leaves will add a brighter and more vibrant taste to the dish.
Another way to improve this recipe is to use homemade fish or seafood stock instead of water. This will add depth and richness to the stew.
When buying the ingredients for this recipe, try to find a local fishmonger or seafood market that sells fresh and sustainably sourced seafood. This will ensure that you are getting high-quality ingredients that are good for both you and the environment.
When choosing the mussels for this recipe, look for ones that are tightly closed and have a fresh ocean smell. Avoid any mussels that are open or have a strong, unpleasant odor.
Similarly, when choosing the shrimp, look for ones that are firm and have a translucent appearance. Avoid any shrimp that are slimy or have black spots on their shells.
If you can't find monkfish at your local market, you can substitute it with another firm white fish such as halibut or cod.
Finally, don't be afraid to experiment with different types of seafood in this stew. Clams, scallops, or squid would all make delicious additions to this dish.