Hello, friends! Today I'm super excited to share with you one of my favorite dishes from Portugal: bread soup! Yes, you heard me right. Bread soup. And it's amazing.
Bread soup, or açorda alentejana in Portuguese, is a traditional dish that originated in the Alentejo region of Portugal. It's a simple and rustic dish that consists of bread soaked in a flavorful broth with garlic, cilantro, and olive oil. Then it's topped with a poached egg for some extra protein and creaminess.
Sounds pretty basic, right? But trust me, it's anything but boring. This bread soup is so cozy and comforting, perfect for a chilly night or a lazy weekend. It's also a great way to use up leftover bread and fresh herbs that you have lying around.
The best part is that you can customize this bread soup with whatever toppings and variations you like. You can add some cheese, bacon, ham, or veggies for some extra flavor and texture. You can also add some fish or shrimp to the broth for some extra protein and seafood goodness. The possibilities are endless!
I learned how to make this bread soup from my Portuguese friend who lives in Lisbon. She invited me over for dinner one night and served me this amazing dish that blew my mind. I was so impressed by how simple and delicious it was. She taught me her family recipe and gave me some tips on how to make it at home.
Since then, I've been making this bread soup regularly and experimenting with different ingredients and combinations. It's one of those dishes that never gets old and always hits the spot. I love how easy and quick it is to make, and how satisfying and nourishing it is to eat.
If you've never tried bread soup before, you're in for a treat. I'm going to show you how to make it step by step with easy and authentic ingredients. You'll be surprised by how good it tastes and how good it makes you feel.
Are you ready to make some bread soup? Let's get started!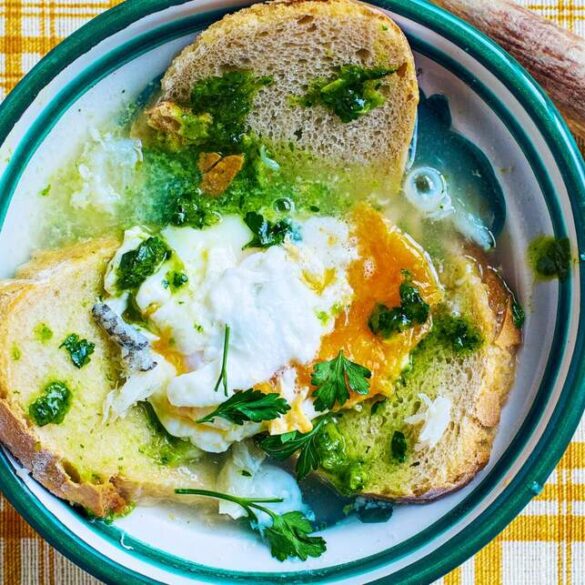 Ingredients
4 slices of crusty bread (I used Alentejo bread which is a Portuguese specialty, but any rustic bread will do. Bonus points if it's a little stale!)
2 tablespoons of olive oil
2 garlic cloves, minced
1/2 cup of fresh cilantro, chopped
1 teaspoon of salt
2 cups of hot water
4 eggs
Instructions
First, make the cilantro-garlic paste. In a small food processor or mortar and pestle, pulse or mash the cilantro, garlic and salt until you have a fragrant green paste. Set aside.
Next, heat the olive oil in a large skillet over medium-high heat. Add the cilantro-garlic paste and cook for about 5 minutes, stirring occasionally, until it smells amazing and the garlic is golden.
Then, tear the bread into bite-sized pieces and add them to the skillet. Toss them well with the oil and cilantro-garlic mixture until they are coated and slightly toasted.
Slowly pour in the hot water, stirring gently, until the bread absorbs most of the liquid and becomes soft and mushy. You may need more or less water depending on how dry your bread is. You want the consistency to be like a thick porridge, not too runny or too dry.
Finally, poach the eggs. Bring a pot of water to a boil and add a splash of vinegar. Crack an egg into a small bowl and gently slide it into the boiling water. Repeat with the remaining eggs. Cook for about 3 minutes or until the whites are set and the yolks are still runny. Use a slotted spoon to transfer the eggs to a paper towel-lined plate.
To serve, divide the bread soup among four bowls and top each one with a poached egg. Sprinkle some more cilantro on top if you like. Grab a spoon and dig in!
Notes
One way to improve this recipe is to use homemade chicken or vegetable broth instead of plain water. This will add more flavor and richness to the bread soup and make it more satisfying. You can also season the broth with some bay leaves, peppercorns, and lemon zest for extra aroma and freshness.
Toast the bread in the oven before adding it to the skillet. This will give the bread more crunch and texture and prevent it from becoming too soggy. You can also rub the bread slices with a cut garlic clove for some extra garlic flavor.
Add some cheese to the bread soup. Cheese will make the soup more creamy and cheesy and add some protein and calcium. You can use any cheese you like, such as parmesan, mozzarella, feta, or goat cheese. You can either sprinkle the cheese on top of the soup or stir it into the skillet until melted.
Add some greens to the bread soup. Greens will add some color, vitamins, and fiber to the soup and make it more balanced and nutritious. You can use any greens you like, such as spinach, kale, arugula, or parsley. You can either wilt the greens in the skillet with the bread or add them raw on top of the soup.
Use a different type of egg for the topping. Instead of poaching the eggs, you can try frying them, scrambling them, or making an omelet. You can also season the eggs with some salt, pepper, paprika, or herbs for more flavor. You can either place the eggs on top of the soup or serve them on the side.