Hi friends! I'm so excited to share this recipe with you today. It's one of those recipes that makes me feel warm and cozy inside, and that I crave on cold and rainy days. It's a Portuguese lamb stew with red wine and veggies, and it's absolutely delicious.
If you've never had Portuguese lamb stew before, you're in for a treat. It's a hearty and flavorful dish that's made with tender pieces of lamb that are marinated in a mixture of garlic, herbs, salt, and pepper, then simmered in a rich sauce of red wine and beef broth with carrots and potatoes. It's simple to make in one pot, and it fills your kitchen with the most amazing aroma.
I first learned how to make this stew from my friend Ana, who is from Portugal and who is an amazing cook. She taught me some of her family secrets for making the best lamb stew ever, and I'm so grateful to her for sharing them with me. I've tweaked her recipe a bit to suit my taste and preferences, but the essence is still the same.
This stew is perfect for serving with crusty bread or rice, to soak up all the yummy sauce. You can also sprinkle some chopped parsley on top for some freshness and color. It's a great meal to make for your family or friends, or to enjoy by yourself with a glass of wine and a good book. It also makes great leftovers that you can reheat on the stove or in the microwave.
Some of the things I love about this stew are:
The lamb: Lamb is one of my favorite meats, and it works so well in this stew. It's tender, juicy, and flavorful, and it absorbs all the goodness from the marinade and the sauce. You can use any cut of lamb that you like, but I recommend using boneless leg or shoulder, as they have more flavor and become very tender after simmering.
The red wine: Red wine adds a lot of depth and richness to the sauce, and it complements the lamb beautifully. You can use any dry red wine that you like, such as Cabernet Sauvignon, Merlot, or Pinot Noir. Just make sure it's a wine that you would drink, as the quality will affect the taste of the stew.
The veggies: Carrots and potatoes are classic additions to any stew, and they add some texture and sweetness to the dish. You can also use other veggies instead of or in addition to them, such as parsnips, turnips, celery, mushrooms, or peas. Just cut them into similar-sized pieces and add them to the pot when the lamb is almost done.
The herbs: Garlic, bay leaves, and thyme are essential for giving this stew its wonderful flavor and aroma. You can use fresh or dried herbs, but I prefer fresh ones for more freshness and intensity. You can also use other herbs that you like or have on hand, such as rosemary, oregano, or parsley.
I hope you give this Portuguese lamb stew a try soon. It's one of those recipes that makes me happy and satisfied every time I make it. It's cozy, comforting, and delicious – just what you need on a cold day.
Let me know how it goes in the comments below! 😋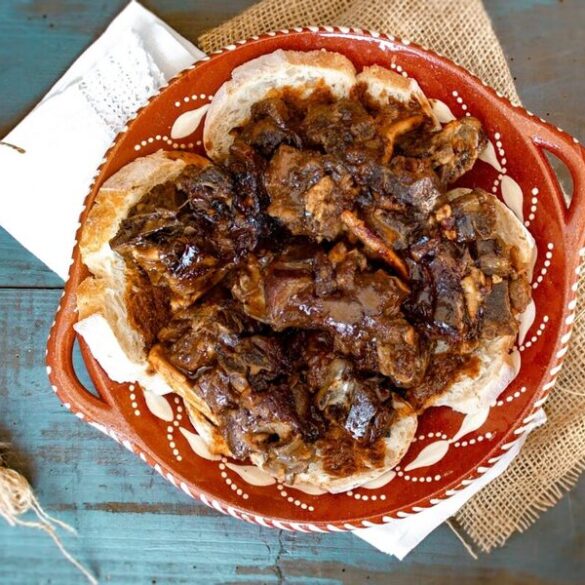 Ingredients
2.2 lb of lamb cut into pieces
2 onions chopped
4 cloves of garlic chopped
2 bay leaves
1 sprig of thyme
Salt and pepper to taste
2 tablespoons of olive oil
2 tablespoons of flour
2 cups of red wine
2 cups of beef broth
4 carrots sliced
1.1 lb of potatoes peeled and diced
Parsley chopped for sprinkling
Instructions
Marinate the lamb: In a large bowl, toss the lamb with salt, pepper, garlic, bay, and thyme. Cover and refrigerate for a few hours or overnight.
Brown the lamb: In a large pot over high heat, heat the olive oil and brown the lamb pieces on all sides, working in batches if needed. Transfer to a plate and set aside.
Make the sauce: In the same pot over medium heat, cook the onion until soft, stirring occasionally. Sprinkle the flour and cook for another minute, stirring well. Add the wine and broth and bring to a boil, scraping up any browned bits from the bottom of the pot.
Simmer the stew: Return the lamb and any juices to the pot, along with the marinade. Lower the heat and cover with a lid. Simmer for about an hour and a half, or until the lamb is fork-tender.
Add the veggies: Stir in the carrots and potatoes and cook for another half hour, or until they are soft. If the stew is too thick, add more broth or water as needed. If it's too thin, simmer uncovered until reduced to your liking.
Serve: Discard the bay and thyme and transfer the stew to a serving platter or individual bowls. Sprinkle with parsley and enjoy!
Notes
One way to improve this recipe is to use fresh herbs instead of dried ones. Fresh herbs will give more flavor and aroma to the stew, and you can also use them as a garnish. You can use parsley, thyme, rosemary, or oregano, or a combination of them. Just chop them finely and add them to the marinade and the sauce.
Another way to improve this recipe is to sear the lamb pieces in batches, without crowding the pot. This will ensure that they brown evenly and develop a nice crust, which will add more depth and texture to the stew. You can also deglaze the pot with some of the wine after searing the lamb, to scrape up any browned bits that are stuck to the bottom.
Use a good quality red wine and beef broth. The wine and broth are the main components of the sauce, so they will affect the taste and color of the stew. You can use any dry red wine that you like, such as Cabernet Sauvignon, Merlot, or Pinot Noir. For the broth, you can use homemade or store-bought, but make sure it's low-sodium or unsalted, so you can control the seasoning.
Cut the potatoes and carrots into similar-sized pieces. This will ensure that they cook evenly and don't fall apart in the stew. You can also parboil them before adding them to the pot, to speed up the cooking time and prevent them from absorbing too much liquid.
Adjust the seasoning and thickness of the sauce according to your preference. You can taste the sauce halfway through cooking and add more salt, pepper, garlic, or herbs if needed. You can also add more broth or water if the sauce is too thick, or simmer it uncovered if it's too thin. You want the sauce to be rich and glossy, but not too runny or too thick.