As a food blogger, I've had my fair share of delicious meals and unforgettable culinary experiences. But there's one dish that stands out in my mind as a true game-changer: Peinirli.
I first tried Peinirli while visiting the home of my Greek friend. Her grandmother, a sweet and feisty woman with a contagious laugh, had prepared a batch of these boat-shaped pizzas for us to enjoy. As soon as I took my first bite, I was hooked. The crispy crust, melted cheese and savory toppings were a match made in heaven.
After practically inhaling my first Peinirli, I begged my friend's grandmother to teach me how to make them. She happily obliged and showed me the ropes in her cozy kitchen. We laughed and chatted as we kneaded the dough and prepared the filling. It was one of those moments that I'll never forget.
Now, whenever I make Peinirli at home, I think back to that day in my friend's grandmother's kitchen. The smell of the baking dough and melting cheese brings back memories of laughter and warmth.
In this blog post, I'm excited to share with you my recipe for Peinirli. These Greek pizza boats are perfect for sharing with friends or as a fun family dinner idea. And trust me, once you try them, you'll be hooked too!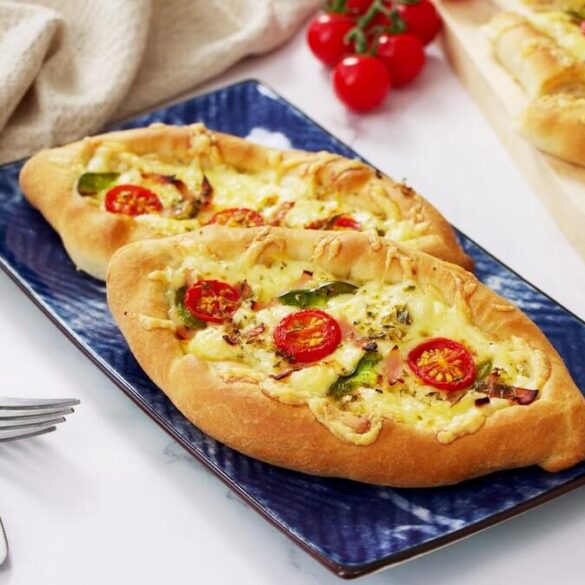 Ingredients
For the dough:
1 1/2 cups water, room temperature
1 tsp dry yeast
1 pinch granulated sugar
4 cups hard flour
3/4 cup whole wheat flour
2 tsp salt
1 tsp olive oil
For the Peinirli:
3.5 oz butter
7 oz grated graviera cheese
3.5 oz cream cheese
pepper
5 slices bacon, cut into small pieces
3.5 oz melted butter, for brushing
fresh oregano (optional)
Instructions
For the dough:
Start by activating the yeast. In the bowl of a mixer, add the water, yeast and sugar and mix with a hand whisk.
Add the flour and salt and beat with a hook attachment on low speed for 5-8 minutes until the dough comes away from the sides of the bowl.
Transfer to another bowl that has been greased with olive oil.
Cover with plastic wrap or a towel and set aside for 1 to 1½ hours until the dough has doubled in size.
When ready, sprinkle your work surface with flour or semolina and place your dough on top. Divide the dough into 5 pieces and shape each piece into a ball. Roll out each ball slightly with a rolling pin to form small oval sheets.
Preheat your oven to 390-410°F using the fan setting.
For the Peinirli:
Spread butter (about 2 tsp) on top of each oval sheet of dough.
In a bowl, mix together the graviera cheese, cream cheese and pepper until combined. At this point you can add any herbs you like.
Divide the cheese mixture and bacon among each sheet of dough and spread it out evenly.
Shape into boats by lifting up the sides of each sheet of dough and folding them towards the center.
Place on two baking trays lined with parchment paper and sprinkle with a little flour.
Place your Peinirli on the trays (2 Peinirli on one tray and 3 Peinirli on the other).
Bake in the oven for 15-20 minutes (halfway through baking time switch their positions).
Serve by brushing melted butter on the sides of each Peinirli and adding fresh oregano if desired.
Notes
You can use another type of cheese in this recipe. Graviera is a Greek cheese made from sheep's milk and has a slightly sweet and nutty flavor. If you can't find graviera cheese, you can substitute it with another hard, yellow cheese such as Gruyère or cheddar. You can also experiment with different types of cheese to find the combination that you like best.
The recipe uses cheese, bacon and pepper as the filling, but you can get creative and add other ingredients such as cooked vegetables, ham, sausage or even different types of cheese. Just make sure not to overfill the Peinirli as it may cause the dough to tear while baking.