As a food blogger, I've had the pleasure of trying all sorts of delicious dishes from around the world. But sometimes, the most memorable meals are the ones shared with friends and family. That's how I first discovered Passatelli in Brodo – at my friend's house, prepared by her Italian grandmother.
I still remember walking into the kitchen and being greeted by the warm, comforting aroma of simmering broth. And then there was Nonna, standing at the stove with a twinkle in her eye and a wooden spoon in her hand. "Sit, sit," she said, gesturing to the table. "I make you something special."
And special it was. Passatelli in Brodo is a simple dish – just small dumplings made from breadcrumbs, eggs, and Parmigiano Reggiano cooked in a rich meat broth. But as with many traditional Italian recipes, it's the quality of the ingredients and the love that goes into the preparation that makes all the difference.
As we sat around the table, slurping up spoonfuls of hot soup and listening to Nonna's stories about growing up in Italy, I knew that this was a meal I would never forget. And now, every time I make Passatelli in Brodo at home, I'm transported back to that cozy kitchen and the warmth of Nonna's smile.
But enough about me – let's talk about the soup! Passatelli in Brodo is a classic dish from the Emilia-Romagna region of Italy. It's traditionally served during the colder months as a way to warm up and nourish the body. And while it may seem simple, there's something truly magical about the combination of tender passatelli dumplings and rich, savory broth.
Making Passatelli in Brodo at home is easier than you might think. All you need are a few basic ingredients and a little bit of patience (Nonna always said that good things come to those who wait). And while you can certainly use store-bought broth and pre-grated cheese, I highly recommend taking the time to make your own broth and grate your own Parmigiano Reggiano. Trust me – it makes all the difference.
So if you're looking for a comforting and delicious meal to share with your loved ones (or just to enjoy on your own), give Passatelli in Brodo a try. Who knows – it might just become one of your new favorite dishes.
And if you're lucky enough to have an Italian grandmother (or friend's grandmother) to show you the ropes, even better! Just don't forget to thank her with a big hug and an even bigger bowl of soup.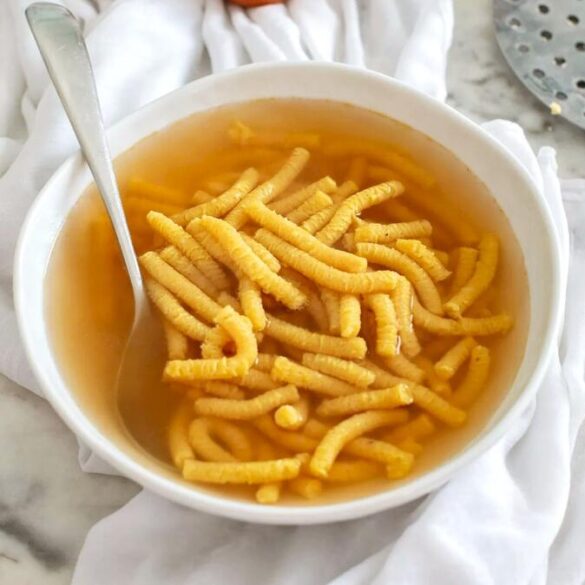 Ingredients
6 oz of eggs (about 3)
5 oz of breadcrumbs
3.5 oz of grated Parmigiano Reggiano DOP
½ lemon zest
Nutmeg to taste
Fine salt to taste
4.2 cups of meat broth
0.35 oz of all-purpose flour (optional)
Instructions
Start by preparing a good meat broth. Let it simmer while you work on the passatelli dough.
Grate the lemon zest, being careful not to also take the white part which is more bitter.
Beat the eggs for a few moments in a bowl with a pinch of salt.
In a larger bowl mix breadcrumbs and grated Parmigiano Reggiano DOP.
Also pour in the flour, flavor with lemon zest and grated nutmeg.
Add the eggs and mix the ingredients using a spatula at first, then continue by hand. You will have to work for a long time to obtain a consistent and elastic dough.
You can work it immediately or let it rest for at least 15-30 minutes, up to two hours wrapped in plastic wrap.
Insert a piece of dough at a time into a potato masher with holes at least 0.2 inches wide and press it directly into the boiling broth (it must not boil vehemently).
Cook the passatelli for about 3 minutes or until they rise to the surface of the broth.
Serve hot and enjoy!
Notes
You can use chicken broth instead of meat broth in this recipe. Chicken broth will give the dish a slightly different flavor, but it should still be delicious.
You can substitute some of the ingredients in this recipe. For example, you can use a different type of broth or cheese. However, keep in mind that substitutions may affect the final taste and texture of the dish.
Parmigiano Reggiano DOP is a hard, aged cheese with a nutty and slightly salty flavor. If you want to substitute it in this recipe, you can use another type of hard, aged cheese with a similar flavor profile.
Some options include Grana Padano, Pecorino Romano or Asiago. Keep in mind that each cheese has its own unique flavor and texture, so the final dish may taste slightly different depending on the cheese you choose.