Hello, my fellow foodies! Today, I want to share with you one of my all-time favorite Greek snacks: tirokroketes. If you haven't heard of them before, let me tell you, you are in for a treat. These little cheese croquettes are crispy on the outside, gooey on the inside, and packed with flavor. In other words, they are little bites of heaven.
I first tried tirokroketes at my friend's wedding. She's Greek and her family had flown in from all over the world to celebrate. The food was amazing (as you can imagine), but the one thing that really stood out to me were these little cheese croquettes. I must have eaten at least a dozen of them (don't judge me, they were that good).
After the wedding, I couldn't stop thinking about those tirokroketes. I knew I had to learn how to make them myself. So, I called up my friend and begged her for the recipe. She was kind enough to share it with me and even gave me some tips on how to make them perfectly.
Since then, I've made tirokroketes countless times and they always turn out amazing. They're the perfect snack for any occasion and always a hit with my friends and family.
In this blog post, I'm going to share with you the recipe for tirokroketes and show you step-by-step how to make them. Trust me, once you try them, you'll be hooked. So, let's get started!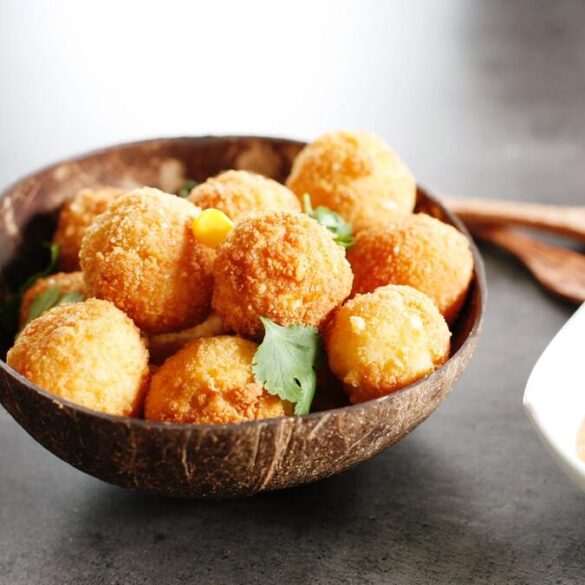 Ingredients
1 pound of grated cheese (graviera or any cheese you prefer)
2.3 ounces of flour
1 egg
1.8 ounces of breadcrumbs
Vegetable oil for frying
Instructions
In a bowl, mix together the grated cheese, flour, and egg until well combined.
Take 2 tablespoons of the mixture and shape into balls the size of a walnut.
In a separate bowl, mix together the breadcrumbs. Roll each ball in the breadcrumbs until well coated.
Place the cheese croquettes in the refrigerator for 30 minutes or in the freezer for 10 minutes until they set.
Heat the oil in a frying pan over high heat. When it starts to smoke, lower to medium heat.
Fry the cheese croquettes in batches, without overcrowding the pan, until they are well browned on all sides.
Transfer the cheese croquettes to a plate lined with paper towels to drain any excess oil before serving.
Notes
You can add other ingredients to this recipe to customize it to your taste. Some ideas for additional ingredients could include herbs and spices, such as parsley or paprika, or diced ham or bacon for a savory twist.
You could also try using different types of cheese to change the flavor of the croquettes. Some good options could include cheddar, gouda, or mozzarella for a milder flavor, or feta, blue cheese, or goat cheese for a stronger flavor.
You could also try using a combination of different types of cheese to create a unique flavor profile. Experiment and see what you like!
You can bake the cheese croquettes instead of frying them if you prefer. To bake the croquettes, preheat your oven to 400°F (200°C) and line a baking sheet with parchment paper. Place the breaded croquettes on the prepared baking sheet and spray them lightly with cooking spray. Bake for 15-20 minutes, or until the croquettes are golden brown and crispy on the outside.
Baking the croquettes can be a healthier alternative to frying and can still result in delicious and crispy croquettes.
Serve the croquettes with your favorite dip or sauce on the side for added flavor. Some good options could include marinara sauce, ranch dressing, or honey mustard.