Imagine this: crunchy sugar cones, brushed with buttery brown sugar cinnamon goodness, baked to crispy perfection, then filled with juicy peach pie filling and topped with your favorite ice cream. Sounds like a dream, right? Well, it's about to become your reality with this easy and delicious recipe that will make you feel like you're at a carnival.
These peach cobbler stuffed cones are the perfect treat for any occasion, whether it's a cozy fall night, a summer picnic, or a special celebration.
They're fun, festive, and oh-so-satisfying. Plus, they only require a handful of ingredients and 10 minutes of baking time. What are you waiting for? Grab some sugar cones and let's get started!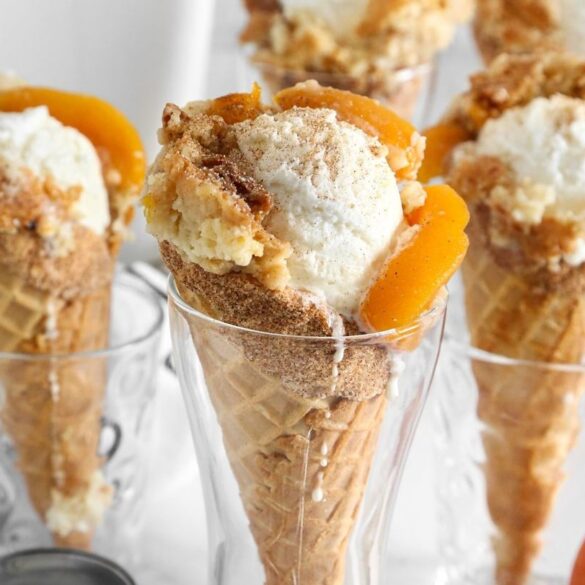 Ingredients
8 sugar cones

1/4 cup butter, melted

2 tablespoons brown sugar

1/4 teaspoon cinnamon

2 cups canned peach pie filling

Vanilla ice cream, whipped cream, and chopped nuts for topping
Instructions
Preheat oven to 180°C (350°F) and line a baking sheet with parchment paper.

In a small bowl, whisk together butter, brown sugar, and cinnamon.

Brush the inside and outside of each cone with the butter mixture and place on the prepared baking sheet.

Bake for 10 minutes or until golden and crisp.

Let the cones cool slightly on the baking sheet.

Spoon some peach pie filling into each cone and top with ice cream, whipped cream, and nuts as desired.

Enjoy your Peach Cobbler Stuffed Cones!
Notes
You can use fresh or frozen peaches instead of canned peach pie filling for a more natural and juicy flavor. Just chop them up and cook them with some sugar, cornstarch, lemon juice, and vanilla until thickened.
Add some chopped nuts, oats, or granola to the butter mixture for some extra crunch and texture on the cones.
Use different flavors of ice cream, such as vanilla bean, peach, or caramel, to complement the peach cobbler filling.
You can drizzle some caramel sauce, honey, or maple syrup over the cones for some extra sweetness and gooeyness.
Sprinkle some cinnamon sugar or nutmeg over the whipped cream for some extra spice and aroma.