This paprika chicken is juicy, tender, and smothered in a bright and tangy lemony sauce. It's easy to make with just a few pantry staples, and perfect for a cozy weeknight dinner. Serve it with some crusty bread, rice, or roasted veggies for a complete meal.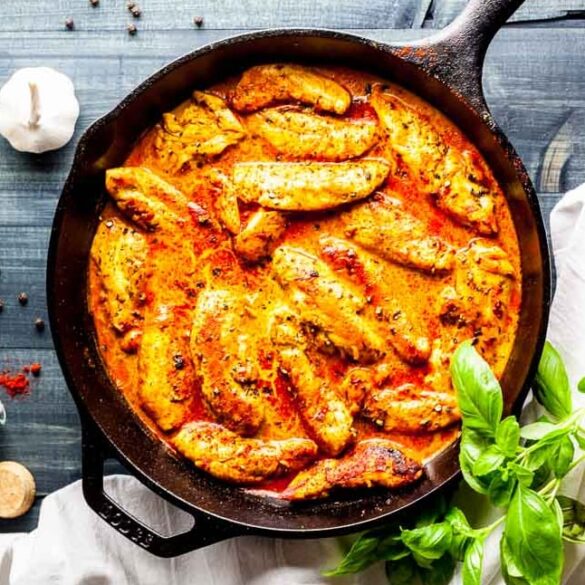 Ingredients
4 chicken breasts, boneless and skinless
Salt and pepper, to taste
2 tablespoons of paprika
2 tablespoons of olive oil
4 cloves of garlic, minced
1/4 cup of chicken broth
1/4 cup of lemon juice
2 tablespoons of butter
2 tablespoons of chopped parsley
Instructions
Preheat the oven to 375°F.
Season the chicken breasts with salt, pepper and paprika on both sides.
Heat the olive oil in a large oven-proof skillet over medium-high heat. Add the chicken and cook for about 5 minutes per side, until golden and crisp.
Transfer the skillet to the oven and bake for about 10 minutes, or until the chicken is cooked through.
Transfer the chicken to a plate and keep warm.
In the same skillet, add the garlic and cook over medium heat for about 1 minute, stirring constantly, until fragrant.
Add the chicken broth and lemon juice and bring to a boil. Reduce the heat and simmer for about 5 minutes, until slightly thickened.
Stir in the butter and parsley and season with more salt and pepper if needed.
Spoon the sauce over the chicken and enjoy!
Notes
You can use chicken thighs instead of breasts if you prefer. Adjust the cooking time accordingly.
You can also add some capers, olives, or artichokes to the sauce for some extra flavor and texture.
This recipe is gluten-free and dairy-free (if you use dairy-free butter).