Fried Cuttlefish: a crispy, golden, and totally addictive seafood dish that's perfect for sharing with friends and family. This recipe is simple and easy to make, with just a few ingredients that you probably already have in your pantry.
If you're a seafood lover, then you're going to love this recipe for fried cuttlefish. Cuttlefish is a type of mollusk that's similar to squid and octopus. It has a mild flavor and tender texture that's perfect for frying. When coated in a crispy cornmeal batter and fried until golden, it becomes a delicious and irresistible treat.
One of the great things about this recipe is how easy it is to make. All you need is some cuttlefish, cornmeal, salt, oil for frying, and lemon wedges for serving. The process is simple: coat the cuttlefish in the cornmeal mixture, fry until golden, and serve with lemon wedges on the side.
But don't let the simplicity of this recipe fool you – the results are absolutely delicious. The cuttlefish becomes tender and juicy on the inside, while the outside is crispy and golden. The lemon wedges add a bright burst of flavor that perfectly complements the mild taste of the cuttlefish.
This recipe is perfect for serving as an appetizer or snack when you're entertaining guests. It's also great as a main course when served with some rice or salad on the side. And because it's so easy to make, it's perfect for busy weeknights when you want something quick and delicious.
So if you're looking for a new seafood dish to try, give this recipe for fried cuttlefish a go. It's simple, delicious, and sure to become a new favorite in your household.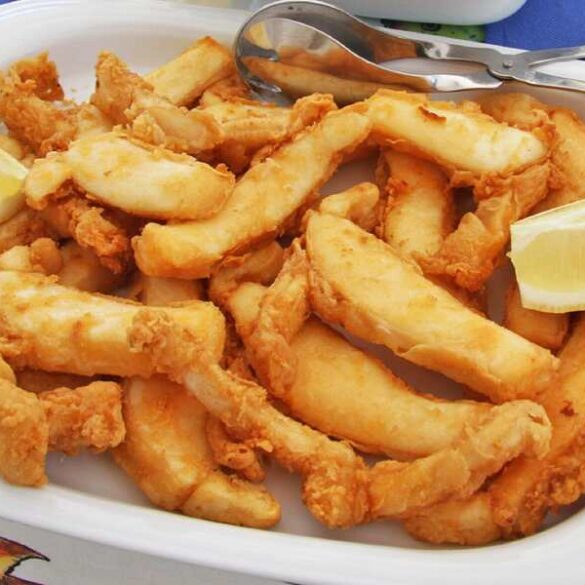 Ingredients
1 large cuttlefish (about 3.3 lbs)
Fine cornmeal as needed
Salt as needed
Oil for frying
Lemon wedges for serving
Instructions
Start by thawing your cuttlefish if it's frozen. Once it's thawed, remove the flaps and tougher parts, as well as the head. Cut the soft parts, including the tentacles, into pieces.
Next, grab a bowl or bag and add some fine cornmeal and a pinch of salt. Add the cuttlefish strips and shake everything until they're well coated with the flour.
Heat up some oil in a frying pan until it reaches 356°F. Fry the cuttlefish strips until they're golden and crispy.
Serve your fried cuttlefish with some lemon wedges on the side for squeezing over the top.
Notes
You can experiment with adding other ingredients to this recipe. Some ideas could be adding spices such as paprika or cumin to the cornmeal mixture for extra flavor.
You could also try marinating the cuttlefish in a mixture of lemon juice, garlic, and herbs before coating it in the cornmeal and frying it.
Another idea could be to serve the fried cuttlefish with a dipping sauce such as aioli or tartar sauce. The possibilities are endless - have fun experimenting and making this recipe your own!
You can substitute some of the ingredients in this recipe. For example, if you don't have fine cornmeal on hand, you could try using regular flour or breadcrumbs instead.
You could also experiment with using different types of oil for frying, such as vegetable oil or coconut oil.
If you don't have cuttlefish available, you could try using a different type of seafood such as squid or shrimp.
Just keep in mind that substitutions may affect the final texture and flavor of the dish.