Portuguese Feijoada is one of those dishes that just warms you up from the inside out. It's a hearty and delicious stew made with a variety of meats, beans, and vegetables, and it's the perfect dish for a cozy night in or for serving to friends and family on a chilly evening.
I first discovered Portuguese Feijoada when I was traveling through Portugal a few years ago. I was wandering through the streets of Lisbon, taking in all the sights and sounds of the city, when I stumbled upon a small, family-run restaurant tucked away on a side street. The smells coming from the kitchen were absolutely irresistible, and I knew I had to go in and try whatever it was they were cooking.
I sat down at a small table and ordered the Feijoada, not really knowing what to expect. When it arrived at my table, steaming hot and packed with flavor, I knew I had made the right choice. The combination of the tender meats, creamy beans, and perfectly cooked vegetables was absolutely divine, and I found myself scraping the bottom of the bowl to get every last bite.
Since then, I've made it my mission to learn how to make Portuguese Feijoada at home. It's taken some trial and error, but I think I've finally perfected the recipe. And now, I'm excited to share it with all of you!
In this blog post, I'll walk you through the steps to making authentic Portuguese Feijoada at home. We'll start by gathering all the ingredients you'll need, then we'll move on to preparing the meats and vegetables. Finally, we'll bring everything together in a big pot and let it simmer until all the flavors have melded together into one delicious stew.
So grab your apron and let's get cooking! By the end of this post, you'll be ready to impress your friends and family with your very own homemade Portuguese Feijoada.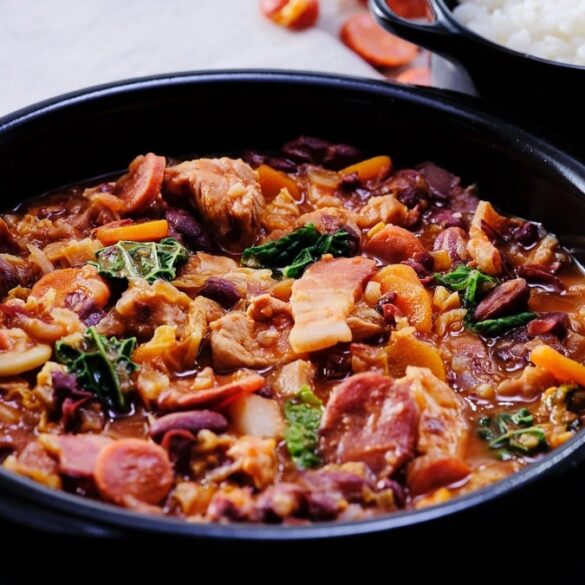 Ingredients
5.3 oz of beef
5.3 oz of pork belly
1 pig's trotter
1 pig's ear
1 chorizo sausage
1 blood sausage
2 large cans of red kidney beans
1/4 of a savoy cabbage
2 carrots
2 onions
2 cloves of garlic
3 tablespoons of olive oil
Salt and pepper to taste
Instructions
Start by boiling the meats and sausages in a pot with water. Once they're cooked through, remove them from the pot, drain them and set them aside.
Next, peel the onions and garlic and chop them up. Sauté them in a pan with the olive oil until they're soft and fragrant.
Add the carrots (cut into half-moons) and the drained beans to the pan and mix everything together.
Add all the meats (cut into pieces) to the pan along with a little water and let everything simmer together.
Finally, adjust the seasoning with salt and pepper to taste. Add the cabbage (cut into pieces) to the pan and cook for another 10 minutes.
Serve your Portuguese Feijoada hot and enjoy!
Notes
Add more vegetables: While this recipe already includes carrots, onions, garlic, and savoy cabbage, you could add even more vegetables to make it even healthier and more flavorful. Consider adding diced tomatoes, bell peppers, or even some leafy greens like spinach or kale.
Experiment with different meats: This recipe calls for beef, pork belly, pig's trotter, pig's ear, chorizo sausage, and blood sausage. However, you could experiment with different meats to see what you like best. For example, you could try using chicken or turkey instead of beef or pork.
Adjust the seasoning: This recipe calls for salt and pepper to taste. However, you could experiment with different seasonings to see what you like best. For example, you could try adding some smoked paprika or cumin for a smoky flavor or some red pepper flakes for a little heat.
Serve with a side: This Portuguese Feijoada is already a hearty and satisfying dish on its own. However, you could serve it with a side to make it even more filling. For example, you could serve it with some crusty bread to soak up the delicious sauce or with some rice or potatoes.
Make it vegetarian: If you're looking for a vegetarian version of this dish, you could try omitting the meats and using mushrooms or tofu instead. You could also add more beans or lentils to make it even heartier.
Garnish with fresh herbs: Finally, consider garnishing your Portuguese Feijoada with some fresh herbs before serving. This will add a pop of color and freshness to the dish. You could try using parsley, cilantro, or even some thinly sliced green onions.