Farófias are more than just a dessert for me. They are a memory of my childhood, of my grandmother's kitchen, of the smell of cinnamon and vanilla. They are a reminder of the love and care that she put into every dish she made for us.
Farófias are a traditional Portuguese dessert that consist of egg whites that are poached in milk and sugar and then served with a custard sauce. They are also known as ovos nevados or ovos moles in some parts of Portugal. They are one of the many conventual sweets that were created by nuns in monasteries and convents centuries ago.
My grandmother used to make farófias for us every Christmas Eve. She would whip the egg whites by hand until they formed stiff peaks, then drop them by spoonfuls into the simmering milk. She would then make the custard with the egg yolks, milk, sugar and cornstarch. She would flavour everything with vanilla and lemon zest and sprinkle some cinnamon on top.
We would wait impatiently for her to finish, our mouths watering at the sight of those fluffy white mounds covered in yellow sauce. We would devour them with gusto, savouring every bite. They were so soft and sweet that they seemed like heaven on earth.
I still make farófias today, following my grandmother's recipe. I think of her every time I do it, and I hope to pass on this tradition to my children and grandchildren. Farófias are not just a dessert for me. They are a part of my family history.
In this blog post, I will share with you my grandmother's recipe for farófias, as well as some tips and tricks to make them perfectly every time. I hope you will enjoy them as much as I do.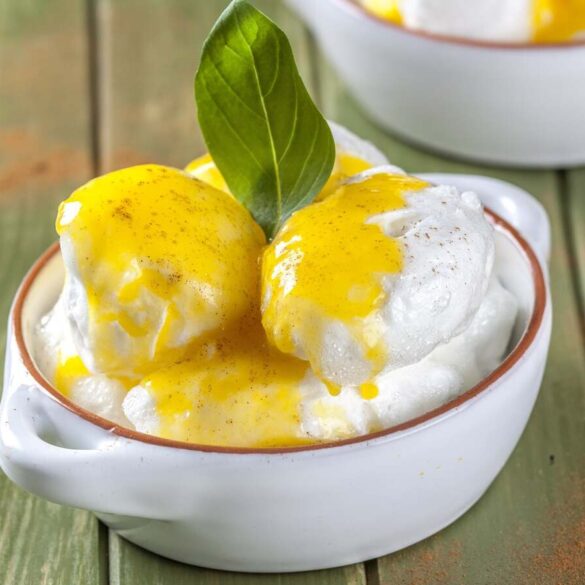 Ingredients
8 egg whites
1/4 cup + 2 tablespoons of powdered sugar
4 cups of milk
A lemon peel
6 egg yolks
1/3 cup of cornstarch
Ground cinnamon (to taste)
Instructions
In a large saucepan over medium-high heat, bring the milk, 1/4 cup of powdered sugar and the lemon peel to a boil. Reduce the heat to low.
In a large bowl, beat the egg whites until stiff peaks form. Add the remaining 2 tablespoons of powdered sugar and beat some more.
With a large spoon, drop portions of egg whites into the hot milk and cook for about 2 minutes on each side. Remove them with a slotted spoon and place them on a platter.
Strain the remaining milk and reserve it for making the custard.
In a small bowl, whisk together the egg yolks, cornstarch and some of the reserved milk until smooth.
In another saucepan over medium-high heat, bring the rest of the reserved milk to a boil. Gradually whisk in the egg yolk mixture, stirring constantly until thickened. Remove from heat and pour over the farófias.
Sprinkle with ground cinnamon as desired and serve cold or warm.
Notes
You can add other ingredients to your farófias if you like, but it may change the flavor and texture of the dessert. Some possible variations are: adding vanilla extract or lemon juice to the custard for extra flavor. adding apple puree or jam to the bottom of the platter before placing the farófias or sprinkling toasted almonds or coconut flakes over the dessert for some crunch.
Make sure the milk is hot but not boiling when you add the egg whites. This will help them cook evenly and keep their shape.
Use a large spoon to drop portions of egg whites into the milk. Don't overcrowd the pan and cook them in batches if necessary.
Turn the egg whites gently with a slotted spoon after 2 or 3 minutes of cooking. They should be firm but not dry on both sides.
Drain the egg whites well before placing them on a platter. You can use paper towels to absorb any excess moisture.
Strain the remaining milk before making the custard. This will remove any bits of egg white that may have broken off during cooking.
Whisk the egg yolks and cornstarch well before adding them to the hot milk. This will prevent lumps and ensure a smooth custard.
Cook the custard over low heat, stirring constantly, until it thickens. Don't let it boil or it may curdle.