Hello lovely people! Today I want to share with you a fantastic recipe for pataniscas de bacalhau, which are Portuguese cod fish fritters. They are crispy on the outside, fluffy on the inside, and packed with flavor. They are perfect for a snack, a starter, or even a main course with some salad and bread.
Pataniscas de bacalhau are one of those dishes that have been around for centuries in Portugal. They are made with salted cod, which is a staple ingredient in Portuguese cuisine. Salted cod is dried and preserved with salt, and then rehydrated before cooking. It has a unique texture and taste that you will love.
To make these fritters, you need to soak the cod for a couple of days, changing the water regularly. Then you boil it until tender and flake it with a fork. You mix it with eggs, flour, onion, parsley, and some white wine to make a thick batter. Then you drop spoonfuls of the batter into hot oil and fry them until golden and crisp.
These fritters are so easy to make and so delicious to eat. You can serve them hot or cold, with some lemon wedges or tomato sauce on the side. They are great for parties or picnics as well. You can also freeze them and reheat them later in the oven.
I hope you give this recipe a try and let me know what you think in the comments below. Pataniscas de bacalhau are one of my favorite Portuguese dishes and I'm sure you will love them too. Happy cooking!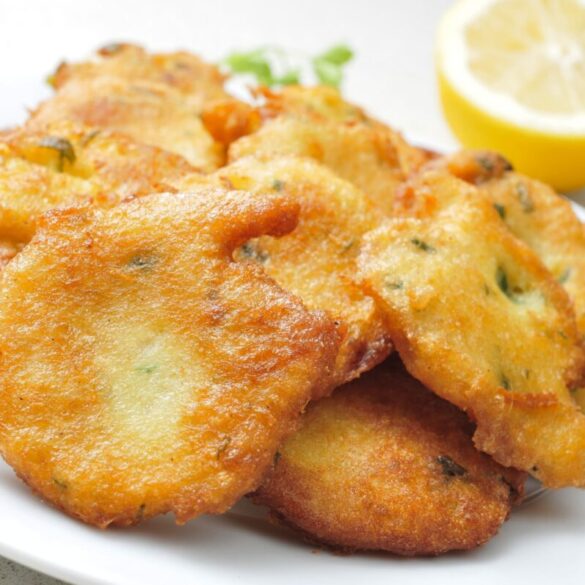 Ingredients
1 large piece of salted cod, soaked
2 eggs
1/2 onion, finely chopped
A bunch of parsley, chopped
All-purpose flour with baking powder (as needed)
Salt and black pepper (to taste)
Oil for frying
Instructions
Boil the cod in water, drain it and reserve the water. Let it cool and shred it, removing the skin and bones.
In a bowl, mix the eggs with the shredded cod, onion, parsley and a pinch of salt and pepper.
Add flour gradually until you get a medium consistency batter (not too thin or too thick).
Heat a pot with oil over medium-high heat.
With the help of two spoons, shape small portions of the batter and fry them in the hot oil until golden.
Drain them on paper towels and serve them hot or cold.
Notes
What to eat with pataniscas de bacalhau? Tomato rice: a moist and flavorful rice dish made with tomato, onion, garlic and olive oil; Black-eyed pea salad: a cold and refreshing salad made with cooked black-eyed peas, onion, parsley, olive oil and vinegar; Açorda: a typical Alentejo dish made with stale bread, garlic, cilantro, olive oil and hot water.
Sift the flour before mixing it with the eggs to avoid lumps.
Soak the cod for at least 24 to 48 hours before cooking and shredding it. If you want to save time, you can use ready-to-cook cod pieces.
Add a little white wine to the batter to give more flavor and lightness .
Fry the pataniscas in very hot oil and remove them with a slotted spoon to drain excess fat.