Hi, friends! I'm so excited to share with you one of my favorite soups of all time: pumpkin and potato soup. This soup is more than just a delicious and comforting meal. It's also a part of my family history and culture.
You see, I grew up eating this soup almost every week. My grandmother, who was born and raised in Portugal, used to make it for me when I was a toddler. She would peel and dice the pumpkin and potatoes, sauté the onion and garlic, and simmer everything in a big pot of broth.
Then she would blend it until it was smooth and creamy, and sprinkle some chopped parsley on top. She would serve it with some crusty bread and butter, and sometimes a slice of cheese.
I loved this soup so much that I would eat it without any fuss. It was one of the few things that I would actually finish without throwing a tantrum or making a mess. My grandmother would smile and say that this soup was good for me, that it would make me grow strong and healthy.
She would also tell me stories about her childhood in Portugal, how she used to help her mother in the kitchen, how they would grow their own vegetables in their backyard, how they would celebrate the harvest season with their neighbors.
This soup was more than just food. It was a way of connecting with my grandmother, with her culture, with her love. It was a way of learning about where I came from, who I was, what I valued.
Now that I have a toddler of my own, I want to pass on this tradition to him. I want him to enjoy this soup as much as I did, to appreciate its simplicity and flavor, to feel its warmth and comfort. I want him to know his great-grandmother, to hear her stories, to honor her legacy.
That's why I'm sharing this recipe with you today. It's not only a recipe for pumpkin and potato soup. It's also a recipe for family, for culture, for love.
I hope you'll give it a try and let me know what you think. And if you have any stories or memories related to this soup or any other soup, please share them with me in the comments. I'd love to hear from you!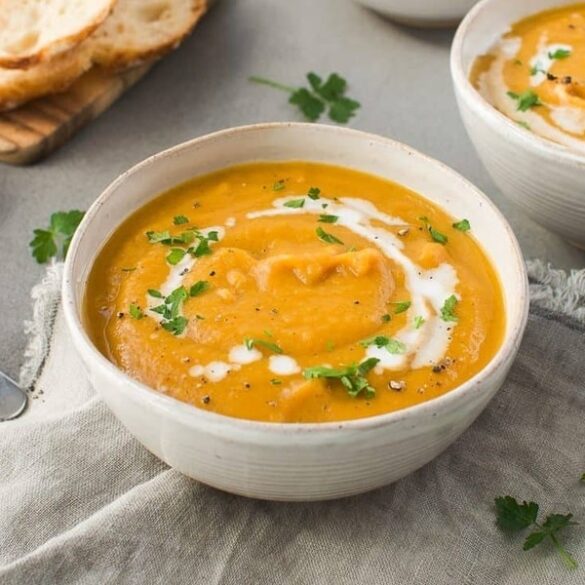 Ingredients
2.2 lb of peeled and diced pumpkin
4 medium peeled and diced potatoes
1 chopped onion
2 cloves of minced garlic
2 tablespoons of olive oil
4 cups of vegetable broth
Salt and pepper to taste
Chopped parsley for garnish
Instructions
In a large pot, heat the olive oil over medium-high heat. Add the onion and garlic and cook until soft, stirring occasionally, for about 10 minutes.
Add the pumpkin and potatoes and toss to coat with the oil. Pour in the vegetable broth and bring to a boil. Reduce the heat and simmer until the pumpkin and potatoes are fork-tender, about 30 minutes.
Using an immersion blender or a regular blender (in batches), puree the soup until smooth and creamy. Season with salt and pepper to taste.
Ladle the soup into bowls and sprinkle with chopped parsley. Enjoy with some crusty bread or crackers.
You can roast the pumpkin and potatoes in the oven before adding them to the pot for a deeper flavor and a caramelized texture.
You can top the soup with some toasted pumpkin seeds, croutons, cheese, or bacon bits for some crunch and extra yumminess.
You can make this soup in the Instant Pot or slow cooker for a hands-off approach. Just add all the ingredients (except the parsley) and cook on high pressure for 15 minutes or low for 6 hours. Then blend and garnish as usual.
Notes
You can use any type of pumpkin you like, but I prefer sugar pumpkins or kabocha squash for their sweetness and texture.
You can also use chicken broth instead of vegetable broth if you're not vegetarian.
Feel free to add some cream or coconut milk for extra richness, or some cumin or curry powder for extra spice.
You can freeze the soup for up to 3 months in an airtight container. Just thaw it in the fridge overnight and reheat it on the stove or in the microwave.