As an expat Portuguese woman living in the US, there are many things I miss about my home country. The beautiful beaches, the warm weather, the friendly people… but most of all, I miss the food. Portuguese cuisine is rich and diverse, with a wide variety of delicious dishes and sweets to choose from.
One of my all-time favorite treats is the Portuguese Rice Cake. These little cakes are a classic in Portuguese pastry and can be found in every corner of the country. They're sweet and fluffy, with a delicate flavor that's hard to resist.
Since moving to the US, I've been on a mission to recreate this traditional Portuguese sweet at home. It's been a journey of trial and error, but I'm happy to say that I've finally mastered the art of making Portuguese Rice Cakes.
In this blog post, I'll be sharing my recipe and tips for making perfect Portuguese Rice Cakes at home. Whether you're an expat like me, or just someone who loves trying new recipes from around the world, this post is for you.
But before we dive into the recipe, let me tell you a little bit more about my love for Portuguese Rice Cakes. Growing up in Portugal, these cakes were a staple in my diet. I remember going to the local bakery with my mom and picking out a few rice cakes to take home as a treat.
The smell of freshly baked rice cakes wafting through the air is something that will always remind me of my childhood. And even now, as an adult living thousands of miles away from Portugal, I still crave that familiar taste.
Making Portuguese Rice Cakes at home has been a way for me to connect with my roots and bring a little piece of Portugal into my kitchen. And every time I take a bite of one of these delicious cakes, I'm transported back to those happy memories of my childhood.
So if you're ready to discover the delicious world of Portuguese Rice Cakes, let's get started!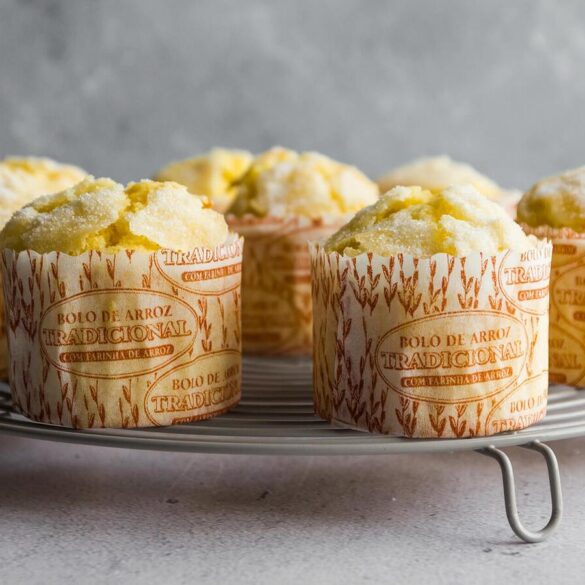 Ingredients
7 oz of rice flour
5.3 oz of wheat flour
8.8 oz of sugar
2.6 oz of margarine
5 fl oz of milk
2 eggs
1 teaspoon of vanilla extract
1 teaspoon of baking powder
Margarine for greasing
Sugar for sprinkling
Parchment paper
Instructions
First things first: preheat your oven to 350°F and cut some strips of parchment paper to place inside metal rings.
Grease a baking sheet with margarine, line it with parchment paper and grease again. Then place the rings on the baking sheet.
In a bowl, beat the margarine with the sugar and vanilla extract until well combined.
Add the eggs one by one, beating constantly.
Warm the milk and add it to the mixture, alternating with the flours, previously mixed and sifted with the baking powder.
Beat everything well again, place in a pastry bag and divide among the rings.
Sprinkle with a little sugar and bake for 30 minutes.
Remove from the oven, unmold and serve decorated to taste.
And that's it! Delicious Portuguese Rice Cakes ready to be devoured. Enjoy! 😋
Notes
One way to enhance the flavor of the cake is to substitute margarine with butter.
Adding a pinch of salt can also help to bring out the sweetness of the cake. For a fresh citrus flavor, try adding some lemon zest to the batter.
If you're looking for a dairy-free version of this recipe, you can use almond milk or coconut milk instead of regular milk.
Adding some ground almonds or coconut to the batter can also add extra texture and flavor to the cake.
When making the batter, make sure to beat the eggs and sugar until pale and fluffy. This will help to create a lighter cake.
And finally, let the cakes cool completely before removing them from the rings to prevent them from breaking.