Hello, foodies! Today I want to share with you one of my favorite discoveries from my travels: German cabbage soup, or as they call it in Germany, Kohlsuppe. Now, I know what you're thinking. "Cabbage soup? Really? That sounds about as exciting as watching paint dry." But trust me, this soup is anything but boring.
I first tried Kohlsuppe on a trip to Munich. It was a chilly day and I was wandering the streets, looking for something warm and comforting to eat. I stumbled upon a cozy little restaurant and decided to give it a try. The menu was full of traditional German dishes that I couldn't pronounce, so I just pointed to the first thing that caught my eye: Kohlsuppe.
When the steaming bowl of soup arrived at my table, I was skeptical. It looked like a bowl of boiled cabbage. But one spoonful and I was hooked. The soup was rich and flavorful, with tender chunks of cabbage and other veggies swimming in a savory broth. It was the perfect meal for a chilly day.
Since then, I've been obsessed with Kohlsuppe. I've tried countless recipes and even created my own version (which I'll share with you later in this post). But before we get to that, let me tell you a little more about this delicious soup.
Kohlsuppe is a traditional German dish that's been around for centuries. It's made with simple ingredients like cabbage, potatoes, carrots, and broth. But don't let the simplicity fool you – this soup is packed with flavor.
One of the things I love about Kohlsuppe is how versatile it is. You can make it vegetarian or add meat for extra protein. You can also play around with the spices and herbs to make it your own. And best of all, it's super easy to make.
So if you're looking for a hearty and satisfying meal that's perfect for chilly days, give Kohlsuppe a try. Trust me, you won't regret it.
Stay tuned for my recipe and tips on how to make the perfect bowl of German cabbage soup. But first, let me tell you about the time I accidentally ordered a plate of liver dumplings instead of Kohlsuppe (hint: always double-check your pronunciation when ordering food in a foreign language). 😂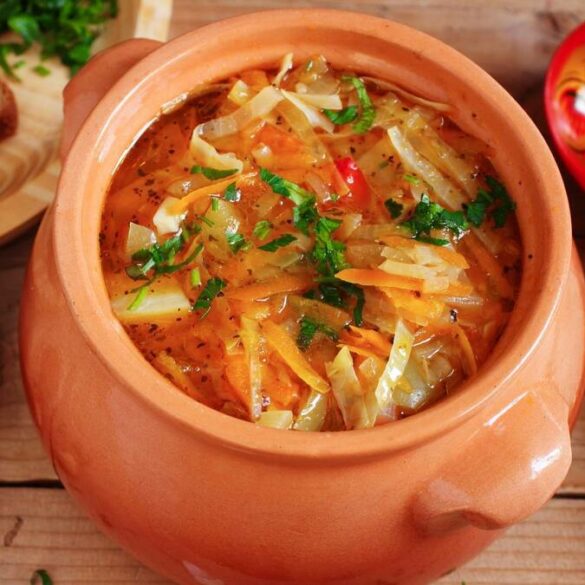 Ingredients
1.1 lbs white cabbage, chopped
1 red bell pepper, chopped
1.8 oz onions, chopped
2.1 cups water
1 cube vegetable broth (for 2.1 cups)
5.3 oz celery, chopped
5.3 oz carrots, chopped
5.3 oz leeks, chopped
1.6 oz soy sauce
¼ tsp pepper
½ tsp salt
¼ tsp liquid sweetener
1 tsp canola oil
1 can diced tomatoes
Instructions
Start by heating the canola oil in a large pot over medium heat.
Add the onions and sauté until they're soft and translucent.
Next, add the rest of the chopped veggies (cabbage, bell pepper, celery, carrots, and leeks) and sauté for a few more minutes until everything is nice and tender.
Pour in the water and vegetable broth and bring the soup to a boil.
Once boiling, reduce the heat to low and let everything simmer for about 30 minutes.
Finally, stir in the soy sauce, pepper, salt, liquid sweetener, and diced tomatoes.
Let everything cook for a few more minutes until heated through.
Notes
One way to improve this recipe is by adding extra ingredients for more nutrition and flavor. For example, you could add diced potatoes for extra heartiness and texture, or sliced mushrooms for an earthy flavor. Chopped spinach or kale would also add extra nutrition and color to the soup.
Another way to vary this recipe is by using different types of broth. Instead of vegetable broth, you could use chicken or beef broth for a different flavor. You could also add cooked chicken, sausage, or bacon for extra protein and heartiness.
Experimenting with different spices is another way to improve this recipe. Try adding spices like paprika, cumin, or thyme to add more flavor to the soup. You could also use coconut milk instead of water for a creamy and rich soup.
Finally, adding a can of drained and rinsed white beans is another way to improve this recipe. The beans would add extra protein and fiber to the soup, making it even more filling and satisfying.
These are just a few ideas to improve and vary this recipe. Feel free to experiment with different ingredients and make this recipe your own!