As a food blogger living in the US, I've had my fair share of delicious meals. But there's one dish that stands out in my memory: Portuguese codfish stew. I first tried this hearty and flavorful dish at a Portuguese restaurant in Newark and it was love at first bite.
Now, I know what you're thinking. "Codfish stew? That doesn't sound very exciting." But trust me, this dish is anything but boring. It's packed with tender chunks of codfish, potatoes, tomatoes, peppers, and onions, all simmered together in a rich and flavorful broth. It's the ultimate comfort food and perfect for a chilly night.
But what really sets this dish apart is its history. Codfish stew, or "caldeirada de bacalhau" as it's known in Portugal, has been a staple of Portuguese cuisine for centuries. It's said that the dish originated with the fishermen who would cook their catch of the day in a large pot with whatever vegetables they had on hand.
Over time, the dish evolved and became more refined, with the addition of ingredients like white wine and paprika. But at its core, codfish stew remains a simple and rustic dish that's meant to be shared with family and friends.
As someone who loves to cook and experiment with new recipes, I knew I had to try making codfish stew at home. And let me tell you, it was a success! My family loved it and it's now become a regular part of our meal rotation.
In this blog post, I'll be sharing my recipe for Portuguese codfish stew and some tips and tricks for making it at home. So grab a glass of wine (or two) and let's get cooking! 😊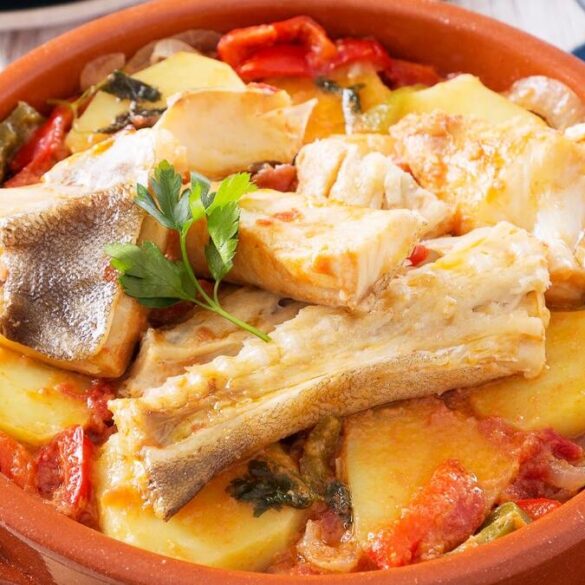 Ingredients
1.76 lb of soaked codfish steaks
2.2 lb of potatoes
4 tomatoes
1 green pepper
1 onion
2 cloves of garlic
3.5 oz of tomato pulp
6.76 fl oz of white wine
1.69 fl oz of olive oil
1 teaspoon of paprika
1 bay leaf
Chopped coriander to taste
Salt and pepper to taste
Instructions
Start by prepping your veggies: peel the potatoes and onion and cut them into slices. Peel the garlic cloves and chop them. Remove the stem from the tomatoes and the seeds from the pepper and cut them into slices as well.
In a large bowl, mix the garlic with the bay leaf, white wine, paprika, codfish cut into pieces, salt and pepper. Mix everything and let it marinate for 10 minutes.
After the indicated time has passed, arrange layers of onion, pepper, tomato, potato and codfish in a wide pot, following this order. Add the tomato pulp and marinade and drizzle with olive oil.
Cover and cook for 35 minutes.
Remove and serve immediately with chopped coriander.
Notes
There are many ways to improve the codfish stew recipe and add more depth of flavor. One way is to add some sliced chorizo for an extra layer of flavor.
If you prefer a non-alcoholic version, you can substitute the white wine with fish or vegetable stock. Adding some sliced fennel can also provide a subtle anise flavor to the stew.
Using sweet potatoes instead of regular potatoes can make the stew sweeter and more nutritious.
You can also add some seafood such as clams or shrimp for a more complex flavor profile.
When choosing your ingredients, make sure to use fresh, ripe tomatoes for the best flavor and choose codfish steaks that are firm and have a fresh smell.
Finally, adding a pinch of saffron can give the stew a luxurious touch. These suggestions can help elevate the codfish stew and make it even more delicious.
Don't be afraid to experiment with different ingredients and find what works best for you! 😊