Oh, hello there! Are you ready to take your taste buds on a journey to the sunny shores of Portugal? Because today, we're talking all about Amêijoas à Bulhão Pato – a mouthwatering dish that's packed with flavor and oh-so-easy to make.
But before we dive into the recipe, let's talk a little bit about the history and origins of this delicious dish. Amêijoas à Bulhão Pato is a traditional Portuguese dish that originated in the Estremadura region, probably in the municipality of Almada.
The dish is named after the 19th-century Portuguese poet Raimundo António de Bulhão Pato, who was known for his love of food and mentioned a cook in one of his writings.
Now that we know a little bit more about where this dish comes from, let's talk about what makes it so special. Amêijoas à Bulhão Pato is made with fresh clams, garlic, cilantro, and white wine. It's simple, yet incredibly delicious.
The clams are cooked until they pop open, releasing their briny juices into the sauce. The garlic and cilantro add depth of flavor, while the white wine brings everything together in perfect harmony.
But here's the best part: Amêijoas à Bulhão Pato is super easy to make at home. All you need is a handful of ingredients and a little bit of time. And trust me, the end result is so worth it. You'll be transported to a seaside café in Lisbon with every bite.
So if you're ready to add some Portuguese flair to your dinner table, let's get cooking! I'll show you how to make Amêijoas à Bulhão Pato step-by-step. And don't worry if you're not a pro in the kitchen – this recipe is totally doable for cooks of all levels.
Ready? Let's do this!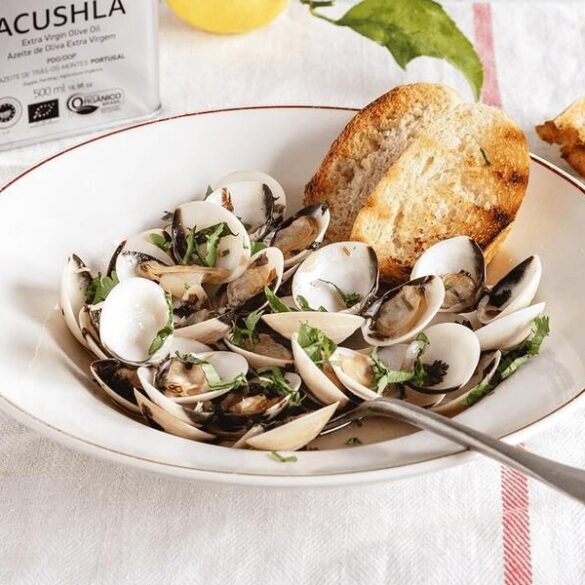 Ingredients
2.2 pounds of fresh, juicy clams
4 cloves of garlic, minced
1 handful of fresh cilantro, chopped
1/3 cup of olive oil
1/3 cup of white wine (the good stuff!)
A pinch of salt and pepper
Juice of 1 lemon
Instructions
Give those clams a good rinse in cold water and let them soak in some salted water for about 2 hours.
Heat up that olive oil in a large frying pan and get those garlic pieces nice and golden.
Add in the drained clams and pour in that white wine. Season with a pinch of salt and pepper to taste.
Cover it up and let it cook over high heat until all those clams pop open.
Take it off the heat and toss in the cilantro and lemon juice. Give it a good stir.
Serve it up hot with some slices of crusty toasted bread.
Notes
You can always experiment and add other ingredients to the recipe to suit your taste. Some suggestions could be adding some diced tomatoes or bell peppers for some extra flavor and color.
You could also try adding some diced chorizo or bacon for a smoky flavor. It's all up to you and your taste preferences!
While white wine is traditionally used in the Clams Bulhão Pato recipe, you can certainly experiment with using red wine instead.
Keep in mind that red wine has a stronger and more robust flavor than white wine, so it may change the taste of the dish. If you do decide to use red wine, I would recommend using a lighter red wine such as a Pinot Noir.
You can use beer instead of wine in the Clams Bulhão Pato recipe. Beer can add a unique flavor to the dish and can be a great alternative if you don't have any wine on hand. I would recommend using a lighter beer such as a lager or pilsner to avoid overpowering the other flavors in the dish.
You can also use non-alcoholic beer instead of regular beer or wine in the Clams Bulhão Pato recipe. Non-alcoholic beer can still add flavor to the dish without the alcohol content.