Vietnamese omelette, also known as "trứng chiên" in Vietnamese, is a delicious and versatile dish that can be enjoyed for breakfast, lunch, or dinner. Made with eggs and a variety of flavorful ingredients such as fish sauce, shallots, and pepper, this dish is a tasty and satisfying meal that is easy to make at home.
In Vietnam, omelettes are often served as a side dish or as a filling for sandwiches. They can be made with a variety of fillings such as vegetables, meat, or seafood, and are often served with a side of rice or noodles. The versatility of this dish makes it a popular choice for home cooks and street vendors alike.
One of the things that sets Vietnamese omelette apart from other types of omelettes is the use of fish sauce. This salty and savory sauce adds depth and complexity to the dish, and is a staple ingredient in many Vietnamese recipes. When combined with the eggs and other ingredients, it creates a delicious and unique flavor that is hard to resist.
Making Vietnamese omelette at home is easy and fun. All you need are some basic ingredients and a few simple cooking techniques. In this blog post, we'll show you how to make the perfect Vietnamese omelette. We'll share our favorite recipe and give you tips and tricks for getting the best results every time.
So if you're ready to discover the delicious world of Vietnamese omelette, grab your apron and let's get cooking!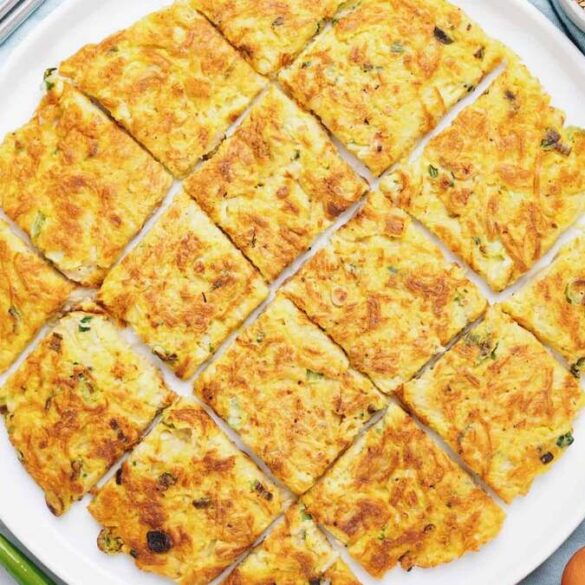 Ingredients
2 chicken or duck eggs
1 shallot
Cooking oil
Pepper
Fish sauce
Instructions
Start by prepping your ingredients. Give your eggs a quick wipe with a cloth to remove any dirt on the shell. Peel and thinly slice your shallot.
Crack your eggs into a bowl and give them a good beating. Add in a splash of fish sauce, some sliced shallots, and a sprinkle of pepper. Beat everything together until well combined.
Heat up some cooking oil in a pan over medium heat. When the oil is hot, add in your shallots and fry until fragrant. Pour in your beaten eggs and let them cook until the bottom is golden brown.
Flip your eggs over and cook until the other side is golden brown as well. Transfer to a plate and serve with some fish sauce or soy sauce for dipping.
Notes
To make this dish more nutritious and colorful, you can add some diced vegetables such as bell peppers, tomatoes, or spinach to the egg mixture before frying. This will not only add more flavor and texture to the dish but also increase its nutritional value.
Instead of using only chicken or duck eggs, you can experiment with other types of eggs such as quail or turkey eggs. Each type of egg has its own unique flavor and texture, so using a combination of different eggs can add more depth and complexity to the dish.
Fish sauce is a great way to add flavor to fried eggs, but you can also experiment with other seasonings such as soy sauce, oyster sauce, or Worcestershire sauce. Each seasoning has its own unique flavor profile, so try mixing and matching different seasonings to find the perfect combination for your taste.
Fried eggs are delicious on their own, but serving them with a flavorful sauce can take them to the next level. You can make a simple dipping sauce by mixing soy sauce, rice vinegar, and a little sugar, or you can get creative and make your own sauce using ingredients such as chili paste, hoisin sauce, or sesame oil.
To add some texture and crunch to the dish, you can sprinkle some toasted sesame seeds or chopped nuts on top of the fried eggs before serving. This will not only add a nice contrast in texture but also provide some additional nutrients and healthy fats.