Fried chicken is one of those universally loved dishes that has countless variations around the world. And while we all have our go-to recipe for this classic comfort food, it's always fun to try something new and add a little twist to our usual routine. That's where this Spanish fried chicken recipe comes in.
Spain is known for its vibrant and flavorful cuisine, with dishes like paella, gazpacho, and churros being popular around the world. But did you know that Spain also has its own version of fried chicken? It's true! And let me tell you, it's absolutely delicious.
This Spanish fried chicken recipe takes the classic dish and adds a little Spanish flair with a blend of spices and herbs that give it a unique and irresistible flavor.
The chicken is marinated in a mixture of lemon juice, garlic, and spices before being coated in a mixture of flour and breadcrumbs and fried to crispy perfection.
One bite of this Spanish fried chicken and you'll be transported to the sunny streets of Spain, with the flavors of the country bursting in your mouth. It's the perfect dish to serve at a dinner party or to enjoy on a cozy night in with your family.
So if you're looking for a new way to enjoy fried chicken, give this Spanish-inspired recipe a try. It's easy to make and packed with flavor, making it a surefire hit with everyone who tries it. Trust me, you won't be disappointed!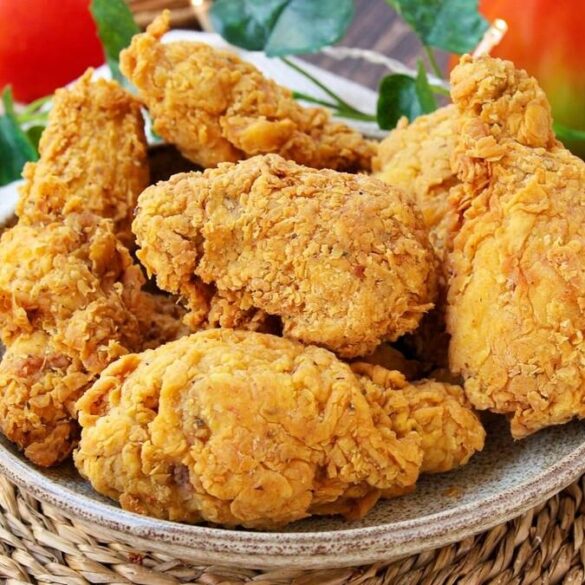 Ingredients
1 whole chicken cut into pieces and cleaned
2 cups of wheat flour
1 cup of breadcrumbs
1 egg
1/2 cup of milk
Garlic powder
1 lemon (optional)
Ground black pepper
Neutral flavored oil (canola, sunflower or similar)
Instructions
Start by marinating the chicken with the juice of the squeezed lemon, pepper, salt and garlic powder. Let it marinate in the refrigerator for two hours or at least 45 minutes.
Mix the breadcrumbs and flour with a touch of salt and pepper in a wide plate or container.
In another bowl, make a mixture with the egg and milk.
Heat plenty of oil in a skillet over high heat.
Dip each piece of chicken in the egg and milk mixture and then in the flour and breadcrumbs mixture.
Fry the chicken in the hot oil until golden and crispy.
Notes
The marinade in this recipe is simple and classic, but you can experiment with different flavors to make the chicken even more delicious. Try adding herbs like rosemary or thyme, or spices like paprika or cumin to the marinade.
If you like your fried chicken with a bit of a kick, try adding some cayenne pepper or hot sauce to the flour and breadcrumb mixture. This will give the coating a nice spicy flavor.
The flour and breadcrumb mixture in this recipe gives the chicken a nice crispy coating, but you can experiment with other coatings as well. Try using crushed cornflakes or panko breadcrumbs for an extra crunchy texture.
 Brining the chicken before marinating it can help keep it juicy and flavorful. To brine the chicken, simply dissolve some salt and sugar in water and soak the chicken pieces in the brine for a few hours before marinating.
Fried chicken is delicious on its own, but serving it with a tasty dipping sauce can take it to the next level. Try making a honey mustard sauce or a spicy mayo to serve alongside the chicken.