Hello lovely people! Today I want to share with you a fantastic recipe that's close to my heart – Tripas à moda do Porto. This traditional Portuguese dish is packed full of flavor and history, and it's a real treat for the taste buds.
For those of you who don't know, Tripas à moda do Porto is a hearty stew made with tripe, white beans, and a variety of meats and vegetables. It's a dish that's been enjoyed in Portugal for centuries, and it's still popular today.
One of the things I love about this dish is its rich history. It's said to have originated in the city of Porto during the 15th century when the people of the city donated all their best cuts of meat to help with the Portuguese Discoveries. Left with only the offal, they created this delicious stew that has stood the test of time.
But enough about history – let's talk about flavor! Tripas à moda do Porto is a real explosion of tastes and textures. The tripe is tender and mild, while the beans add creaminess and substance. The various meats and vegetables all bring their own unique flavors to the party, creating a dish that's complex and satisfying.
Making Tripas à moda do Porto at home is easier than you might think. It does take a bit of time and effort, but trust me – it's worth it. And once you've got all your ingredients prepped and ready to go, it's just a matter of letting everything simmer away until it's cooked to perfection.
So there you have it folks – Tripas à moda do Porto. A delicious and hearty stew that's perfect for sharing with friends and family. Give it a try and let me know what you think!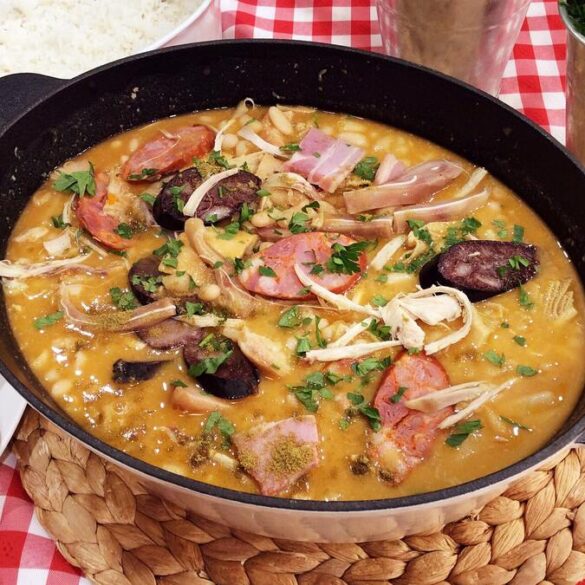 Ingredients
½ fat chicken
½ veal hand
1 medium carrot
1 pork knuckle
1 chorizo sausage
1 teaspoon of cumin
1 tablespoon of lard
1 teaspoon of paprika
2 bay leaves
7 oz of onion
7 oz of fat ham
7 oz of salpicão sausage
3 cloves of garlic
14 oz of soaked butter beans
18 oz of veal tripe
Salt and pepper to taste
Parsley to taste
Instructions
Start by washing the tripe very well and rubbing it with coarse salt and lemon. Then cook it in salted water until tender.
Clean the veal hand and cook it separately until tender.
In a separate pot, cook the remaining meats until cooked through.
Simultaneously cook the beans and, halfway through cooking, add the sliced carrot and half an onion in pieces.
While the beans are cooking, debone the veal hand and cut all the meats into bite-sized pieces.
Make a light sauté with the remaining chopped onion, garlic and lard. When the onion is golden, add the meats and paprika, mix and let it cook for a little while.
Add the cooked beans with the carrot, bay leaves, parsley, salt and pepper to taste. Let it cook over low heat until everything is heated through and the flavors have melded together.
Remove the parsley and serve in a tureen or large serving dish, sprinkled with cumin or chopped parsley.
Notes