There's something so comforting and satisfying about a warm and hearty pot pie. The combination of a creamy and savory filling, topped with a layer of fluffy mashed potatoes and baked until golden brown, is just pure comfort food bliss.
And when it comes to pot pies, one of our favorites has to be the classic Portuguese dish of empada de carne. Made with ground beef and chorizo sausage, this dish is packed with flavor and is sure to satisfy even the hungriest of appetites.
In this blog post, we'll be sharing our recipe for empada de carne, made with a delicious beef and chorizo filling and topped with a creamy mashed potato crust. This dish is perfect for chilly nights when you want something warm and comforting, or for serving at a dinner party to impress your guests.
One of the things we love about this recipe is how easy it is to make. The filling comes together quickly on the stove, and the mashed potato topping can be made ahead of time and stored in the fridge until you're ready to assemble the pie. And once it's all put together, it just needs to bake in the oven until golden brown and bubbly.
But don't let the simplicity of this recipe fool you – the flavors are anything but simple. The combination of savory beef and spicy chorizo sausage is perfectly balanced by the creamy mashed potato topping. And with a few added spices and herbs, this dish really comes alive with flavor.
So if you're looking for a delicious and satisfying meal that's sure to impress, give our empada de carne recipe a try. We promise you won't be disappointed!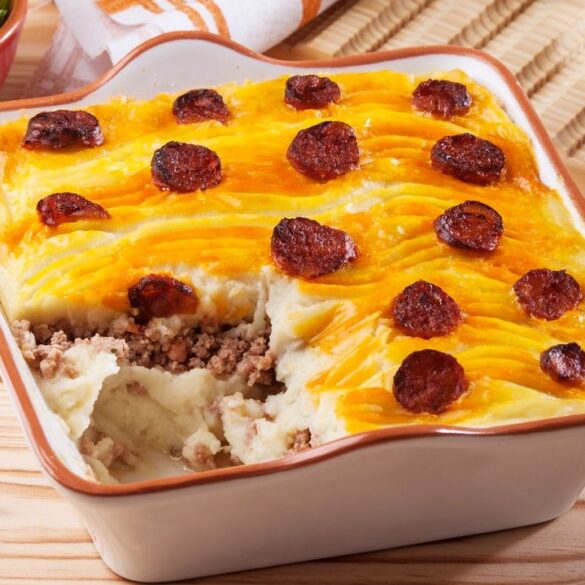 Ingredients
1.54 lbs of ground beef
1/2 chorizo sausage
1 large onion
3 cloves of garlic
0.17 fl oz of olive oil
Cumin to taste
Parsley to taste
Salt and pepper to taste
2.2 lbs of frozen mashed potatoes
1 egg yolk
2 tablespoons of milk
Instructions
Start by prepping your ingredients: remove the skin from the chorizo sausage and cut it into slices, reserving 10 for later. Chop the rest in a food processor and mix it with the ground beef in a bowl.
Next, finely chop your onion and garlic cloves.
Heat a pan with olive oil and add the onion and garlic. Let them cook over low heat until they turn golden brown.
Add the beef mixture to the pan and cook until it changes color.
Sprinkle with cumin and some chopped parsley, season with salt and pepper, mix well and remove from heat.
Pour half of the mashed potatoes into an oven-safe dish or Pyrex dish, spread the beef mixture on top, cover with the remaining mashed potatoes and smooth it out.
Brush with the egg yolk previously mixed with milk, make some lines with a fork to decorate, place the reserved chorizo slices on top and bake in a preheated oven at 392°F until golden brown.
Remove from oven and serve immediately. You can serve it with mixed lettuce salad for some added freshness.
Notes
You can add other ingredients to this recipe to make it your own. Some ideas could be adding vegetables like carrots, peas or corn to the beef mixture, or using different types of meat like chicken or pork.
You could also try adding some cheese to the mashed potato topping for some extra flavor. Feel free to experiment and make this recipe your own!
You can use sweet potatoes instead of regular potatoes for the mashed potato topping. Sweet potatoes have a slightly sweeter taste and a softer texture when cooked, which can add a nice contrast to the savory beef and chorizo filling.
To make the sweet potato mash, you can follow the same steps as with regular mashed potatoes: peel and cut the sweet potatoes into chunks, boil them until tender, then mash them with some butter and milk until smooth. Season to taste with salt and pepper and use it as the topping for your pot pie.
There are many different spices and herbs that you can use to add flavor to this recipe. For the beef and chorizo filling, you could try adding spices like paprika, chili powder, or coriander for some extra heat and depth of flavor. You could also try adding some fresh herbs like thyme, rosemary or oregano for a more aromatic and fragrant dish.
For the mashed potato topping, you could try adding some nutmeg or cinnamon for a warm and slightly sweet flavor. You could also try mixing in some chopped fresh herbs like chives, parsley or dill for a fresh and bright taste.