Hello, friends! I'm so excited to share with you one of my favorite dishes ever: Spanish prawns and chorizo. This dish is seriously amazing. It's bursting with flavor, texture, and color. It's easy to make, ready in 30 minutes or less, and perfect for any occasion. It's also gluten-free and low-carb, if you're into that kind of thing.
If you've never had Spanish prawns and chorizo before, let me tell you what you're missing out on. This dish is a classic tapa (or appetizer) in Spain, but it can also be served as a main course with some bread or rice. It consists of juicy shrimp and spicy chorizo cooked in a skillet with olive oil, garlic, lemon juice, and parsley. The sauce is simple but so flavorful, and the shrimp and chorizo complement each other perfectly.
This dish is one of those recipes that I always have in my back pocket when I need a quick and satisfying meal. It's also great for entertaining, because it looks impressive and tastes even better. Plus, it's super versatile. You can adjust the spiciness level by using different types of chorizo or adding some hot sauce.
You can also add some cream or cheese to make the sauce more rich and creamy. You can even serve it as a taco filling with some tortillas and toppings. The possibilities are endless.
I love making this dish with fresh shrimp and chorizo from my local market, but you can also use frozen shrimp and pre-cooked chorizo if that's what you have on hand. The key is to marinate the shrimp with some garlic, lemon juice, and salt for 30 minutes before cooking them. This will give them more flavor and prevent them from overcooking.
The chorizo will release its fat and spices into the oil, creating a delicious base for the sauce. Then you just sprinkle some parsley over the dish and serve it hot with some bread or your favorite side dish.
Trust me, once you try this dish, you'll be hooked. It's one of those recipes that I make over and over again, and it never gets old. It's so good that I sometimes eat it straight from the skillet with a spoon (don't judge me). It's that good.
So what are you waiting for? Grab your ingredients and let's get cooking! I can't wait to hear how much you love this dish as much as I do.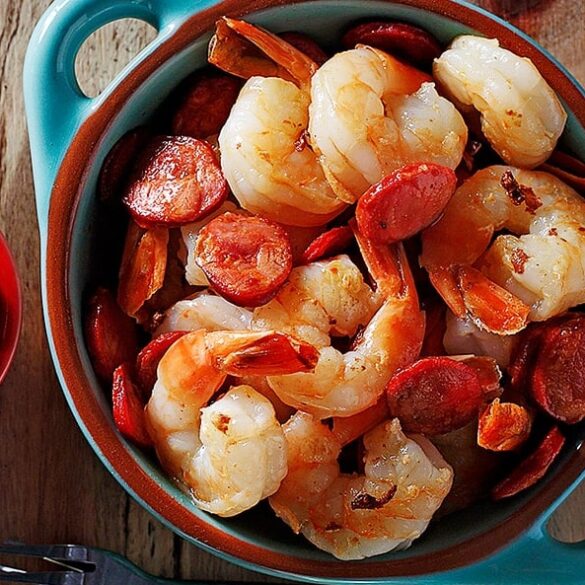 Ingredients
21 oz of shrimp, peeled and deveined
7 oz of chorizo, sliced
2 tablespoons of olive oil
4 cloves of garlic, minced
2 tablespoons of lemon juice
Salt to taste
2 tablespoons of chopped parsley
Instructions
In a large bowl, toss the shrimp with the garlic, lemon juice, and salt. Refrigerate for 30 minutes to marinate.
In a large skillet over medium-high heat, heat the olive oil and cook the chorizo for about 10 minutes, stirring occasionally, until browned and crisp. Transfer to a plate and keep warm.
In the same skillet over high heat, add the shrimp and cook for about 5 minutes, turning once, until pink and cooked through.
Sprinkle the parsley over the shrimp and chorizo and toss to combine. Serve hot with bread or your favorite side dish.
Notes
To add more flavor and texture to the shrimp, you can season them with some smoked paprika, cumin, and oregano before marinating them. This will give them a nice color and a smoky aroma that will complement the chorizo.
To make the sauce more creamy and rich, you can add some heavy cream or sour cream to the skillet after cooking the shrimp. Simmer for a few minutes until slightly thickened and adjust the seasoning as needed. This will make the dish more indulgent and satisfying.
To add some freshness and crunch to the dish, you can top it with some chopped cilantro, green onions, or radishes. These will add a burst of color and flavor and contrast with the richness of the shrimp and chorizo.
To make the dish more filling and hearty, you can serve it over some cooked rice, quinoa, couscous, or pasta. These will soak up the delicious sauce and make the dish more substantial. You can also add some roasted or steamed vegetables to the side for a balanced meal.
To make the dish more spicy and tangy, you can drizzle some hot sauce or salsa over the shrimp and chorizo. You can also squeeze some more lemon juice or lime juice over the dish for a zesty kick. These will enhance the flavors and add some heat to the dish.
To make the dish more fun and interactive, you can serve it as a DIY taco bar. Provide some warm tortillas, shredded cheese, sour cream, guacamole, salsa, and any other toppings you like. Let everyone assemble their own tacos with the shrimp and chorizo mixture and enjoy. This will make the dish more customizable and festive.