Hey friends! Today I'm so excited to share with you one of my new favorite dishes – Polvo à Lagareiro. This is a traditional Portuguese grilled octopus dish that is packed with flavor and so fun to make at home.
If you've never tried octopus before, I know it can seem a little intimidating. But trust me, once you taste it, you'll be hooked. Octopus has a mild, slightly sweet flavor and a tender, meaty texture that is just so delicious.
One of the things I love about this dish is how simple it is to make. All you need is some fresh octopus, potatoes, garlic, olive oil, and a few other basic ingredients. The key to getting the octopus tender and flavorful is to boil it first with some herbs and spices before grilling it.
Once the octopus is cooked, it's time to grill it up! This is where the magic happens. The high heat of the grill gives the octopus a beautiful char and smoky flavor that is just out of this world.
To serve, simply plate up the grilled octopus with some roasted potatoes and a drizzle of olive oil. It's the perfect dish for a special occasion or just a cozy night in.
So if you're ready to try something new and delicious, let's dive into this Polvo à Lagareiro recipe together. I promise you won't be disappointed!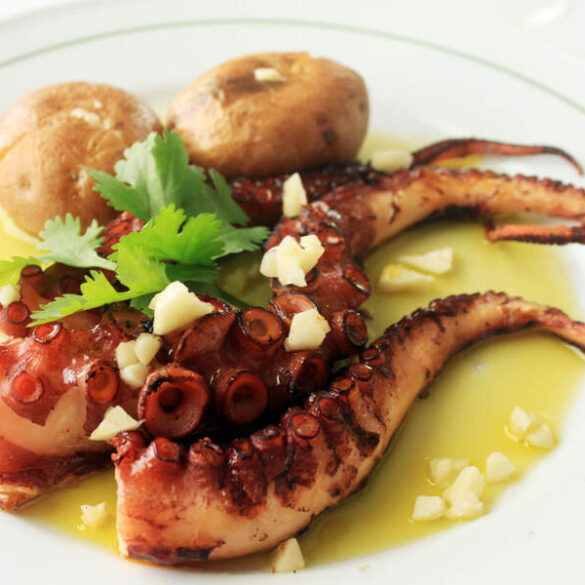 Ingredients
1 octopus (about 1.5 kg)
500 g of small potatoes for roasting
1 onion
4 cloves of garlic
200 ml of olive oil
1 bay leaf
Salt to taste
Instructions
First, place the octopus in a saucepan and cover it with water. Season with salt, bay leaf and whole onion with skin. Let it cook for about 45 minutes.
While the octopus is cooking, wash the potatoes well with the skin on and place them on a baking sheet. Sprinkle them with coarse salt and bake in a preheated oven at 180ºC (356ºF) for about 40 minutes.
After the indicated time, drain the octopus and place it on a baking sheet. Add the crushed garlic cloves with skin and drizzle with olive oil. Also put it in the oven and let it roast for about 15 minutes.
Remove the potatoes from the oven, give each one a "punch" (this is called "batata à murro" in Portuguese) and serve them with the octopus, mixing everything with the hot olive oil and garlic.
Notes
One way to enhance the flavor of this dish is to add some herbs and spices to the cooking water when boiling the octopus. For example, you could add a few sprigs of thyme or rosemary, a couple of bay leaves, and some black peppercorns. This will infuse the octopus with additional flavor and aroma.
Another suggestion is to marinate the octopus before cooking it. You could mix together some olive oil, lemon juice, minced garlic, and chopped fresh herbs such as parsley or cilantro. Place the octopus in a large bowl or zip-top bag and pour the marinade over it. Let it marinate in the refrigerator for at least an hour or up to overnight.
To add some extra texture and flavor to the dish, you could try pan-searing the boiled octopus before roasting it in the oven. Heat a large skillet over high heat and add a drizzle of olive oil. Once hot, add the drained octopus and sear it for a couple of minutes on each side until it develops a nice golden crust.
Another way to enhance the flavor of this dish is to use flavored olive oil when roasting the octopus and potatoes. You could try using garlic-infused olive oil or chili-infused olive oil for some extra kick.
To add some color and freshness to the dish, you could serve it with a simple salad on the side. Mix together some chopped tomatoes, cucumbers, red onion, and fresh parsley. Dress the salad with a simple vinaigrette made with olive oil, lemon juice, and salt.
Finally, for an extra touch of indulgence, you could try serving the dish with some aioli on the side. Mix together some mayonnaise, minced garlic, lemon juice, and salt until smooth. Serve the aioli alongside the roasted octopus and potatoes for dipping.