Hey friends! Today I'm excited to share with you one of my favorite recipes: Poulet Basquaise. This hearty and flavorful dish hails from the Basque Country, a region that straddles the border between France and Spain. Known for its rich culinary traditions and delicious cuisine, the Basque Country is home to some of the most mouth-watering dishes you'll ever taste.
Poulet Basquaise, or Basque-style chicken, is one such dish. Made with tender chicken pieces simmered in a rich tomato and pepper sauce, this dish is packed with flavor and perfect for a cozy dinner with family or friends. The combination of juicy tomatoes, sweet bell peppers, and tender chicken is simply irresistible.
One of the things I love about this dish is how easy it is to make. With just a few simple ingredients and some basic cooking techniques, you can have a delicious meal on the table in no time. And the best part? The leftovers are even better the next day!
In this blog post, I'll be sharing with you my tried-and-true recipe for Poulet Basquaise. I'll walk you through the steps and give you some tips and tricks to help you make this dish like a pro. So grab your apron and let's get cooking!
First things first: let's talk about the ingredients. For this recipe, you'll need some chicken pieces (I like to use a mix of thighs and drumsticks), tomatoes, bell peppers (both green and red), onions, garlic, white wine, olive oil, salt, pepper, and a bouquet garni (a bundle of herbs tied together with kitchen twine).
The key to making a delicious Poulet Basquaise is to use fresh, high-quality ingredients. Look for ripe tomatoes that are bursting with flavor and sweet bell peppers that are firm and crisp. And don't skimp on the olive oil – it adds a rich depth of flavor to the dish.
Once you have all your ingredients prepped and ready to go, it's time to start cooking. Begin by browning the chicken pieces in some olive oil until they are golden brown on all sides. Then remove them from the pan and set them aside.
Next, add the sliced onions, garlic, and bell peppers to the pan and cook until they are soft and starting to caramelize. This will take about 5-10 minutes. Then add the chopped tomatoes, white wine, salt, pepper, and bouquet garni to the pan and stir everything together.
Return the chicken pieces to the pan and nestle them into the sauce. Cover the pan and let everything simmer together for about 35-40 minutes until the chicken is cooked through and tender.
And that's it! Your delicious Poulet Basquaise is ready to serve. I like to serve this dish with some rice or crusty bread to soak up all that delicious sauce. A simple green salad on the side makes a perfect accompaniment.
I hope you enjoy making (and eating!) this delicious Poulet Basquaise as much as I do. It's a hearty and satisfying dish that's perfect for any occasion. Bon appétit!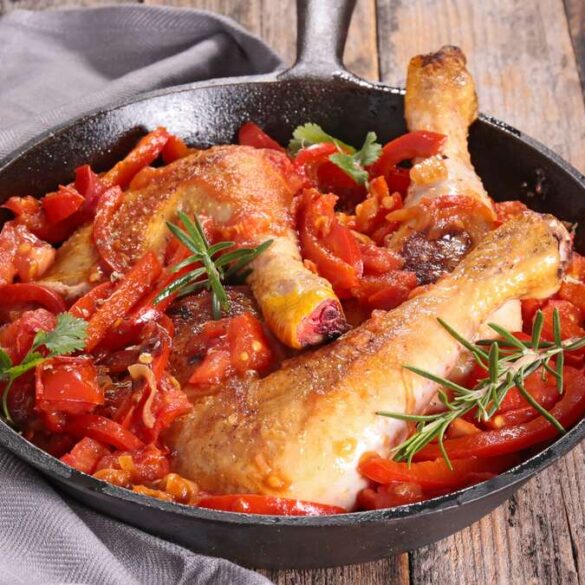 Ingredients
2.2 lbs of juicy tomatoes
1.5 lbs of colorful bell peppers (green and red)
3 sliced onions
6 tbsp of olive oil
salt and pepper to taste
1 chicken cut into 6 pieces
3 cloves of garlic
0.85 cups of white wine
1 bouquet garni
Instructions
Start by chopping the onion and garlic. Cut the tomatoes into pieces and slice the bell peppers into strips.
Heat up 4 tablespoons of oil in a casserole dish. Add the onions, garlic, and bell peppers and let them brown. Cook for about 5 minutes.
Add the tomatoes to the casserole dish and season with salt and pepper. Cover it up and let it simmer for about 20 minutes.
In a separate frying pan, brown the salted and peppered chicken pieces in some olive oil.
When they are golden brown, add them to the vegetables in the casserole dish. Cover it up again, add the bouquet garni and white wine, and let it cook for about 35 minutes.
Notes
You can always add other ingredients to the recipe to suit your taste. Some suggestions could be adding diced ham or bacon for extra flavor, or adding some sliced mushrooms or zucchini for more vegetables.
You could also try adding some spices such as paprika or cumin to give the dish a different flavor profile. Feel free to experiment and make the recipe your own!
Basque-style chicken is a flavorful and hearty dish that can be served with a variety of side dishes. Some popular options include rice or crusty bread to soak up the delicious sauce.
You could also serve it with roasted or steamed vegetables such as green beans, carrots, or broccoli. A simple green salad with a vinaigrette dressing would also make a great accompaniment.
For something a little different, you could try serving the chicken with some boiled or roasted potatoes seasoned with herbs and spices.
There are many variations of the Basque-style chicken recipe that you can try. Some ideas include:

Adding diced ham or bacon for extra flavor
Adding sliced mushrooms or zucchini for more vegetables
Using different spices such as paprika or cumin to give the dish a different flavor profile
Making the dish vegetarian by using tofu or a meat substitute like seitan or tempeh
Using another type of meat such as turkey or pork, or even a firm white fish like cod or halibut
Serving the dish with different side dishes such as roasted or steamed vegetables, boiled or roasted potatoes, or a simple green salad.