As a food blogger, I'm always on the lookout for new and exciting dishes to try. And let me tell you, my taste buds were in for a treat when I first tried Portuguese-style octopus rice (known in Portugal as arroz de polvo malandrinho) during my vacations in Algarve.
I still remember the moment I took my first bite. The rich and savory flavors of the tender octopus combined with the perfectly cooked rice was an explosion of flavor in my mouth. I knew right then and there that I had to learn how to make this dish at home.
Portuguese cuisine is known for its fresh seafood and bold flavors, and this dish is no exception. The combination of tender octopus, flavorful rice, and fresh herbs creates a dish that is both comforting and satisfying.
One of the things I love about this dish is how easy it is to make. With just a few simple ingredients and some basic cooking techniques, you can create a delicious meal that's sure to impress your friends and family.
In this blog post, I'll be sharing with you my recipe for Portuguese-style octopus rice. This recipe is perfect for a cozy night in or a dinner party with friends. So grab your apron and let's get cooking!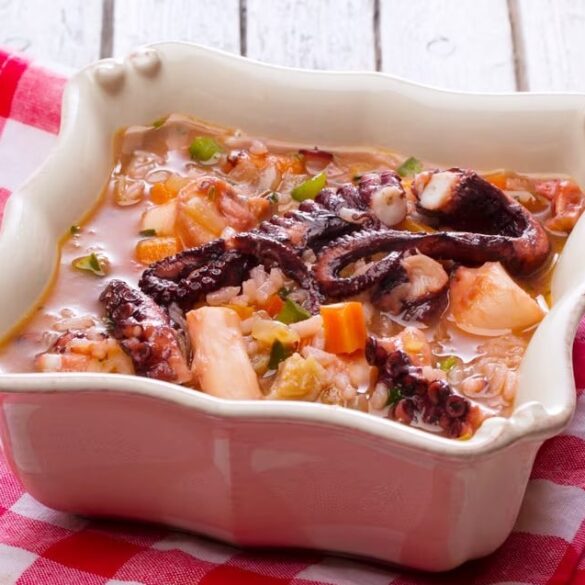 Ingredients
1 octopus, approx. 3.3 lbs
2.2 cups of rice
1 red bell pepper
1 onion
3 cloves of garlic
1.7 fl oz of olive oil
2 bay leaves
Cilantro to taste
Salt and chili pepper to taste
Instructions
Start by thawing your octopus and cooking it in water with bay leaves for about 40 minutes or until tender. Season with salt and let it rest for another 15 minutes.
Remove the octopus from the pot, cut it into pieces, strain the broth through a sieve and set aside.
Next, finely chop your onion and garlic. Cut your pepper in half, remove the seeds and white membranes and cut into cubes.
Heat a pot with olive oil and add the onion and garlic. Let it cook until the onion is soft before adding the pepper. Let it cook until tender.
Pour in 6.3 cups of octopus water (add more if necessary). When it starts to boil, adjust the salt, season with a little chili pepper, add the rice, stir and let it cook for 20 minutes.
Finally, add the pieces of octopus, remove from heat and sprinkle with plenty of chopped cilantro.
Notes
One way to enhance the flavor of this dish is to add some white wine to the cooking liquid. After adding the pepper to the pot and letting it cook until tender, pour in a splash of white wine and let it cook for a minute or two before adding the octopus water. This will add depth and complexity to the flavor of the dish.
Another way to improve this recipe is to use fresh herbs instead of dried ones. Fresh herbs have a more vibrant flavor and aroma than their dried counterparts. Try using fresh cilantro instead of dried, and consider adding other fresh herbs such as parsley or thyme.
You could also try adding some additional vegetables to the dish. For example, diced tomatoes or sliced mushrooms would add more texture and flavor to the dish. Simply add them to the pot along with the pepper and let them cook until tender.
Another suggestion is to experiment with different types of rice. While long-grain white rice is traditional in this dish, you could try using brown rice or even wild rice for a different flavor and texture.
Finally, consider serving this dish with some lemon wedges on the side. The bright acidity of the lemon juice will help to balance out the rich flavors of the dish and add a refreshing burst of flavor.