Hey there, foodies!
I'm a Portuguese woman living in the US and I'm always on the lookout for new and exciting dishes to impress my American friends. And let me tell you, I've found a real winner: Arroz de Cabidela (or Portuguese chicken blood rice).
Now, I know what you're thinking: "Chicken blood rice? That sounds… interesting." And you're not wrong! Arroz de Cabidela is a traditional Portuguese dish made with chicken, rice, and yes, chicken blood. But before you turn up your nose, hear me out.
This dish is packed with flavor and has been enjoyed by generations of Portuguese families. The blood may sound off-putting, but it adds a rich depth of flavor to the dish that you won't find anywhere else. Trust me, once you try it, you'll be hooked.
But don't just take my word for it. I recently made Arroz de Cabidela for a group of my American friends and they were blown away. They couldn't believe how delicious it was and were begging me for the recipe.
So if you're feeling adventurous and want to try something new in the kitchen, give Arroz de Cabidela a try. It's a unique and delicious dish that's sure to impress even the most skeptical of eaters.
In this blog post, I'll share with you my tried-and-true recipe for Arroz de Cabidela and give you some tips on how to make it perfectly every time. So grab your apron and let's get cooking!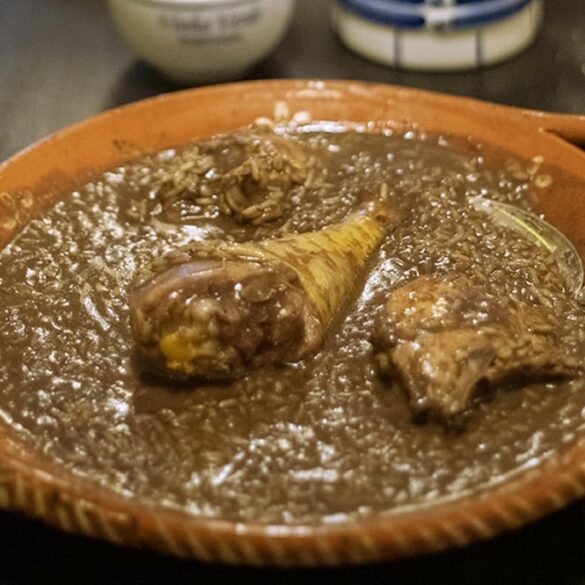 Ingredients
1 chicken (with its blood)
2.2 lbs of rice
1 large onion
3 cloves of garlic
1.27 cups of white wine
4 tablespoons of olive oil
3 tablespoons of vinegar
1 teaspoon of paprika
1 bay leaf
Parsley to taste
Salt and pepper to taste
Instructions
Start by prepping your ingredients: peel and wash the garlic cloves and finely chop them.
Next, prepare the chicken by cutting it into pieces. Season it with the garlic cloves, paprika, white wine, bay leaf, salt and pepper. Give everything a good mix and let it marinate for 30 minutes. Set aside.
While the chicken is marinating, peel and wash the onion and finely chop it.
Heat the olive oil in a pot over medium heat. Add the drained chicken and let it brown on both sides until it is golden.
Add the onion to the pot and give everything a good stir. Let it cook until everything is golden.
Pour in the marinade and let it cook for approximately 40 minutes until the chicken starts to become tender. If necessary, add more water to keep everything moist.
Check if you have approximately 4.23 cups of broth and adjust the seasoning to taste.
Add the rice to the pot and give everything a good stir. Let it cook, stirring occasionally, until the rice is cooked through.
Finally, add the blood previously mixed with vinegar to the pot and give everything a good mix. Remove from heat.
Garnish with chopped parsley and serve immediately.
Notes
One way to enhance the flavor of this dish is to use homemade chicken broth instead of water when cooking the rice. This will add depth and richness to the dish and make it even more delicious.
Another suggestion is to experiment with different herbs and spices. For example, you could try adding a pinch of cumin or coriander to the marinade for a subtle hint of warmth and spice.
You could also try using different types of rice to change up the texture and flavor of the dish. For example, using basmati rice would give the dish a lighter, fluffier texture, while using brown rice would add a nutty flavor and make the dish more nutritious.
To add some color and freshness to the dish, you could try stirring in some chopped fresh vegetables towards the end of cooking. For example, bell peppers, peas or carrots would all work well.
Another way to improve this recipe is to use high-quality ingredients. For example, using free-range chicken and organic vegetables can make a big difference in terms of flavor and nutrition.
Finally, don't be afraid to get creative with your presentation! Try serving the Arroz de Cabidela in individual bowls or ramekins, garnished with fresh herbs or a squeeze of lemon juice for an extra pop of flavor.