As a Portuguese woman living in the US, I often find myself missing the delicious flavors of Mediterranean food. The fresh seafood, the aromatic herbs, the rich olive oil – there's just something about these ingredients that transports me back to my childhood in Portugal.
One dish that I particularly miss is Seafood Rice. This classic Portuguese dish is a staple in many households and restaurants along the coast, and for good reason. It's a one-pot wonder that's packed with fresh seafood and flavorful rice, all cooked together in a delicious broth.
I remember my mother making this dish for special occasions when I was growing up. The whole family would gather around the table, eagerly waiting for her to bring out the steaming pot of Seafood Rice. We would all dig in, savoring the juicy mussels and clams, the tender shrimp and crab, and the perfectly cooked rice.
Now that I'm living in the US with my husband and children, I want to share this delicious dish with them. I want them to learn how to appreciate good Portuguese food and to understand the rich culinary heritage of my home country.
Making Seafood Rice at home can seem intimidating at first, but it's actually quite simple. All you need are some fresh ingredients and a little bit of patience. The key is to use high-quality seafood and to cook everything together in one pot, allowing the flavors to meld together.
In this blog post, I'll be sharing my family's recipe for Seafood Rice along with some tips and tricks for making it at home. Whether you're a seasoned cook or a beginner in the kitchen, this recipe is sure to impress your family and friends.
So join me on this culinary journey as we explore the delicious world of Portuguese Seafood Rice. Let's bring a taste of the Mediterranean to our kitchens and share this classic dish with our loved ones.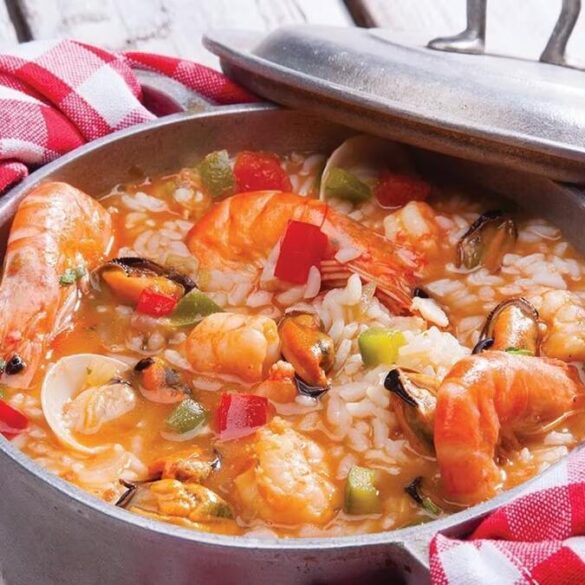 Ingredients
1.1 lb of mussels
0.88 lb of rice
1.1 lb of clams
1.1 lb of shrimp
4 crab mouths
4 tablespoons of olive oil
1 medium onion, chopped
1.76 oz of margarine
1 ripe tomato
2 cloves of garlic, chopped
cilantro to taste
0.42 cups of white wine
piri-piri to taste
salt to taste
Instructions
Start by cleaning and washing the seafood.
Place a pot with boiling water seasoned with salt on the stove.
When the water boils, add the crab and shrimp and let them cook for 5 to 7 minutes.
In a separate frying pan, place the bivalves to open and set them aside.
Remove the seafood from the pot and peel them, but leave some whole shrimp for decoration.
Reserve the cooking water from the seafood.
In the same pot, sauté the chopped garlic and onions in olive oil and margarine.
Add the chopped tomato and let it sauté lightly.
Add the cooking water and wine to the pot and let it boil.
Add the rice (4 cups of broth for 1 cup of rice) and let it cook for 12 minutes.
Add the cooked seafood and chopped cilantro, adjust the seasoning to taste, and let it cook for another 3 minutes.
Remove the pot from heat and decorate with whole shrimp that you reserved.
Serve immediately and enjoy!
Notes
One way to enhance the flavor of this dish is to use homemade seafood stock instead of water. You can make your own stock by simmering shrimp shells, fish bones, and other seafood scraps with vegetables and herbs for an hour or two. This will add a depth of flavor to the dish that you can't get from using just water.
Another way to improve this recipe is to use fresh herbs instead of dried ones. Fresh cilantro, parsley, and thyme will add a bright and vibrant flavor to the dish that dried herbs just can't match. You can also try adding a squeeze of fresh lemon juice at the end for a burst of acidity.
When choosing seafood for this recipe, it's important to look for fresh and high-quality ingredients. For mussels and clams, make sure their shells are tightly closed and they have a fresh ocean smell. For shrimp and crab, look for firm and translucent flesh with no discoloration or off-putting smells.
Another trick for choosing the best seafood is to buy it from a reputable fishmonger or seafood market. These places will have the freshest and highest quality seafood available, and the staff will be able to answer any questions you have about the products.
Finally, don't be afraid to experiment with different types of seafood in this recipe. You can try adding scallops, squid, or even lobster for a luxurious twist on this classic Portuguese dish. The key is to use fresh and high-quality ingredients for the best results.