As a Portuguese woman living in the US, I often find myself craving the delicious flavors of my homeland. One dish that I particularly miss is Feijoada Transmontana, a hearty stew made with beans, pork, and vegetables. It's a traditional dish from the Trás-os-Montes region of Portugal, and it's the perfect comfort food on a cold winter day.
I've been trying to recreate this dish in my own kitchen, but I've found that it can be challenging to find all of the traditional Portuguese ingredients here in the US. But that hasn't stopped me from trying! With a little bit of creativity and some substitutions, I've been able to make a version of Feijoada Transmontana that comes pretty close to the real thing.
For those of you who aren't familiar with this dish, let me tell you a little bit about it. Feijoada Transmontana is made with red beans, pork ribs, pig's trotter, fresh bacon, meat sausage, blood sausage, onions, garlic, bay leaf, olive oil, white wine, peeled tomatoes, carrots, and Portuguese cabbage. It's a rich and flavorful stew that's perfect for sharing with friends and family.
One of the challenges I've faced in trying to recreate this dish is finding the right types of sausage. In Portugal, we use a specific type of meat sausage and blood sausage that can be hard to find here in the US. But I've found that you can use other types of sausage as substitutes. For example, you could use Spanish chorizo or Italian sausage in place of the meat sausage.
Another challenge is finding Portuguese cabbage. This is a specific type of cabbage that's commonly used in Portuguese cooking. If you can't find it at your local grocery store, you could use another type of cabbage or even kale as a substitute.
Despite these challenges, I've been able to make a delicious version of Feijoada Transmontana that satisfies my cravings for this traditional Portuguese dish. It may not be exactly the same as what you would find in Portugal, but it's pretty close! And most importantly, it's delicious.
In this blog post, I'll share my recipe for Feijoada Transmontana with you. I'll also give you some tips on how to find the right ingredients and make substitutions if necessary. I hope this post will inspire you to try making this delicious stew at home!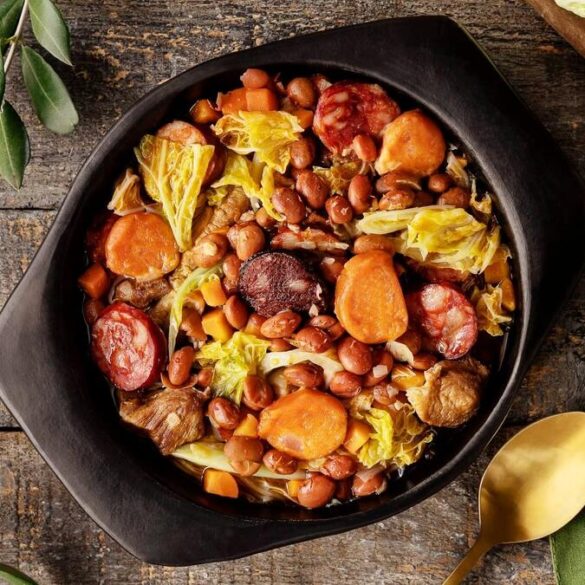 Ingredients
1.1 lb of dry red beans
0.77 lb of pork ribs
1 pig's trotter
0.22 lb of fresh bacon
1 meat sausage
1 blood sausage
2 onions
1 clove of garlic
1 bay leaf
3 tablespoons of olive oil
0.17 fl oz of white wine
1/2 can of peeled tomatoes
2 carrots
1 Portuguese cabbage
Salt and pepper to taste
Instructions
Soak the beans in water overnight. On the day, cook them in salted water.
Separately, cook the pork ribs, pig's trotter, bacon, and sausages in a pot with water and one of the peeled and chopped onions. Remove the meats as they become cooked.
Peel the remaining onion and garlic, chop them, put them in a pot, add the bay leaf and olive oil, and cook until the onion is soft.
Add the white wine, chopped tomatoes, peeled and sliced carrots, sliced sausages, and cabbage pieces. Cook for 5 minutes.
Then add the beans with some of their cooking broth and all the meats cut into pieces, adjust the salt, season with pepper, cover and cook until it thickens.
Serve immediately.
Notes
Add more vegetables: While this recipe already includes carrots and cabbage, you could add even more vegetables to make it even heartier and more nutritious. Consider adding diced potatoes, sliced bell peppers, or chopped kale to the stew.
Use different types of beans: This recipe calls for red beans, but you could experiment with using different types of beans to change up the flavor and texture of the stew. Try using white beans, black beans, or even lentils.
Add some spice: If you like your food with a bit of a kick, consider adding some spice to this stew. You could add a diced jalapeño pepper or a pinch of red pepper flakes to the pot while it's cooking.
Use different cuts of pork: This recipe calls for pork ribs and pig's trotter, but you could use other cuts of pork as well. Try using diced pork shoulder or sliced pork belly in place of the ribs and trotter.
Add some herbs: Fresh herbs can add a lot of flavor to a dish. Consider adding some chopped fresh parsley, thyme, or rosemary to the stew while it's cooking.
Serve with a side: This stew is delicious on its own, but you could also serve it with a side dish to make it even more satisfying. Try serving it with some crusty bread, rice, or roasted potatoes.