There's something undeniably comforting about a steaming bowl of soup on a chilly day. And when it comes to cozy and satisfying soups, Polish Mushroom Soup is hard to beat.
Made with fresh or dried mushrooms, this traditional Polish soup is rich, earthy, and oh-so-flavorful. It's the perfect dish to warm you up from the inside out and fill your home with the most delicious aromas.
In this post, we'll show you how to make authentic Polish Mushroom Soup from scratch. We'll walk you through the ingredients and steps, and share our tips and tricks for making the most delicious soup possible.
But before we dive into the recipe, let's talk a little bit about the history and origins of this beloved Polish dish.
Mushroom soup has been a staple in Polish cuisine for centuries. In fact, it's one of the oldest and most traditional soups in Poland. Made with wild mushrooms foraged from the forests, this soup was a way to make use of the abundant mushroom harvests that occurred each fall.
Over time, the recipe for Polish Mushroom Soup has evolved and changed. Today, there are many different variations of this soup, each with its own unique twist. Some recipes call for fresh mushrooms, while others use dried mushrooms that have been rehydrated. Some recipes include potatoes and carrots, while others are made with just mushrooms and broth.
But no matter how you make it, one thing remains constant: Polish Mushroom Soup is always delicious.
So if you're ready to cozy up with a bowl of this comforting soup, let's get started!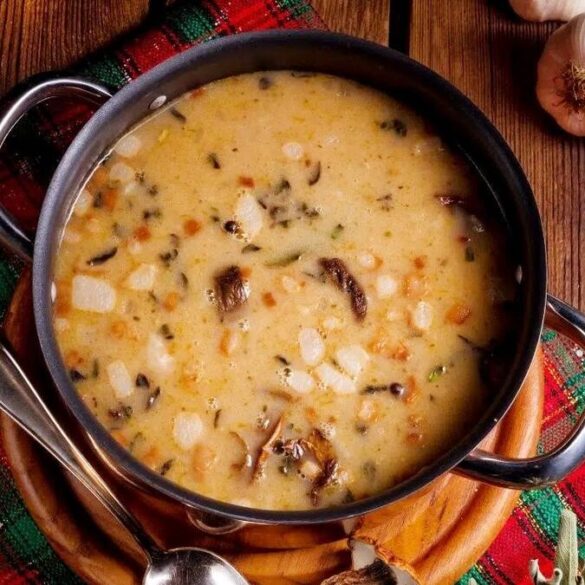 Ingredients
1.3 lbs of fresh or frozen mushrooms or 2.5-3.5 oz of dried mushrooms
4.2 cups of broth (vegetable, chicken, beef)
1 large onion
4 medium potatoes
2 medium carrots
3 cloves of garlic
a handful of fresh dill
2 tablespoons of olive oil or rice oil
3 tablespoons of clarified butter
1 tablespoon of wheat flour
3 tablespoons of heavy cream (30%)
spices and herbs: 1 teaspoon of marjoram, a flat teaspoon of salt and pepper
Instructions
If using dried mushrooms, place them in a narrow dish and pour 500 ml of cold water over them. Cover with a lid and set aside to soak for at least 12 hours (preferably overnight).
In a medium-sized frying pan, heat two tablespoons of olive oil or vegetable oil (rice or grape seed) and two tablespoons of clarified butter (the third tablespoon is for the roux).
Peel and finely chop the onion. Add to the pan and fry until golden brown.
Peel and dice the potatoes and carrots. Add to the pan and fry for a few minutes.
Pour in the broth and bring to a boil.
Add the mushrooms (fresh, frozen or soaked dried mushrooms) to the soup.
Cook until the vegetables are soft.
In a separate pan, melt the remaining tablespoon of clarified butter and add a tablespoon of flour. Stir until smooth to make a roux.
Add a ladle of soup to the roux and stir until smooth.
Pour the roux into the soup while stirring constantly.
Add 3 tablespoons of heavy cream to the soup and stir.
Season with salt, pepper, marjoram, and chopped dill.
Notes
Add more vegetables: To make this soup even more nutritious and flavorful, consider adding more vegetables such as celery, leeks, or parsnips. These vegetables will add depth of flavor and additional nutrients to the soup.
Use different types of mushrooms: This recipe calls for fresh or frozen mushrooms or dried mushrooms, but you can experiment with different types of mushrooms to add more variety and flavor to the soup. For example, try using a mix of shiitake, cremini, and portobello mushrooms.
Add a splash of wine: To enhance the flavor of the soup even further, consider adding a splash of white or red wine to the broth. The wine will add depth and complexity to the soup and complement the earthy flavors of the mushrooms.
Top with croutons or toasted bread: To add some crunch and texture to the soup, consider topping it with homemade croutons or slices of toasted bread. The crispy bread will soak up the flavorful broth and add a satisfying crunch to each bite.
Garnish with fresh herbs: To add a pop of color and freshness to the soup, consider garnishing it with fresh herbs such as parsley, thyme, or chives. The fresh herbs will add brightness and contrast to the rich flavors of the soup.