Hello friends! Today I'm excited to share with you a recipe that is near and dear to my heart – Portuguese rolls, or as we call them in Portugal, papos secos. These rolls are a staple in Portuguese cuisine and can be found in every bakery and café throughout the country. They're perfect for sandwiches, as a side dish, or just on their own with some butter or jam.
Now, I know what you're thinking – "But there are already so many recipes for Portuguese rolls on the internet!" And you're right, there are. But let me tell you a little secret – most of those recipes aren't authentic. They call for ingredients like milk, butter, cornmeal, sugar, and eggs – but the traditional recipe for papos secos doesn't use any of those things.
In fact, there isn't any bread in Portugal that is made with milk or butter. The vast majority of breads in Portugal are made with just four simple ingredients – flour, water, salt, and yeast. And that's all you need to make delicious, authentic Portuguese rolls.
So how do I know what the real recipe is? Well, I learned it from my grandmother, who has been making these rolls for as long as I can remember. She taught me the traditional way to make papos secos, using only flour, water, yeast, and salt. And let me tell you – they turn out perfectly every time.
Making these rolls always brings back fond memories of spending time in the kitchen with my grandmother. We would mix the dough together and then shape it into little balls, all while chatting and laughing. And the smell of freshly baked bread wafting through the house was enough to make anyone's mouth water.
So if you want to try making authentic Portuguese rolls at home, stick around! I'm going to share with you the traditional recipe that has been passed down through generations of my family. And trust me – once you try these rolls, you'll never go back to those other recipes again.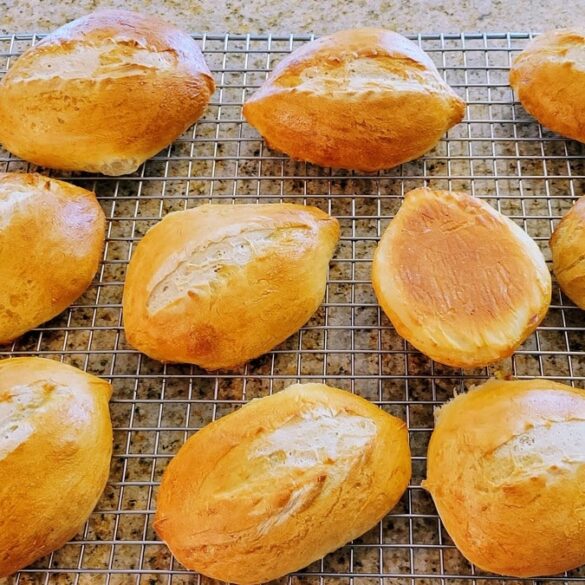 Ingredients
8 cups of flour
4 tablespoons of olive oil
1.76 oz of baker's yeast
2.5 cups of water
1 pinch of salt
Flour for dusting
Instructions
Start by warming the water in a saucepan and adding the baker's yeast. Stir until it's completely dissolved.
Next, place the flour in a mound along with a pinch of salt and make a cavity in the center.
Add the olive oil and then gradually pour in the water with the yeast, kneading as you go.
Once everything is well combined, place the dough in a bowl dusted with flour and make a slight cross cut on top. Cover with a cloth and let it rise in a warm place until it doubles in size.
Preheat your oven to 350°F and divide the dough into pieces, rolling them into balls.
Place them well apart on baking sheets dusted with flour (or lined with parchment paper) and let them rise for another 5 minutes.
Bake for approximately 40 minutes or until cooked and golden brown on top.
Remove from the oven and serve.
Notes
You can store these rolls in an airtight container at room temperature for up to 2-3 days. If you want to keep them for longer, you can freeze them for up to 3 months. Just make sure to wrap them tightly in plastic wrap or aluminum foil before placing them in a freezer-safe bag or container. When you're ready to eat them, simply thaw them at room temperature and reheat them in the oven or microwave.
you can reheat the rolls in a toaster. Just slice them in half and toast them until they're warm and crispy. You can also reheat them in an oven or microwave if you prefer. In the oven, you can wrap them in foil and bake at 350°F for about 10 minutes. In the microwave, you can wrap them in a damp paper towel and heat on high for about 15-20 seconds.
There are several ways you can improve this recipe for quick and fluffy rolls. One way is to experiment with different types of flour to add more flavor and texture to the rolls. For example, you could try using whole wheat flour or a blend of white and whole wheat flour for a heartier roll. You could also try adding herbs or spices to the dough for added flavor.
Finally, you could try different methods of shaping the rolls to make them more visually appealing. Instead of simply rolling the dough into balls, you could try braiding the dough or shaping it into knots or other shapes. This will add an extra touch of elegance to the rolls and make them even more impressive when served.