There's something so comforting about a warm bowl of soup on a chilly day. And when that soup is creamy, flavorful, and packed with delicious ingredients like mushrooms and leeks, it's even better.
Mushroom and leek soup is one of my favorite soups to make when the weather starts to turn cold. It's easy to make, and the combination of earthy mushrooms and sweet leeks is just perfect. Plus, it's a great way to get in some extra veggies!
This soup is also incredibly versatile. You can make it as thick or as thin as you like, depending on your preference. And you can also play around with the ingredients to make it your own. Try adding some fresh herbs like thyme or rosemary for extra flavor, or experiment with different types of mushrooms to add more depth.
One of the things I love about this soup is how easy it is to make. You start by sautéing some onions and garlic in a little olive oil until they're soft and fragrant. Then you add the sliced leeks and cook them until they start to soften. Next come the mushrooms, which you cook until they release their water and become tender.
Once everything is cooked, you add some water (or stock if you prefer) and let the soup simmer until all the flavors have melded together. Then you blend everything up until it's smooth and creamy. And that's it! You can serve the soup as is, or add a drizzle of truffle oil and some toasted almonds for extra flavor and crunch.
This mushroom and leek soup is perfect for a cozy night in, or for serving to guests as a starter. It's also great for meal prep – just make a big batch on the weekend and enjoy it throughout the week.
So if you're looking for a delicious and comforting bowl of soup, give this mushroom and leek soup recipe a try. It's easy to make, packed with flavor, and perfect for chilly days.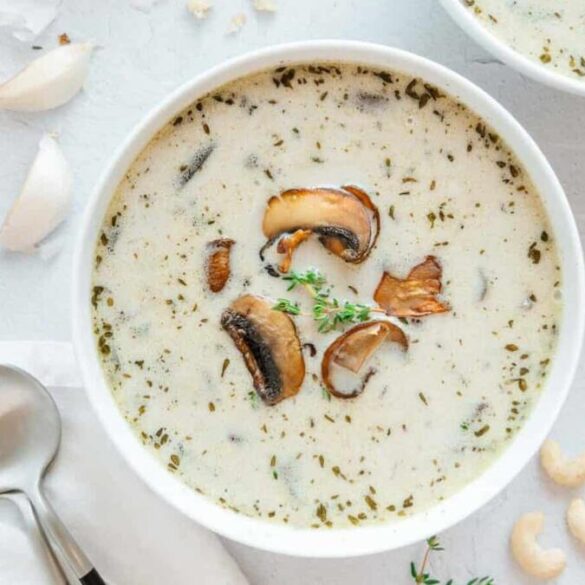 Ingredients
A drizzle of olive oil
1 chopped onion
2 cloves of garlic, chopped
1/2 leek
2 cups of sliced mushrooms
Salt (to taste)
Enough water to cover the ingredients
A drizzle of truffle oil
Toasted almonds (to taste)
Instructions
Start by heating a drizzle of olive oil in a hot pan.
Add the chopped onion and garlic and sauté until fragrant.
Add the leek and cook for a few minutes until it starts to soften.
Add the mushrooms and cook until they release their water and become tender.
Add salt and water, cover, and cook until the water starts to boil.
Blend the soup until smooth and creamy.
Serve with a drizzle of truffle oil and a sprinkle of toasted almonds.
Notes
One way to add more depth of flavor to this soup is to roast the mushrooms before adding them to the soup. Simply toss the sliced mushrooms with a little olive oil and salt and roast them in the oven until they are golden brown and tender. This will add a rich, earthy flavor to the soup.
Another way to enhance the flavor of this soup is to use homemade vegetable or chicken stock instead of water. This will add more depth and complexity to the soup and make it even more delicious.
You can also experiment with different types of mushrooms to add more variety to the soup. Try using a mix of cremini, shiitake, and oyster mushrooms for a more complex flavor.
Adding some fresh herbs such as thyme or rosemary can also enhance the flavor of this soup. Simply chop up a few sprigs of fresh herbs and add them to the soup while it's cooking.
Finally, you can also try adding some cream or coconut milk to the soup to make it even creamier and more luxurious. Simply stir in a little cream or coconut milk at the end of cooking and heat through before serving.