The marble cake is one of the favorites of the Portuguese and there is no lack of reasons for that. And if it's moist and fluffy, even better, right? After all, who can resist a good chocolate dessert? 🙂 Its appearance also makes it very attractive for the little ones (and it might even be a good idea to invite them to participate in making it).
There are many different ways to prepare marble cake, some more traditional than others. One of the great secrets to the success of this recipe is flavoring the white dough with a flavor that goes well with chocolate: coconut, vanilla or orange are usually some of the best options but, as with everything, the only limit is your imagination.
If we've whetted your appetite and you feel like trying it out, then roll up your sleeves and get to work! Gather the ingredients and call the little ones at home to help with the task (if they agree to clean everything up at the end, of course). Learn how to make a delicious moist and fluffy marble cake and enjoy! Enjoy!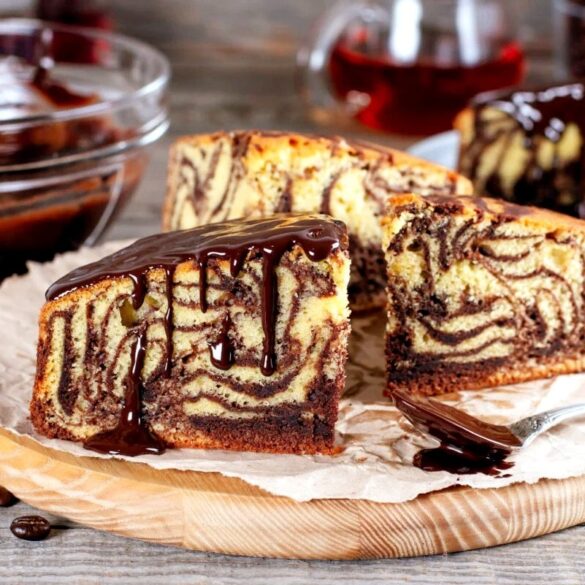 Ingredients
2/3 cups of softened butter
1 cup of sugar
5 eggs
1 orange (zest)
1 cup of milk
½ cup of orange juice
1 and 1/2 cups of flour ½ cup grated coconut
1 tablespoon of powdered yeast
powdered chocolate (or cocoa)
Instructions
Preheat the oven to 360 ºF.
Add the softened butter with the sugar and beat well until you get a fluffy and homogeneous mixture.
Add the yolks, one by one. Stir between each addition to coat the ingredients.
Add the orange zest and grated coconut. Engage delicately.
Add the flour and baking powder and beat well until you get a smooth, lump-free cream.
Beat the egg whites until stiff and add them to the previous mixture. Engage delicately.
Separate the dough into 2 portions, more or less equal.
Add the cocoa powder to one of the portions and mix well with the remaining ingredients.
NOTE: also add a little milk so that this dough does not become heavier than the white one, otherwise it will sink into the cake pan.
Pour the masses into the mold alternately until both are used up. Make the marbled with the help of a spatula.
Place in the oven for 35 minutes or so.
Remove from the oven and, while it is still warm, drizzle with 1 cup of hot milk.
Sprinkle with half a tablespoon of sugar and the zest of half an orange.
Serve.
Notes
If your intention is to prepare a moist and fluffy marble cake, there are several ways to do it. Some are described in the recipe and others may also be good options.
The recipe mentions drizzling with hot milk, beating the egg whites until stiff and adding a little more yeast than usual. But you can also water the cake with an orange syrup, for example (don't add too much so as not to change the flavor radically).
Another alternative is to water it with a melted chocolate syrup in a bain-marie. In this case, as the chocolate is thicker, you should pierce the surface of the cake before drizzling it and wait a few hours before consuming it.
The white dough is flavored with orange and coconut (flavors that go very well with the dark chocolate dough). However, you can choose to make a plain dough without any aroma. Instead of coconut and orange, you can flavor it with vanilla essence, another good combination with chocolate.
And for an even more radical idea, prepare a white dough with yogurt cake dough (but be careful to choose a flavor that doesn't clash too much with the chocolate).