Hello, friends! Today I'm sharing with you one of my favorite summer recipes: kolokithakia tiganita. Say what? Don't worry, it's easier to make than it is to pronounce. It's basically crispy fried zucchini with a dreamy tzatziki sauce. And it's so, so good.
If you've ever been to a Greek restaurant or visited Greece, you've probably had this dish before. It's a staple appetizer or meze that you can find in almost any taverna or street food stall. It's simple, satisfying, and addictive.
You just can't stop dipping those crunchy zucchini slices into that creamy yogurt and cucumber sauce. It's a match made in heaven.
But you don't have to travel to Greece or go out to eat to enjoy this dish. You can make it at home with just a few ingredients and minimal effort. All you need is some zucchini, flour, oil, yogurt, cucumber, garlic, lemon juice, and herbs. That's it!
And the best part is that you can use up all those zucchini that are overflowing in your garden or at the farmers market right now.
This recipe is perfect for summer because it's light, refreshing, and full of fresh flavors. You can serve it as a snack with some pita bread or crackers, as a side dish with some grilled chicken or fish, or as a main course with a big salad.
You can even make it ahead of time and store it in the fridge for up to 3 days. It tastes great cold or at room temperature.
I love making this recipe because it reminds me of my travels to Greece and the wonderful food I had there. It also makes me feel like I'm bringing a little bit of the Mediterranean sunshine into my kitchen. And who doesn't want that?
So grab your zucchini and let's get frying! Trust me, you're going to love this crispy zucchini with tzatziki sauce. It's crispy, creamy, tangy, herby, and oh-so-delicious. Let's do this!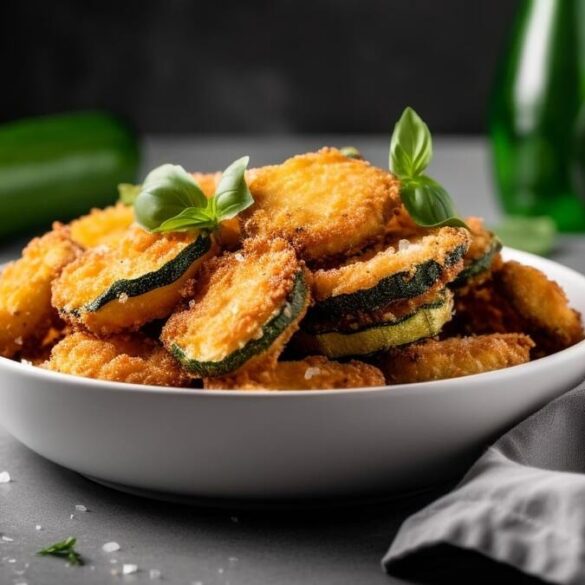 Ingredients
For the zucchini:

1.65 lb zucchini, sliced thin (about 0.2 inches)
a generous pinch of salt
1/2 tsp sugar
3 tbsp white vinegar
1.76 oz flour
oil for frying

For the tzatziki:

1 cucumber, peeled and grated
a pinch of salt
3 tbsp white vinegar, divided
10.58 oz plain Greek yogurt
a handful of fresh dill, chopped
pepper to taste
1/3 clove garlic, minced
2 tbsp olive oil

For serving:

more fresh dill
more olive oil
lemon wedges
Instructions
Toss the zucchini slices with salt, sugar and vinegar in a large bowl. Let them sit for about 15 to 20 minutes to release some of their moisture and flavor.
Heat a large skillet over medium-high heat and add enough oil to cover the bottom. The oil should be hot but not smoking, about 356°F.
Place a bowl of water and a bowl of flour next to the stove. Working in batches, dip each zucchini slice in the water and then coat with flour, shaking off any excess.
Carefully drop the zucchini slices in the hot oil and fry for about 4 to 5 minutes per side, or until golden and crisp. Transfer to a paper towel-lined plate to drain.
To make the tzatziki, squeeze the grated cucumber in a clean towel to remove as much liquid as possible.
Transfer to a medium bowl and add a pinch of salt and one tablespoon of vinegar. Stir in the yogurt, dill and pepper.
In a small blender or food processor, combine the garlic and olive oil and blend until smooth. Add this mixture to the yogurt mixture and stir well.
To serve, arrange the zucchini slices on a large platter and drizzle with some olive oil.
Sprinkle with more dill if desired and serve with lemon wedges and tzatziki on the side.
Dip, crunch, repeat!
Notes
You can substitute some of the ingredients if you don't have them or if you prefer something else. Here are some suggestions:
Zucchini: you can use yellow squash, eggplant, or even mushrooms instead of zucchini. Just make sure to slice them thin and adjust the frying time accordingly.
Vinegar: you can use apple cider vinegar, red wine vinegar, or lemon juice instead of white vinegar. They will add a different flavor but still provide some acidity to the zucchini and the tzatziki.
Yogurt: you can use sour cream, cream cheese, or vegan yogurt instead of Greek yogurt. They will make the tzatziki thicker and creamier, but also higher in fat and calories.
Dill: you can use parsley, mint, or cilantro instead of dill. They will give a different herbaceous flavor to the tzatziki, but still complement the zucchini well.
Garlic: you can use onion, shallot, or garlic powder instead of garlic. They will provide a milder flavor and less bite to the tzatziki and the zucchini.