Hello lovely people! Today I want to share with you a recipe that's been a real game-changer in my kitchen – the Kimchi Burrito. This fusion dish combines the bold and spicy flavors of Korean kimchi with the classic Mexican burrito, and let me tell you, it's an absolute flavor explosion.
Now, if you're not familiar with kimchi, it's a traditional Korean dish made from fermented vegetables, usually cabbage, mixed with spices and seasonings. It's tangy, spicy, and packed with flavor. And when you combine it with the classic burrito ingredients like rice, beans, cheese, and veggies, you get something truly special.
What I love about this recipe is how quick and easy it is to make. You can have dinner on the table in just 20 minutes, and it's a great way to use up any leftover rice you might have in the fridge. Plus, it's a vegetarian dish that's loaded with healthy veggies and protein-packed black beans.
But don't worry if you're not a vegetarian – you can easily add some cooked chicken, beef or pork to the filling to make it even more satisfying. And feel free to get creative with the veggies – add whatever you have on hand like zucchini, corn or spinach.
So without further ado, let me show you how to make this delicious Kimchi Burrito. Trust me, once you try it, it'll become a regular in your dinner rotation.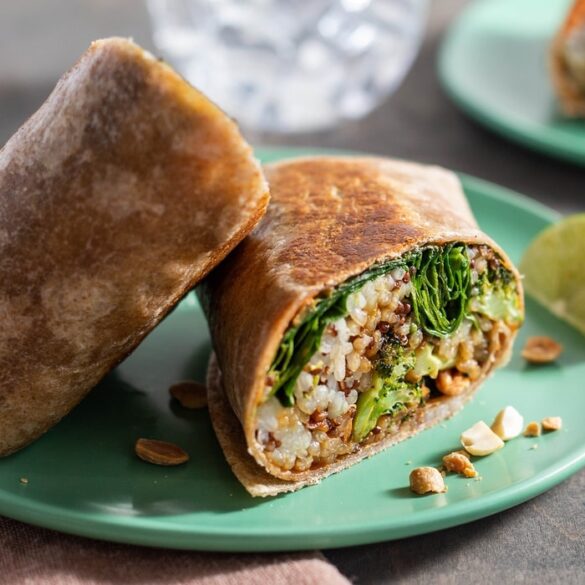 Ingredients
1 onion, diced
2 cloves garlic, minced
1 bell pepper, diced
1 tablespoon ginger, grated
1/2 cup kimchi, chopped
1 cup black beans, drained
2 cups cooked rice
Salt to taste
Gochujang, Chili Garlic Paste or Sriracha (optional)
2 scallions, sliced
1/4 cup cilantro, chopped
1 cup shredded cheese (or meltable vegan cheese)
3-4 medium-large tortillas
Instructions
Heat a large skillet over medium heat. Add a drizzle of oil and sauté the onion, garlic, and bell pepper until tender. Add the ginger and cook for another minute.
Add the black beans, rice, and chopped kimchi to the pan. Stir to combine and heat through. Season with salt to taste. If you like it spicy, add some gochujang, Chili Garlic Paste or Sriracha.
Once everything is heated through and well combined, add the scallions and cilantro. Stir in the shredded cheese until it's melted and everything is well combined.
To assemble the burritos, warm the tortillas in a dry skillet or directly over a gas flame until they're pliable. Spoon some of the filling onto each tortilla and roll up tightly.
Notes
You can add meat to this recipe. You could cook some diced chicken, beef, or pork separately and then add it to the pan along with the black beans, rice, and kimchi. You could also use pre-cooked meat such as rotisserie chicken or leftover steak. Just make sure the meat is heated through before assembling the burritos.
You can substitute some of the ingredients in the recipe to suit your taste and dietary needs. For example, you could use a different type of bean instead of black beans, such as kidney beans or pinto beans. You could also use a different type of cheese or leave it out altogether if you're vegan or lactose intolerant. You could also add other vegetables such as zucchini, corn, or spinach to the filling.
You can use quinoa instead of rice in this recipe. Quinoa is a great alternative to rice as it's a good source of protein and fiber. Simply cook the quinoa according to the package instructions and then use it in place of the rice in the recipe.
You can add other vegetables to the filling of the Kimchi Burrito. Some good options could be zucchini, corn, spinach, or kale. Simply sauté the vegetables along with the onion, garlic, and bell pepper until they're tender and then proceed with the rest of the recipe as written.
You can use a different type of cheese in this recipe. The recipe calls for shredded cheese, so any type of cheese that melts well and has a flavor that you enjoy would work well. Some good options could be cheddar, Monterey Jack, or pepper jack. You could also use a vegan cheese if you prefer.