Cemita Poblana is a traditional Mexican sandwich that hails from the city of Puebla. This delicious sandwich is packed with flavor and is a must-try for anyone who loves Mexican cuisine.
In this blog post, we'll explore the history and ingredients of the Cemita Poblana, and I'll share with you my recipe for making this tasty dish at home.
The Cemita Poblana is named after the city of Puebla, where it originated. Puebla is known for its rich culinary history and is home to many traditional Mexican dishes. The Cemita Poblana is one of the city's most famous dishes and is enjoyed by locals and visitors alike.
The sandwich is made using a special type of bread called a cemita. This bread is round and has a sesame seed topping. It's similar to a brioche bun and has a slightly sweet flavor. The bread is sliced in half and filled with a variety of ingredients.
One of the key ingredients in a Cemita Poblana is the meat. The sandwich can be made with beef, chicken, or pork. The meat is typically breaded and fried, giving it a crispy texture.
In addition to the meat, the sandwich also includes avocado, Oaxaca cheese, and pápalo leaves. These ingredients add creaminess, saltiness, and a unique herbal flavor to the sandwich.
To finish off the Cemita Poblana, it's topped with a spicy salsa. This can be a red salsa or a chipotle salsa, depending on your preference. The salsa adds heat and acidity to the sandwich, balancing out the rich flavors of the other ingredients.
Making a Cemita Poblana at home is easier than you might think. With just a few simple ingredients and some basic cooking techniques, you can create this delicious sandwich in your own kitchen. In this blog post, I'll share with you my recipe for making Cemita Poblana at home. So let's get started!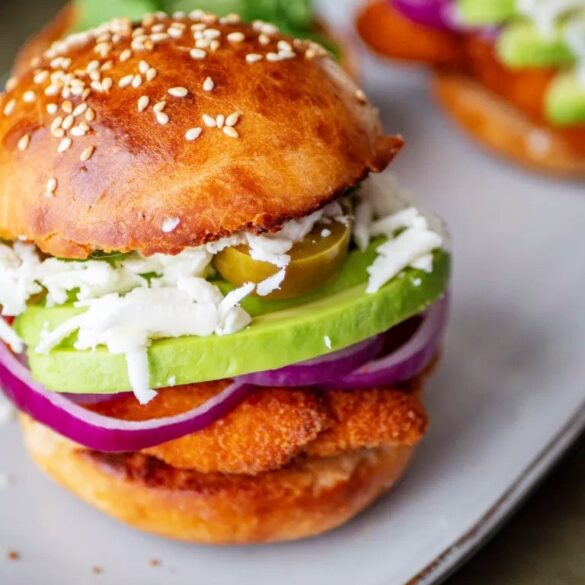 Ingredients
8 beef cutlets
Salt and pepper to taste
2 eggs
1 cup of breadcrumbs
Oil for frying
8 cemitas (or round bread of 3 inches)
4 ripe avocados
1.1 pounds of shredded Oaxaca cheese
1 cup of pápalo leaves
1/2 onion, sliced
1/2 cup of olive oil
Instructions
Season the cutlets with salt and pepper, dip them in beaten eggs and then coat them with breadcrumbs. Fry in hot oil and drain.
Slice the cemitas in half; place the cutlet on top, followed by the cheese, avocado slices, onion and pápalo leaves.
Drizzle with a little olive oil and salt. Serve with red or chipotle salsa.
Notes
Pápalo is an herbaceous annual plant whose leaves can be used for seasoning food. The taste has been described as "somewhere between arugula, cilantro and rue". The plant is commonly grown in Mexico and South America for use in salsas1. In Mexico, the herb commonly accompanies tacos. Not all Mexicans enjoy its taste, but some find that it improves the flavor of tacos and typical Mexican salsas and soups.
You can always experiment and add your own twist to the recipe. Some common additions to Cemita Poblana include sliced tomatoes, refried beans, and different types of meat such as chicken or pork. You can also try adding different types of cheese or sauces to suit your taste. Have fun experimenting and making the recipe your own!
Some good sauces to eat with Cemita Poblana are red salsa or chipotle salsa. You can also try other Mexican salsas such as salsa verde or pico de gallo. It's all about personal preference, so feel free to experiment and find the sauce that you like best!