As a woman from Minho, Portugal now living in the US, I have always cherished the traditional foods of my homeland. One of my favorites is broa de milho, a delicious cornbread that has been a staple in Portuguese cuisine for generations. I learned how to make broa de milho from my grandmother, who passed down her recipe and techniques to me with love and care.
Every time I make broa de milho, I am transported back to my childhood in Minho, Portugal. I can still remember the warmth of my grandmother's kitchen and the smell of freshly baked bread wafting through the air.
My grandmother was a master baker, and she took great pride in her broa de milho. She would carefully measure out each ingredient and mix the dough with strong, capable hands.
As a child, I would watch in awe as my grandmother worked her magic in the kitchen. She would tell me stories about her own childhood and about the history of broa de milho. I learned that this bread has been a staple in Portuguese cuisine for generations, and that it has a rich and fascinating history.
Making broa de milho with my grandmother was always a special experience. We would work together to shape the dough and prepare it for baking. And when the bread was finally ready, we would sit down together to enjoy a warm slice with butter and honey.
These memories are precious to me, and they are part of what makes broa de milho so special. Every time I make this bread, I am reminded of my grandmother and of the love and care that she put into every loaf. It is a connection to my past and to my heritage that I cherish deeply.
Broa de milho is made with coarse ground cornmeal, which gives it a hearty and satisfying texture. It is the perfect accompaniment to any meal, whether served alongside a hearty stew or simply enjoyed on its own with a slather of butter.
The flavor of broa de milho is rich and complex, with a subtle sweetness from the cornmeal and a depth of flavor from the other ingredients.
Making broa de milho is a labor of love. It requires time and patience to achieve the perfect texture and flavor. But the end result is always worth it. There is something deeply satisfying about taking a bite of warm, freshly baked broa de milho and knowing that you have created something truly special.
In this blog post, I will share with you my grandmother's recipe for broa de milho. I will guide you through the process step-by-step, sharing tips and tricks along the way to help you achieve the perfect loaf.
Whether you are new to baking or an experienced home cook, I hope that this recipe will inspire you to try your hand at making broa de milho at home.
So join me on this culinary journey as we explore the delicious world of broa de milho. Let's get baking!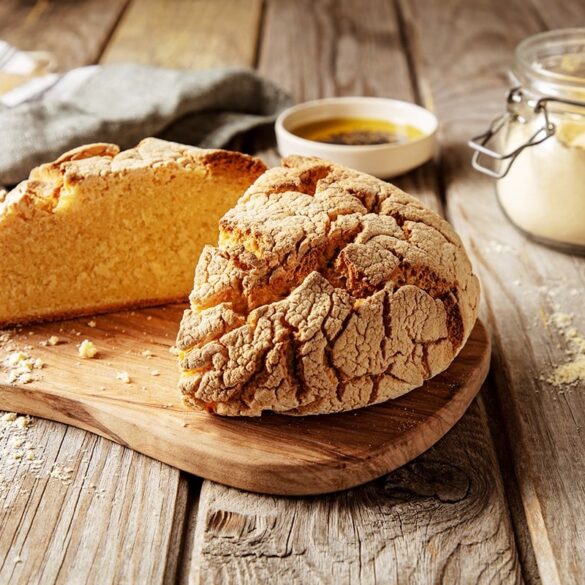 Ingredients
8.8 oz of coarse ground cornmeal
6.76 fl oz of boiling water
0.35 oz of fresh yeast
5.07 fl oz of warm water (98.6º F)
4.4 oz of rye flour
3.17 oz of all-purpose flour + extra for dusting
1/2 tablespoon of salt
Instructions
In a large bowl, combine the cornmeal and boiling water. Stir until well combined, then cover and let rest for one hour.
In a separate bowl, dissolve the yeast in the warm water. Add this mixture to the cornmeal mixture along with the rye flour and all-purpose flour. Stir until well combined; the dough will be quite sticky.
Cover the dough and let it rise in a warm place for one hour.
Preheat your oven to 437ºF.
On a well-floured surface, turn out the dough and shape it into a ball without flattening it too much. Dust the surface of the bread with flour.
Transfer the dough to a floured baking sheet and bake for approximately 45 minutes.
Allow the bread to cool on a wire rack for half an hour before slicing and serving.
Notes
Coarse ground cornmeal is a type of cornmeal that is ground from dried field corn. It is hearty and starchy, giving baked goods and other foods an extra tasty crunch.
Cornmeal can be ground to coarse, medium, or fine consistencies, with each grind size serving different culinary purposes. Coarse ground cornmeal is larger in size than medium or fine ground cornmeal and takes longer to absorb water.
While you can use medium or fine ground cornmeal in place of coarse ground cornmeal, it will result in a different texture in the final product. Coarse ground cornmeal gives baked goods and other foods an extra tasty crunch , while medium or fine ground cornmeal will result in a smoother texture.
If you prefer a smoother texture in your cornbread, you can use medium or fine ground cornmeal instead of coarse ground cornmeal.
You can make some substitutions in the recipe. For example, you can use active dry yeast instead of fresh yeast. Just keep in mind that you will need to use a slightly larger amount of active dry yeast (about 1.5 times the amount of fresh yeast called for in the recipe).
You can also experiment with using different types of flour in place of the rye flour and all-purpose flour. However, keep in mind that making substitutions may change the texture and flavor of the final product.