As a woman living in the US with a Portuguese family, I have always cherished the rich flavors and traditions of my heritage. One of my fondest memories is of my mother making bolo de bolacha, a delicious dessert made with layers of cookies and cream. The sweet aroma would fill our home and bring us all together around the table.
Now, as a mother myself, I continue this tradition by making bolo de bolacha for my own children. It's a simple yet satisfying dessert that never fails to bring a smile to their faces. And the best part? It's incredibly easy to make!
Bolo de Bolacha is a typical Portuguese dessert that delights the most demanding palates. It is made with layers of toasted or Maria cookies, soaked in strong and sweetened coffee, and a fluffy and tasty cream of butter, sugar and egg yolks. The result is a moist, aromatic and irresistible cake that melts in your mouth with each bite.
The Bolo de Bolacha can be decorated with grated cookie, melted chocolate or whipped cream, according to each one's taste. There are also variations of the recipe that include condensed milk, caramel or liqueur. The important thing is that the cake is well refrigerated before serving, to make it firm and fresh.
This dessert is a real temptation for sweet lovers. It is a simple but exquisite dessert that combines contrasting textures and flavors. It is like a sweet and comforting hug that reminds us of childhood times and family parties.
Bolo de Bolacha is more than a cake: it is a culinary work of art that requires patience and dedication to assemble the perfect layers. It is a delight that makes us travel through the aromas of coffee and butter that envelop us in a cloud of pleasure. It is a cake that makes us happy.
In this blog post, I'll share with you my family's recipe for bolo de bolacha. It's been passed down through generations and has become a beloved staple in our home. I hope it brings as much joy to your family as it has to mine.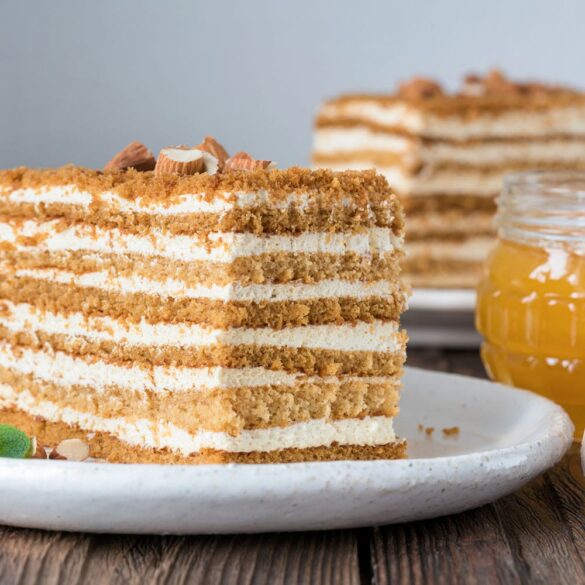 Ingredients
2 packages of marie biscuits (about 400 grams)
500 ml very strong coffee (hot)
1 egg yolk
1 cup of powdered sugar
1 cup of butter (at room temperature)
Instructions
Take the butter out of the fridge and let it come to room temperature. If you don't have time, put it in the microwave for a few seconds without letting it melt.
With the mixer, beat the butter until you get a fluffy and whitish cream.
Reduce the mixer speed and add the sugar.
Increase speed again and beat until fluffy and light.
Add the egg yolk and 2 tablespoons of liquid coffee.
Gently mix to combine the ingredients. Reserve.
Pour the coffee into a deep dish.
Soak the cookies in the coffee on both sides, one at a time.
Place the wet cookies on a tray making a layer.
Spread the layer with cream and smooth with a spatula.
Repeat the procedure until you run out of ingredients but save some cream to spread at the end.
With the remaining cream, spread the top and sides of the biscuit cake.
Sprinkle with crushed crackers.
Place in the fridge for at least 3 hours.
Remove from the fridge and serve.
Notes
To get the perfect Bolo de bolacha, the butter needs to be at room temperature. It should look soft but not melted.
If you like biscuit cake with an intense flavor, choose to use espresso coffee.
This recipe is also equally delicious if you opt for toasted biscuits instead of marie biscuits.
The longer it stays in the fridge, the more consistent and perfect the Bolo de bolacha will be. The minimum is 3 hours of cold but it is advisable to prepare it the day before it is to be consumed and let it rest overnight.
You can choose to beat the butter and sugar by hand. However, in addition to taking a lot more work, you won't be able to make the cream stay at the ideal point.
When soaking the biscuits in coffee, be careful not to allow them to become too soft.
Decorate the cake with grated cookie, melted chocolate or whipped cream according to your preference.
Bolo de Bolacha can last for about 3 to 4 days in the fridge if stored properly. You should wrap it tightly in plastic wrap or cover it with a lid to prevent it from drying out or absorbing other odors. If you want to keep it longer, you can freeze it for up to 3 months. Just make sure to thaw it in the fridge before serving.