Few typical dishes of Portuguese gastronomy will be as famous as Pastéis de Bacalhau. They are a perfect example of the culinary creativity of the Portuguese, authentic specialists in creating delicacies using simple and cheap ingredients.
There are many different recipes for pastéis de bacalhau, but we are sure that few will be as old and traditional as this one: it is over 120 years old but remains, nowadays, a real secret. It is up to us to publicize it and, for you, to keep it as original as possible.
The only certainty we have is that you will love the end result and will receive the highest praise from your family and friends. Learn how to make pastéis de bacalhau the old-fashioned way with this delicious (and very Portuguese) traditional recipe.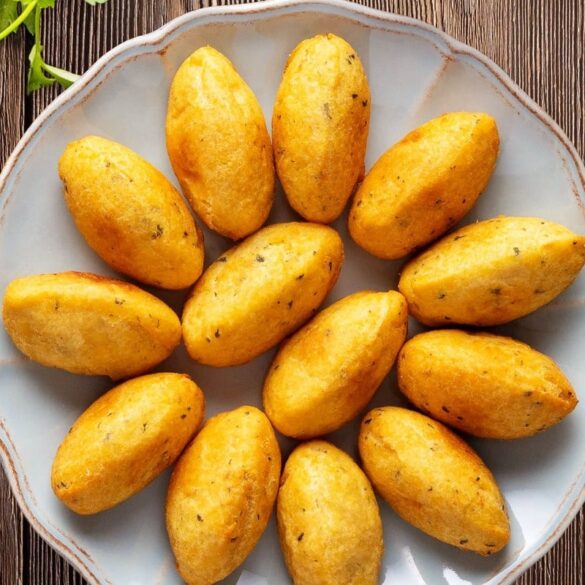 Ingredients
15 ounces of potatoes
12 ounces of dried and salted cod
6 eggs
1  parsley sprig (finely chopped)
3 minced garlic cloves
salt
pepper
Instructions
Boil the potatoes (with skin) until tender.
In a different pan, cook the codfish until tender.
When both are finished cooking, remove the cod bones and the potato skins.
Crush both ingredients in the vite pass (one at a time and without mixing).
When you have finished passing the cod through the vite pass, wrap it in a clean cloth and squeeze it well until it is well soaked (it should release as much water as possible).
Mix the cod and potatoes.
Add the minced sala, minced garlic, and egg yolks. Season with salt and pepper.
Beat the egg whites until stiff and add them to the previous mixture. Engage delicately.
NOTE: you can choose to add whole eggs, but if you beat the egg whites until stiff, the pastéis de bacalhau will be fluffier.
Stir until you get a homogeneous mixture.
With the help of 2 spoons, shape the dough to form the pastéis de bacalhau, which should be oval (you can also use just 1 spoon and your own hand).
Pour oil into a frying pan until it is enough for the pastéis de bacalhau to dip without touching the bottom.
Heat it up and, when it is very hot, fry the pastéis de bacalhau until they are golden.
Remove them from the skillet and place them on a plate with absorbent paper.
Serve.
Notes
This is a recipe that is over 120 years old. It is one of the oldest known of true Portuguese pastéis de bacalhau. We advise you to follow it without changes, but you can change some things, if you so wish.
You can season with white pepper instead of black pepper.
You can also add chopped onion to the ingredients list if you like.
Some people like to add a little milk. We warn, however, that this ingredient will sweeten the cod, creating a result that may not be the expected one and that may require changes in the amount of salt.
Speaking of salt… cod is naturally salty and therefore you should choose to add this ingredient in small amounts. In some cases, it may not even be necessary to add it.
You should fry a few pastéis de bacalhau at a time in the frying pan. If you fry too many at the same time they can get soggy.