As the holiday season approaches, my mind always turns to the delicious treats that my family and I enjoyed during this special time of year. One dessert that holds a special place in my heart is coscorões – a sweet and crispy Portuguese treat that's traditionally enjoyed during Christmas.
I have fond memories of helping my grandmother make coscorões in her cozy kitchen. She would patiently show me how to mix the dough, roll it out thinly, and cut it into the perfect shapes. Then we would fry them together until they were golden brown and dust them with powdered sugar and cinnamon.
The smell of frying dough and warm spices would fill the house, making everyone's mouth water in anticipation. And when we finally sat down to enjoy our coscorões with a cup of hot tea or coffee, it was pure bliss.
Coscorões are a simple yet delicious dessert that has been enjoyed by generations of Portuguese families. Made with just a few basic ingredients – flour, sugar, eggs, margarine, and orange juice – they are easy to prepare and can be customized with different flavors and spices.
In this blog post, I want to share with you my grandmother's recipe for coscorões – a recipe that has been passed down through our family for generations. I'll also share some tips and tricks for making perfect coscorões at home so you can enjoy this traditional Portuguese treat with your own family.
So let's get started on our journey into the delicious world of coscorões!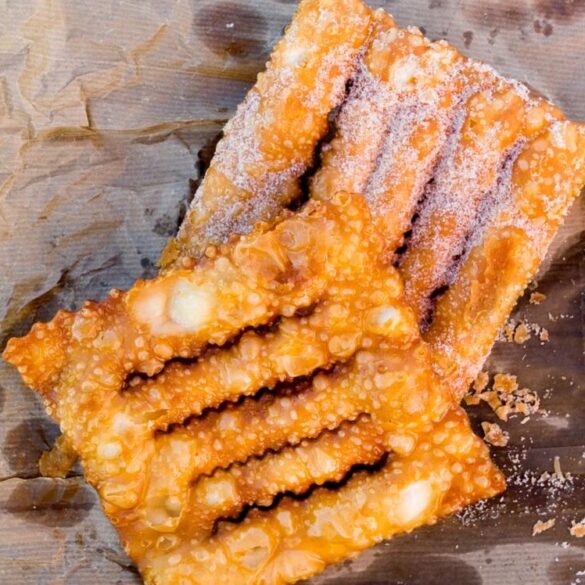 Ingredients
1 cup all-purpose flour
3 1/2 tablespoons softened margarine
2 tablespoons sugar
2 egg yolks
1 tablespoon orange juice
Water as needed
Powdered sugar and cinnamon for dusting
Flour for dusting
Oil for frying
Instructions
On a clean work surface, make a well in the center of the flour. Add the margarine, sugar, egg yolks, and orange juice to the well.
Knead the mixture well, gradually adding water until a smooth dough forms.
Shape the dough into a ball and place it in a bowl. Cover with a cloth and let it rest for 1 hour.
After the dough has rested, roll it out on a floured surface and cut it into rectangles or squares.
Make two cuts in each piece of dough and fry them in oil until golden brown on both sides.
Remove from the oil and let them drain. Dust with powdered sugar and cinnamon before serving.
Notes
You can experiment with adding other ingredients to this recipe. Some variations of coscorões include adding a splash of brandy or a pinch of lemon zest to the dough for extra flavor. You could also try adding spices such as nutmeg or cardamom to the sugar and cinnamon mixture used for dusting. Feel free to get creative and make the recipe your own!
Some recipes include adding brandy or port wine to the dough for extra flavor.
Coscorões are best eaten fresh, as they tend to lose their crispiness over time. However, if you have leftovers, you can store them in an airtight container at room temperature for a few days. To restore their crispiness, you can try reheating them in the oven for a few minutes before serving.
Yes, you can freeze coscorões. To do so, place them in a single layer on a baking sheet and freeze until solid. Then transfer them to an airtight container or freezer bag and store in the freezer for up to 3 months. When you're ready to serve them, let them thaw at room temperature for a few hours before reheating them in the oven to restore their crispiness.