Hi, friends! I'm so excited to share with you one of my favorite discoveries from my recent trip to Greece: tiganites! If you haven't heard of them before, you are in for a treat. Tiganites are the original Greek pancakes, and they are absolutely divine. They are light and fluffy, crispy on the edges, and drizzled with warm honey and chopped walnuts. They are the perfect way to start your day with a smile.
I first tried tiganites at my hotel in Athens, where they were served as part of the complimentary breakfast buffet. I was intrigued by the name and the appearance of these golden discs of goodness, so I decided to give them a try. And boy, am I glad I did. They were so delicious that I went back for seconds, and thirds, and maybe even fourths (don't judge me). I was hooked.
I asked the friendly waiter what they were called and how they were made, and he told me that they were tiganites, a traditional Greek breakfast dish that dates back to ancient times. He said that they were very easy to make with just a few ingredients: flour, yeast, water, salt, sugar, oil, honey, and walnuts. He even gave me a handwritten recipe on a napkin, which I still have as a souvenir.
I was so impressed by the simplicity and the flavor of these pancakes that I decided to make them at home as soon as I returned from my trip. And let me tell you, they turned out amazing. They tasted just like the ones I had in Greece, maybe even better (sorry, hotel chef). They were so easy to whip up with ingredients that I already had in my pantry, and they made my kitchen smell heavenly.
I'm not exaggerating when I say that tiganites are one of the best things that ever happened to me. They have become my go-to breakfast for any occasion: lazy weekends, busy weekdays, special celebrations, or just because. They always make me happy and satisfied. They are like little bites of sunshine on a plate.
And now, I want to share this happiness with you. In this blog post, I will show you how to make tiganites from scratch in less than 30 minutes. You will love how simple and tasty they are. You will also learn some interesting facts about the history and the variations of tiganites, as well as some tips and tricks to make them even better. Trust me, once you try them, you will never look at pancakes the same way again.
Are you ready to join me on this pancake adventure? Let's get started!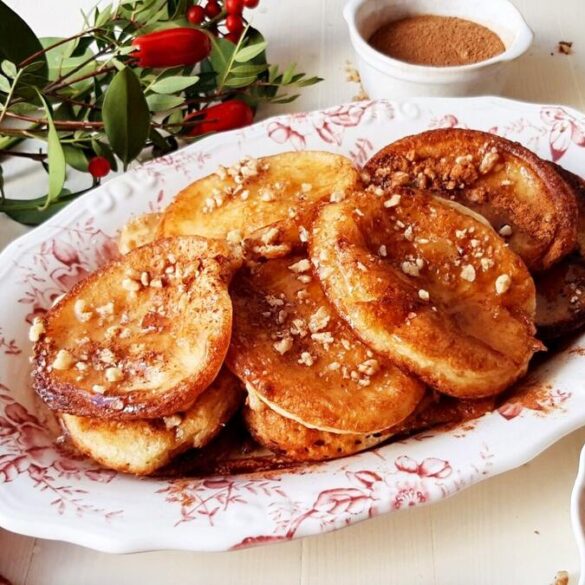 Ingredients
2 cups of all-purpose flour
1 teaspoon of dry yeast
1/2 teaspoon of salt
1 teaspoon of sugar
2 cups of lukewarm water
Oil for frying (I used canola)
1/2 cup of honey, warmed
Chopped walnuts for topping
Instructions
In a large bowl, whisk together the water and yeast until dissolved. Add the flour, salt, and sugar and whisk until smooth. The batter should be thin and runny.
Cover the bowl with plastic wrap and let it rest in a warm place for 15-20 minutes, or until bubbly.
Heat a large skillet over medium-high heat and add enough oil to coat the bottom. Drop about 2 tablespoons of batter per pancake into the hot oil, leaving some space between them. You should be able to fit 3-4 pancakes at a time.
Fry for about 2 minutes per side, or until golden and crisp on the edges. Transfer to a paper towel-lined plate to drain the excess oil. Repeat with the remaining batter.
Serve the tiganites hot, drizzled with honey and sprinkled with walnuts. Enjoy!
Notes
You can substitute some of the ingredients if you want to. For example, you can use almond milk instead of water for a creamier batter, or you can use maple syrup instead of honey for a different flavor.
You can also use different nuts or fruits for topping, such as pecans, almonds, or berries. Just keep in mind that the substitutions may affect the texture and taste of the final product, so experiment at your own risk.
Some other ways to customize this recipe are:

Adding some spices to the batter, such as cinnamon, nutmeg, or cardamom, for a warm and cozy flavor.
Adding some chocolate chips or cocoa powder to the batter, for a decadent chocolate version.
Adding some lemon zest or juice to the batter, for a bright and refreshing flavor.
Adding some cheese or ham to the batter, for a savory twist.
Serving the tiganites with whipped cream, yogurt, or ice cream, for a more indulgent treat.

The possibilities are endless! You can use your imagination and creativity to make this recipe your own. Have fun!