Pudim de Pão. Say it with me: poo-deem deh pow. It's a mouthful in more ways than one! This traditional Portuguese dessert is made from simple ingredients like bread, milk, eggs, and sugar, but the result is anything but ordinary. Pudim de Pão is a sweet and satisfying treat that's perfect for any occasion.
If you've never heard of Pudim de Pão before, you're in for a treat. This dessert is similar to bread pudding, but with a Portuguese twist. The bread is soaked in milk and then blended with eggs and sugar to create a smooth and creamy base. Some recipes also call for the addition of Port wine or other flavorings like cinnamon or vanilla.
One of the best things about Pudim de Pão is how versatile it is. You can use any type of bread you like – white, whole wheat, even croissants or brioche – and the pudding can be flavored in many different ways. Some people like to add fruit or nuts to the mixture, while others prefer to keep it simple with just a hint of vanilla or cinnamon.
Making Portuguese bread pudding at home is surprisingly easy. All you need are a few basic ingredients and a little bit of time. The pudding is cooked in a bain-marie (a fancy way of saying "water bath") to ensure that it cooks evenly and stays moist and tender. Once it's done, you can serve it warm or chilled, with your choice of toppings.
Pudim de Pão has been enjoyed in Portugal for centuries. It's a classic dessert that's often served at family gatherings and celebrations. The recipe has been passed down from generation to generation, with each family putting their own spin on the dish.
One of the reasons why Portuguese bread pudding is so popular is because it's a great way to use up leftover bread. In the past, when food was scarce and nothing could go to waste, people would use stale bread to make this delicious dessert. Today, we can enjoy Pudim de Pão anytime we want – no need to wait for the bread to go stale!
If you're ready to try making Portuguese bread pudding at home, we've got you covered. Our step-by-step recipe will guide you through the process and show you how easy it is to make this delicious dessert. And once you've mastered the basic recipe, you can start experimenting with different flavors and toppings to make it your own.
In this blog post, we'll take a closer look at Pudim de Pão and explore its history and flavors. We'll also share a step-by-step recipe so you can make this delicious dessert at home. So grab a spoon and let's dive into the world of Pudim de Pão!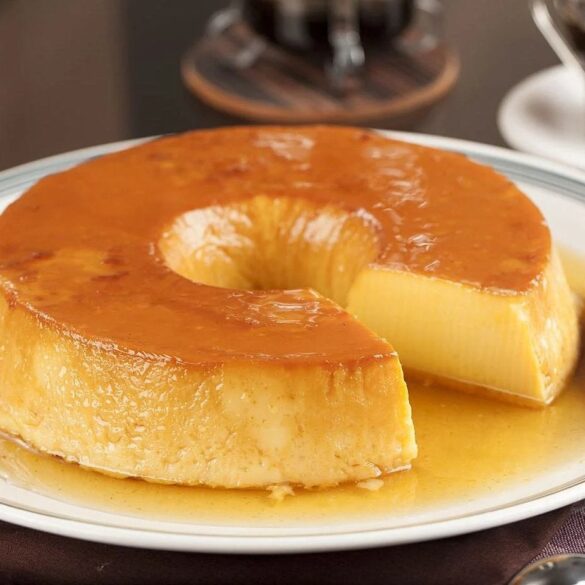 Ingredients
4 white bread rolls
4 large eggs
2 cups whole milk
1/2 cup Port wine
4 tablespoons granulated sugar
Instructions
Begin by preparing the pudding mold. Coat the inside with a layer of homemade or store-bought caramel.
In a medium saucepan, heat the milk until it comes to a boil. Remove from heat and sweeten with sugar to taste.
Soak the bread rolls in the warm milk until softened.
In a blender or food processor, blend the soaked bread and milk until smooth.
In a separate bowl, whisk together the eggs, sugar, and Port wine. Add the bread and milk mixture and stir to combine.
Pour the mixture into the prepared mold and cover with foil.
Place the mold in a large saucepan and fill with enough water to come halfway up the sides of the mold. This is called a bain-marie.
Bring the water to a simmer and cook for 45 minutes, or until the pudding is set.
Carefully remove the mold from the water and let cool completely before unmolding.
Serve chilled or at room temperature, garnished with your choice of toppings.
Notes
You can use other types of bread in this recipe. The important thing is to use bread that is a day or two old and has become slightly stale. This will help the bread absorb the milk and other flavors better. You can experiment with different types of bread to see which one you like best.
You can use other types of wine in this recipe. Port wine is a sweet fortified wine from Portugal that adds a rich flavor to the pudding. However, you can experiment with other types of wine to see which one you like best. You could try using a sweet dessert wine or a fruity red wine. Just keep in mind that the flavor of the pudding will change depending on the type of wine you use.
If you prefer not to use alcohol in your pudding, you can simply omit the Port wine from the recipe. Alternatively, you could try substituting the Port wine with another liquid that will add flavor to the pudding, such as fruit juice or a non-alcoholic dessert wine. Just keep in mind that the flavor of the pudding will change depending on what you use in place of the Port wine.
There are many toppings you can use to garnish your Portuguese bread pudding. Some popular options include: Whipped cream; Fresh fruit, such as berries or sliced peaches; A drizzle of caramel or chocolate sauce; A sprinkle of cinnamon or nutmeg; Chopped nuts, such as almonds or walnuts.
You can use one or a combination of these toppings to add extra flavor and texture to your pudding. Feel free to get creative and experiment with different toppings to find your favorite combination!