Hello everyone! Today I want to share with you a recipe that is very dear to my heart – Portuguese Tomato Rice, or as we call it in Portugal, "Arroz de Tomate Malandrinho". This dish is a staple in Portuguese cuisine and brings back so many memories of my childhood. I remember my mother cooking this dish for our family and the delicious aroma that would fill our home.
As a Portuguese woman living in the US, I often find myself craving the flavors of home. So, I decided to try and recreate my mother's recipe for Portuguese Tomato Rice. However, I quickly realized that finding one of the key ingredients – Carolino rice – was not going to be easy.
Carolino rice is a specific type of rice grown in Portugal that is known for its creamy texture and ability to absorb the flavors of the dish it is cooked in. It is an essential ingredient in this recipe and without it, the dish just wouldn't be the same.
I searched high and low in local markets and specialty stores but had no luck finding Carolino rice. I even tried ordering it online but it was always out of stock or unavailable for shipping to my location. I was starting to lose hope that I would ever be able to recreate my mother's recipe.
But then, something amazing happened. A friend of mine who knew about my search for Carolino rice told me about a small Portuguese market that had recently opened up in a nearby town. I was overjoyed and immediately made plans to visit the market.
When I arrived at the market, I was greeted by the friendly owner who showed me around and helped me find everything I needed. And there it was – Carolino rice! I was so happy that I almost cried. I bought several bags of rice and some other Portuguese ingredients that I had been missing.
With all the ingredients in hand, I finally set out to recreate my mother's recipe for Portuguese Tomato Rice. And let me tell you, it was a success! The dish turned out perfectly and tasted just like I remembered. It was such a special moment for me to be able to share this taste of home with my family here in the US.
So, if you're looking for a delicious and comforting dish to try, I highly recommend giving Portuguese Tomato Rice a try. And if you're struggling to find Carolino rice like I was, don't give up! Keep searching and you never know where you might find it.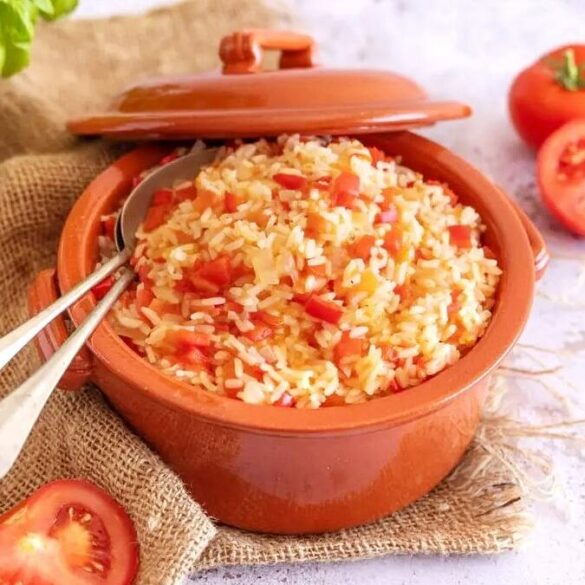 Ingredients
1 cup of carolino rice (mandatory);
3 cups of water;
2 ripe tomatoes;
1 medium onion, chopped;
2 cloves of garlic;
3 tablespoons of extra virgin olive oil;
Salt and pepper to taste;
Parsley or cilantro to taste.
Instructions
To make this delicious dish, start by chopping the onion and garlic.
Then peel the tomatoes and cut them into small cubes.
Heat the olive oil in a pan and sauté the onion and garlic until golden.
Add the tomato and cook until it starts to break down.
Next, add the rice to the pan and sauté for a few minutes until the grains are well coated with the tomato sauté.
Add water and season with salt and pepper.
Cook over low heat, with the pan half open half closed, until the rice is cooked and has absorbed most of the water (not all). Remember, the rice should be "Malandrinho", i.e., slightly moist.
Serve the "Malandrinho" Tomato Rice decorated with some chopped parsley or cilantro (to taste).
And there you have it - a delicious side dish that's sure to impress!
Notes
Add protein: To make this dish more filling and nutritious, you could add some protein such as chicken, shrimp or tofu. Simply cook the protein separately and then mix it in with the rice before serving.
Use fresh herbs: Fresh herbs such as parsley or cilantro can add a burst of flavor to this dish. Try chopping up some fresh herbs and mixing them in with the rice before serving.
Add some heat: If you like your food with a bit of a kick, try adding some red pepper flakes or diced jalapeño peppers to the recipe. This will give the dish a nice spicy flavor.
Use homemade stock: Instead of using water to cook the rice, try using homemade chicken or vegetable stock. This will add more depth of flavor to the dish and make it even more delicious.
Serve with a side salad: To make this dish into a complete meal, try serving it with a side salad. A simple green salad with a light vinaigrette dressing would be the perfect accompaniment to this flavorful rice dish.