Hey friends! Today I'm sharing with you one of my all-time favorite recipes: Garlic Chicken, or as it's known in Spain, Pollo al Ajillo. This classic dish is full of flavor and so easy to make at home. It's perfect for a weeknight dinner or for when you want to impress your friends and family with your cooking skills.
If you've never had Pollo al Ajillo before, you're in for a treat. This dish is made with tender pieces of chicken cooked in a delicious garlic sauce. The chicken is browned on the outside and juicy on the inside, and the sauce is rich and flavorful. It's the perfect combination of savory and satisfying.
One of the things I love about this recipe is how versatile it is. You can use your favorite parts of the chicken, whether it's drumsticks, wings, or breasts. You can also experiment with different spices and herbs to give the dish your own unique twist. And if you're feeling adventurous, you can even try making it with rabbit instead of chicken!
But don't worry if you're not an experienced cook. This recipe is super easy to follow and comes together in no time. All you need are a few simple ingredients and a little bit of patience. Trust me, the end result is totally worth it.
In this blog post, I'll walk you through the steps of making Pollo al Ajillo at home. I'll share with you my tips and tricks for getting the chicken perfectly browned and juicy, and for making a sauce that's packed with flavor. I'll also give you some ideas for side dishes that pair well with Garlic Chicken.
So if you're ready to try something new and delicious, let's get started on making some Pollo al Ajillo! By the end of this post, you'll be a pro at making this classic Spanish dish.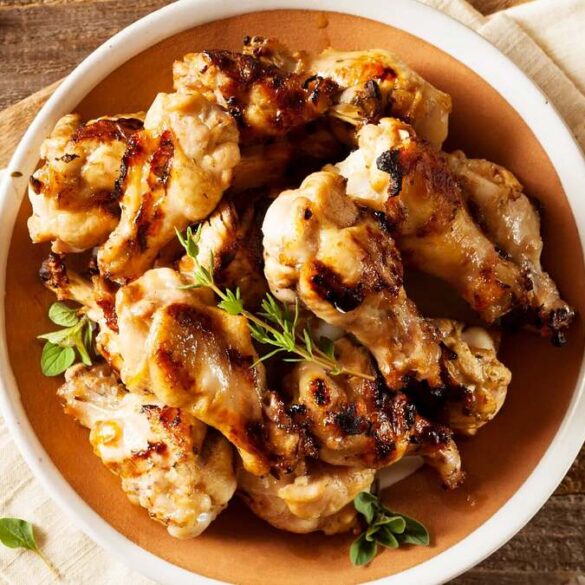 Ingredients
1 whole chicken (approx 3.75 lbs), cut into pieces
5 cloves of garlic
Extra virgin olive oil
Wheat flour
0.34 fl oz of lemon juice
2.11 cups of chicken broth
0.63 cups of sherry wine
1 bay leaf
Instructions
Start by heating some olive oil in a pan and frying some garlic cloves with their skin on until slightly toasted. Remove them from the pan and set aside.
Season the chicken pieces with salt and pepper and lightly coat them in flour. Fry them over high heat until they are nicely browned on the outside.
Remove some of the oil from the pan so the chicken isn't too greasy, then add the juice of half a lemon and stir to coat all the pieces.
To make the chicken super tender, add the chicken broth, sliced raw garlic cloves, and bay leaf to the pan. Let everything boil until almost all the broth has evaporated.
Finally, add the sherry wine and let it boil one last time.
Notes
Garlic Chicken pairs well with a variety of side dishes. Here are some suggestions:
Roasted vegetables: You can roast vegetables like carrots, potatoes, and Brussels sprouts in the oven with some olive oil, salt, and pepper for a simple and delicious side dish.
Rice: A side of rice is always a good option. You can cook it plain or add some herbs and spices to give it more flavor.
Salad: A fresh salad with greens, tomatoes, cucumbers, and a simple vinaigrette would be a great complement to the rich flavors of the Garlic Chicken.
Bread: Serve some crusty bread on the side to soak up all the delicious sauce from the chicken.
You can add vegetables like bell peppers, onions, or mushrooms to the pan when cooking the chicken to add more flavor and nutrition to the dish.
You can experiment with different spices and herbs to give the dish a unique flavor. For example, you could add some paprika, cumin, or thyme to the chicken before cooking it.
You can use different types of wine to deglaze the pan and add more flavor to the sauce. For example, you could use red wine instead of sherry wine for a richer flavor.
You can use red wine instead of sherry wine in the Garlic Chicken recipe. Red wine will give the dish a richer and deeper flavor. Simply substitute the same amount of red wine for the sherry wine in the recipe and follow the rest of the instructions as written.