Peixinhos da Horta: crispy, golden, and oh-so-addictive! These little green bean fritters are a traditional Portuguese dish that will have you coming back for more. Made with fresh green beans coated in a light and crispy batter, Peixinhos da Horta is the perfect appetizer or snack for any occasion.
If you've never tried Peixinhos da Horta before, you're in for a treat. The combination of tender green beans and crispy batter is simply irresistible. And the best part? They're surprisingly easy to make at home!
In this blog post, we'll show you how to make Peixinhos da Horta from scratch. We'll walk you through the process step-by-step and share our tips and tricks for getting the perfect texture and flavor.
Whether you're an experienced cook or a beginner in the kitchen, you'll be able to whip up a batch of these delicious fritters in no time.
But before we dive into the recipe, let's talk a little bit about the history of Peixinhos da Horta. This dish has been enjoyed in Portugal for centuries and is considered a classic of Portuguese cuisine.
The name "Peixinhos da Horta" translates to "little fish from the garden," which refers to the shape and appearance of the fritters.
This dish has an interesting connection to Japanese tempura, which is also made by coating vegetables, seafood, and other ingredients in batter and frying them.
The relationship between Peixinhos da Horta and Japanese tempura can be traced back to the 16th century when Portuguese sailors and traders first arrived in Japan. During this time, known as the Nanban trade period, the Portuguese introduced many new ingredients and cooking techniques to Japan, including the practice of deep-frying.
The Japanese were inspired by this technique and began to experiment with their own versions of battered and fried foods. Over time, they developed tempura, which has become one of the most famous and beloved dishes in Japanese cuisine.
Tempura is similar to Peixinhos da Horta in that it involves coating ingredients in batter and frying them until crispy. However, Japanese chefs have elevated this technique to an art form, using a wide variety of ingredients and creating delicate and intricate presentations.
Peixinhos da Horta is typically served as an appetizer or snack, often accompanied by a dipping sauce such as mayonnaise or aioli. It's also common to serve them with a side of tomato rice or a simple salad. No matter how you serve them, Peixinhos da Horta is sure to be a hit with your family and friends.
So if you're ready to discover the delicious flavors of Peixinhos da Horta, let's get started!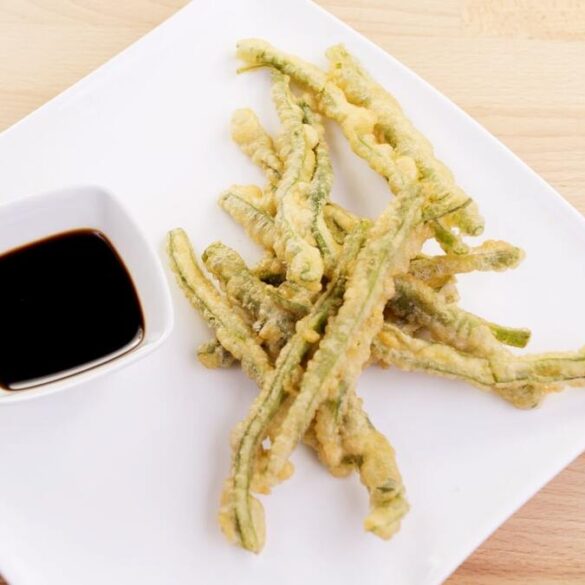 Ingredients
1.1 lbs of fresh green beans
3.5 oz of all-purpose flour
1 large egg
0.5 cups of water
1 teaspoon of baking soda
A splash of white wine or cider vinegar
Salt and pepper to taste
Oil or olive oil for frying
Instructions
Start by bringing a pot of salted water to a boil.
While you wait for the water to boil, wash your green beans and remove the string. Cut them in half lengthwise and in half widthwise to have smaller pieces.
Once the water is boiling, immerse the green beans and cook for 7 minutes, just until al dente.
After this time, drain immediately and immerse the colander where the beans are in ice water to cool quickly.
While the green beans are cooking, make the batter by mixing the flour, egg, baking soda, and salt and pepper to taste.
Add the water, half at a time and beat to have a batter without lumps, dense but fluid.
When frying, add a splash of vinegar to the batter and beat to combine.
Dip the beans in the batter and fry in hot oil or olive oil until golden brown and crispy.
Drain on paper towels and serve with mayonnaise and lemon wedges.
Notes
You can substitute some of the ingredients in the Peixinhos da Horta recipe. For example, you could use a gluten-free flour blend instead of all-purpose flour to make the batter gluten-free.
You could also experiment with using different types of vinegar or even lemon juice instead of white wine or cider vinegar. Additionally, you could try using different types of oil for frying, such as coconut oil or vegetable oil.
While green beans are the traditional ingredient used in Peixinhos da Horta, you could experiment with using other vegetables instead. Some options could include sliced zucchini, asparagus, or even carrot sticks. Just make sure to adjust the cooking time as needed depending on the vegetable you choose.
Peixinhos da Horta is a traditional Portuguese dish that can be served as an appetizer or with a side dish. One popular side dish to serve with Peixinhos da Horta is tomato rice.
You could also serve them with a salad or a dipping sauce, such as an avocado and yogurt sauce with smoked paprika, lemon juice, garlic, mustard, cilantro, salt, and pepper.
Peixinhos da Horta is traditionally made by frying the battered green beans in hot oil. While it is possible to cook them in the oven, the texture and flavor may be different from the traditional fried version.
If you would like to try cooking Peixinhos da Horta in the oven, you could try coating the battered green beans in breadcrumbs and baking them on a greased baking sheet at a high temperature until crispy and golden brown. You could also try spraying them with cooking spray before baking to help them crisp up.
Keep in mind that the results may vary and it may take some experimentation to achieve a texture and flavor that you like.