Bacalhau Gratinado is a traditional Portuguese dish that's perfect for a comforting meal. Made with salted cod, peppers, onions, and herbs, it's a delicious and satisfying dish that's sure to impress.
In this blog post, we'll show you how to make Bacalhau Gratinado at home. We'll walk you through the steps and share our tips and tricks for creating this delicious dish. Whether you're new to cooking or an experienced home chef, you'll find that this recipe is easy to follow and produces amazing results.
Bacalhau Gratinado is a dish that's steeped in tradition. In Portugal, it's often served during special occasions such as Christmas and Easter. But it's also a popular dish for everyday meals. It's hearty and filling, making it the perfect comfort food.
One of the key ingredients in Bacalhau Gratinado is salted cod. This type of fish has been preserved in salt, giving it a unique flavor and texture. Before using it in the recipe, you'll need to soak the cod in water for at least 24 hours to remove excess salt and rehydrate the fish.
In addition to the cod, this recipe also calls for peppers, onions, garlic, and herbs. These ingredients add flavor and depth to the dish. You can experiment with different herbs and spices to find the combination that you like best.
Once you've gathered all your ingredients, it's time to start cooking. The first step is to boil the cod and eggs. Then you'll sauté the onions and garlic in olive oil until they're soft. Next, you'll add the peppers and cooked cod to the pan along with oregano and parsley or coriander.
After everything has cooked together for a few minutes, you'll add chopped boiled eggs and mayonnaise to the pan. Mix everything together gently and then pour it into a baking dish. Bake until well browned and then serve with boiled potatoes or mashed potatoes.
We hope this blog post has inspired you to try making Bacalhau Gratinado at home. It's a delicious and comforting dish that's perfect for any occasion. Give it a try and let us know what you think!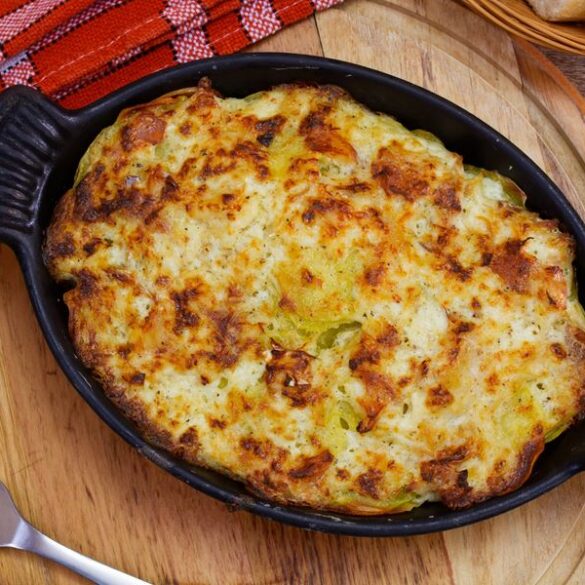 Ingredients
2.2 lbs of soaked cod
3 eggs
1 red pepper
1 green pepper
3 onions
3 cloves of garlic
0.85 cups of olive oil
6 tablespoons of mayonnaise
1 teaspoon of oregano
1 bunch of chopped parsley or coriander
Olives as needed
Salt and pepper as needed
Instructions
Start by boiling the cod and eggs. Once done, drain and clean the cod of skins and bones, flaking it.
Next, peel the onions and garlic and chop them up. Wash the peppers, cut them in half, remove the seeds and white skins and cut them into strips or small cubes.
Heat up a pan with olive oil and add the onion and garlic. Stir it around and cook until the onion starts to soften.
Add in the pepper and cooked cod, mix it all together, then add the oregano and half of the chopped parsley (or coriander). Mix it all together again and cook over low heat.
Preheat your oven to 356°F.
Chop up the boiled eggs and add them to the pan with the cod. Also add in the mayonnaise and mix gently.
Adjust the salt to taste, season with a pinch of pepper, then pour everything into a clay or pyrex dish and spread it out evenly.
Pop it in the oven until well browned. Once done, remove from oven, sprinkle with the rest of the parsley (or coriander) and decorate with olives.
Notes
When choosing salted cod for this recipe, there are a few things to keep in mind. First, look for cod that has been evenly salted and has a firm texture. The flesh should be white and have a fresh smell. Avoid cod that has a yellowish color or a strong odor.
It's also important to choose cod that has been sustainably sourced. Look for certifications such as the Marine Stewardship Council (MSC) or the Aquaculture Stewardship Council (ASC) to ensure that the cod you're buying has been responsibly caught or farmed.
Once you've chosen your salted cod, make sure to soak it in water for at least 24 hours before using it in the recipe. This will help to remove excess salt and rehydrate the fish. Change the water several times during the soaking process to ensure that all the salt is removed.
You can substitute some of the ingredients in this recipe to suit your taste or dietary needs. For example, you could use a different type of fish instead of cod, or use a different type of oil instead of olive oil.
You could also experiment with different herbs and spices to add more flavor to the dish. Just keep in mind that making substitutions may change the final result of the recipe.
There are many herbs and spices that you can use to add flavor to this Gratin Cod recipe. Some options could include thyme, rosemary, basil, dill, or tarragon.
You could also try adding spices such as paprika, cumin, or coriander. It's all about experimenting and finding the flavors that you enjoy the most.