Hello friends! Today I'm sharing with you one of my favorite soups ever: khao poon. It's a traditional dish from Laos and northern Thailand that is often served at weddings and festivals. It's also known as Lao laksa or khao soi in some regions. And it's absolutely delicious!
Khao poon is a spicy red curry soup with tender chicken, chewy rice noodles, crunchy vegetables and fresh herbs. It's easy to make with pantry staples and customizable to your taste. Plus, it's gluten-free and dairy-free!
I first tried khao poon at a Lao restaurant in Minneapolis and I was blown away by the flavors and textures. It was creamy, spicy, tangy and savory all at once. It was also very filling and satisfying. I knew I had to recreate it at home.
After doing some research online and consulting with some Lao friends, I came up with this recipe that I think is pretty close to the original. Of course, you can tweak it to your liking by adding more or less curry paste or red chili flakes for spiciness, fish sauce or lime juice for saltiness and acidity, or any other toppings you prefer.
The key ingredients for khao poon are:
Red curry paste: This is what gives the soup its distinctive color and flavor. You can find it at most Asian grocery stores or online. You can also make your own if you're feeling adventurous.
Coconut milk: This adds richness and creaminess to the soup. You can use full-fat or light coconut milk depending on your preference.
Chicken broth: This forms the base of the soup along with the coconut milk. You can use homemade or store-bought chicken broth or stock.
Aromatics: These include lemongrass, galangal and kaffir lime leaves that infuse the broth with their fragrant flavors. You can also use ginger instead of galangal if you can't find it.
Chicken: You can use chicken breasts or thighs for this recipe. You cook them in the broth until tender and then shred them into bite-sized pieces.
Rice noodles: These are thin noodles made from rice flour that are gluten-free and easy to cook. You can find them at most Asian grocery stores or online.
Toppings: These are what make khao poon so fun and delicious. You can use any combination of bean sprouts, cabbage, carrot, cilantro, mint, scallion, lime wedges, fish sauce, or anything else you like.
That's it! You have a warm, cozy, and comforting meal that will make you happy and satisfied. I hope you give this khao poon recipe a try and let me know how you like it in the comments below! It's perfect for a weeknight dinner or a weekend treat. Enjoy! 😋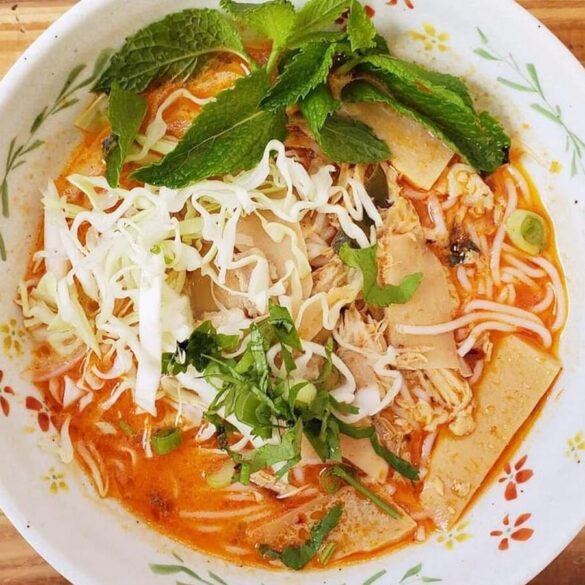 Ingredients
4 cups of water
4 cups of chicken broth
4 chicken breasts
1 piece of galangal
A few kaffir lime leaves
2 stalks of lemongrass smashed
Salt and pepper to taste
2 tablespoons of vegetable oil
4 tablespoons of red curry paste
2 cans of coconut milk (13.5 oz each)
2 tablespoons of brown sugar
2 tablespoons of fish sauce
Cooked rice noodles (about 14 oz)
Chopped vegetables (bean sprouts, cabbage, carrot, etc.)
Chopped fresh herbs (cilantro, mint, scallion, etc.)
Fish sauce or lime to serve
Instructions
In a large pot over high heat, bring the water and chicken broth to a boil. Add the chicken breasts, galangal, kaffir lime leaves, lemongrass, salt, and pepper. Reduce the heat to low and simmer for about 30 minutes or until the chicken is cooked through. Skim off any foam that rises to the surface.
Transfer the chicken to a cutting board and let it cool slightly. Shred it with two forks or your fingers. Set aside. Strain the broth through a fine-mesh sieve into another pot or bowl. Discard the solids.
In another large pot over medium-high heat, heat the oil. Add the curry paste and cook, stirring frequently, for about 5 minutes or until fragrant.
Stir in one can of coconut milk and bring to a boil. Reduce the heat to low and simmer for about 10 minutes or until slightly thickened.
Stir in the brown sugar, fish sauce, and half of the reserved broth (about 4 cups). Taste and adjust seasoning if needed.
Divide the cooked rice noodles among four bowls. Ladle some soup over each bowl and top with shredded chicken, chopped vegetables, and fresh herbs. Serve with fish sauce or lime juice if desired.
Notes
You can add some other ingredients to this recipe to make it your own. Just make sure to add them at the right time so they don't overcook or lose their texture.
For example, you can add bamboo shoots and mushrooms along with the coconut milk and broth, tofu and shrimp towards the end of cooking, and hard-boiled eggs, fried shallots and roasted peanuts as toppings.
Khao poon is best enjoyed fresh, but you can store it for later if you have leftovers. Here are some tips on how to store khao poon:
Store the soup base and the noodles separately in airtight containers in the refrigerator for up to 3 days.
Store the toppings (vegetables, herbs, etc.) separately in ziplock bags or containers in the refrigerator for up to a week.
To reheat, warm up the soup base in a pot over medium heat until simmering. Cook the noodles according to package directions or microwave them for a few seconds until soft. Assemble your bowl with noodles, soup and toppings as desired.
You can also freeze the soup base and the noodles for up to 3 months2. Just make sure to thaw them completely before reheating.