If you are looking for a simple yet elegant appetizer to serve at your next dinner party, look no further than mejillones al ajillo. These Spanish garlic mussels are a classic tapa that can be found in many bars and restaurants across Spain. They are cooked in a fragrant sauce of olive oil, garlic, white wine and herbs, and served with crusty bread to soak up all the delicious juices.
They are also sustainable and affordable seafood options that can be easily found at your local market or grocery store. When buying fresh mussels, look for ones that are tightly closed or that close when tapped lightly. Avoid any that are cracked, broken or have a bad smell.
To prepare mejillones al ajillo, you will need to clean the mussels first by soaking them in cold water with salt for about 20 minutes. This will help them expel any sand or grit that may be inside their shells. Then rinse them well under running water and scrub off any dirt or debris with your hands or a brush.
You will also need to remove the beard, which is a fibrous filament that sticks out of the shell. You can do this by pulling it gently with your fingers or a knife.
Once you have cleaned the mussels, you can start cooking them in a large skillet over medium-high heat. Add some olive oil and sliced garlic and cook until the garlic is golden but not burned. Then add some white wine, bay leaf, red pepper flakes and salt and bring to a boil. Add the mussels and cover with a lid. Cook until they open up, about 10 minutes, shaking the pan occasionally.
Discard any mussels that do not open after cooking. Transfer the mejillones al ajillo to a large platter or bowl and sprinkle with some chopped parsley for garnish. Serve hot with plenty of bread to dip into the sauce. Enjoy this wonderful dish with your family and friends!
I hope you will try this recipe soon and let me know how you like it! Mejillones al ajillo are one of my favorite appetizers to make when I want to impress my guests with minimal effort and maximum flavor!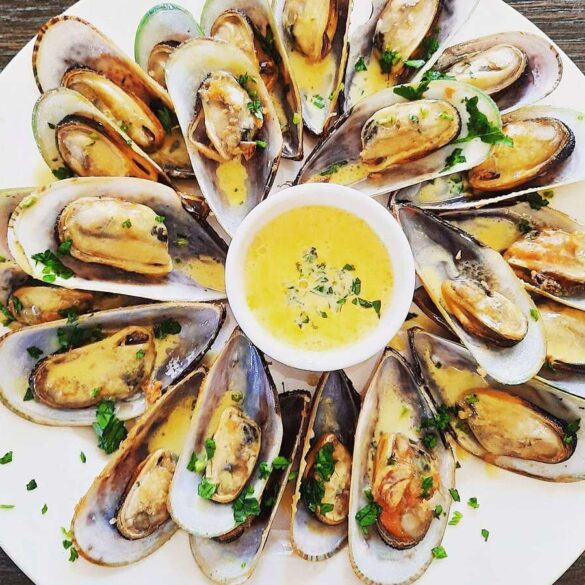 Ingredients
2 pounds of mussels
7 or 8 cloves of garlic
1/4 cup of white wine
1 pepper or cayenne
Water
Salt
Olive oil
Chopped parsley
Instructions
Wash the mussels well and remove the beards. Discard any that are open or broken.
In a large pot, place the mussels with some water and salt and bring to high heat until they open. Drain and reserve the broth.
In a skillet, heat the olive oil and fry the garlic slices and pepper over low heat until golden. Be careful not to burn the garlic.
Add the white wine and let it reduce a little. Then add a cup of the mussel broth and let it boil for a few minutes until slightly thickened.
Place the mussels in the skillet and mix well with the sauce. Sprinkle with chopped parsley and serve hot.
Notes
Place the mussels in a large bowl with cold water and salt and soak them for about 20 to 30 minutes. This will make them breathe and expel the sand and salt that may be inside the shells.
Discard any mussels that are open or broken. They may be dead or spoiled and are not safe to eat.
Transfer the mussels to a colander and rinse them well under running water. Use your hands or a clean brush to scrub off any dirt like seaweed, sand, barnacles or mud spots that may be on the shell.
Remove the beard from the mussels. The beard is a fibrous filament that comes out of the shell and serves for the mussel to attach itself to surfaces. To remove it, hold the mussel with one hand and pull the beard with the other hand or with a small knife. Do this gently so as not to damage the mussel.
Place the cleaned mussels in a large bowl with cold water and ice until ready to cook. This will keep them fresh and alive for longer.
Before cooking, check again if all mussels are closed. If any are open, give them a light tap on their shell against your sink or counter top . If they close up , they're good for cooking . If they don't close up, discard them.