There are few things in life more comforting than a big, cheesy slice of lasagna. It's the ultimate comfort food that's perfect for any night of the week. But sometimes, you want to switch things up and try something new. That's where this Chorizo Lasagna comes in.
This recipe takes the classic lasagna that we all know and love and adds a spicy twist with the addition of chorizo. The result is a flavorful and satisfying dish that's sure to impress. Plus, it's super easy to make!
The key to this recipe is the chorizo. It adds a depth of flavor that you just can't get from regular ground beef. And when combined with the other ingredients like crushed tomatoes, bell peppers and mushrooms, it creates a sauce that's simply irresistible.
But don't worry, this recipe isn't all about the chorizo. There's still plenty of cheese to go around! We use a combination of grated Parmesan and mozzarella to create that ooey-gooey goodness that we all love in lasagna.
One of the best things about this recipe is how easy it is to make. You start by sautéing the chorizo with some garlic and veggies. Then you brown some ground beef in another pan and add it to the chorizo mixture along with some crushed tomatoes. Layer everything up with some pre-cooked lasagna sheets and cheese, and you're good to go!
This Chorizo Lasagna is perfect for any occasion. It's great for a weeknight dinner when you want something comforting and delicious. But it's also fancy enough to serve at a dinner party or potluck. Trust us, your guests will be impressed!
So if you're looking for a new twist on a classic dish, give this Chorizo Lasagna recipe a try. It's cheesy, saucy, and packed with flavor. What more could you want?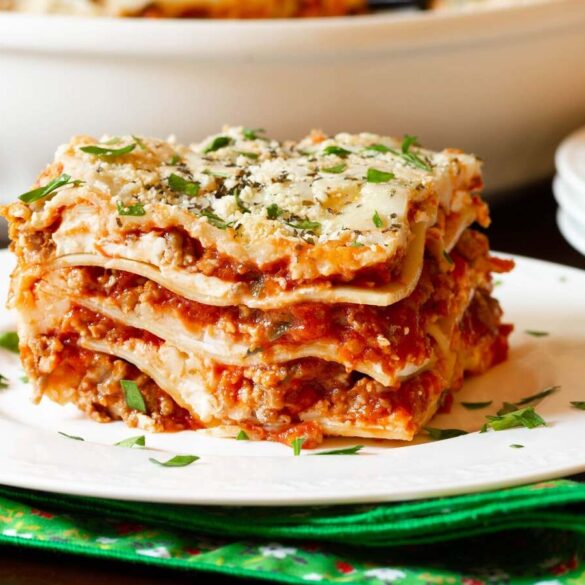 Ingredients
10 sheets of pre-cooked lasagna pasta
1 can (14 oz) of crushed tomatoes
1/2 bag of grated Parmesan cheese
10 fresh mushrooms
1.1 lbs of ground beef
1 green bell pepper
1 red bell pepper
1 finely chopped onion
3 cloves of garlic, chopped
1/2 string of chorizo, chopped
Salt and black pepper to taste
2 tablespoons of butter
Instructions
Start by heating up some extra virgin olive oil in a frying pan and browning the chopped garlic cloves. Then add the well-chopped chorizo and sauté for about 5 minutes.
Next, add the chopped onion, bell peppers and mushrooms. Give everything a good stir and let it cook for a few minutes.
In another frying pan, brown a clove of garlic and the onion in olive oil. Add the seasoned ground beef and stir well.
Once the beef is browned, add the previously prepared chorizo sauce and crushed tomatoes. Stir well and cook for about 10 minutes over medium heat.
Now it's time to assemble the lasagna! In an oven-safe dish greased with butter, place half of the lasagna sheets covering the bottom. Fill on top with the prepared sauce.
Place the remaining lasagna sheets on top and sprinkle with grated Parmesan cheese.
Preheat the oven to 425°F for about 10 minutes and cook for another 30 minutes or so until the cheese is golden brown.
Notes
There are many ingredients you can add to this recipe to make it your own! Here are some ideas:
Vegetables: You can add other vegetables such as zucchini, eggplant, spinach or carrots to the sauce for added nutrition and flavor.
Cheese: You can experiment with different types of cheese such as mozzarella, ricotta or feta for a different taste and texture.
Herbs and spices: You can add herbs such as basil, oregano or thyme to the sauce for added flavor. You can also add spices such as cumin or paprika for a little kick.
There are many side dishes that would go well with this Chorizo Lasagna. Here are some ideas:
Salad: A fresh green salad with a simple vinaigrette would be a great way to balance out the richness of the lasagna.
Garlic bread: Garlic bread is always a crowd-pleaser and would be a great accompaniment to this lasagna.
Roasted vegetables: You could roast some vegetables such as zucchini, eggplant or bell peppers to serve alongside the lasagna for added nutrition and flavor.
These are just a few ideas to get you started. Feel free to experiment and find the perfect side dish to complement your Chorizo Lasagna!