Chipa Guazú is a traditional dish from Paraguay that's absolutely delicious and perfect for any occasion. It's a cheesy corn cake that's easy to make and packed with flavor. In this post, I'm going to share with you my recipe for this amazing dish and show you how to make it at home.
Paraguay is a country with a rich culinary heritage and Chipa Guazú is one of its most beloved dishes. It's made with fresh corn, cheese, milk, and eggs and is baked to perfection. The result is a savory cake that's cheesy, moist, and oh so satisfying.
One of the things I love about Chipa Guazú is how versatile it is. You can serve it as a side dish or enjoy it on its own as a tasty snack. It's also great for breakfast or brunch and can be enjoyed warm or cold. And because it's made with simple ingredients, it's easy to make at home.
In this post, I'm going to show you how to make Chipa Guazú from scratch. We'll start by grating the corn and sautéing the onions. Then we'll mix everything together with the eggs, milk, and cheese to create a smooth batter. Finally, we'll bake the cake until it's golden brown on top and perfectly cooked inside.
But before we get started on the recipe, let me tell you a bit more about Chipa Guazú and its origins. This dish has been enjoyed in Paraguay for generations and is an important part of the country's culinary heritage. It's made using fresh corn, which is abundant in Paraguay and is an important staple in the local diet.
The word "chipa" comes from the Guarani language and refers to a type of bread or cake made with cornmeal or cassava flour. "Guazú" means "big" or "large" in Guarani, so "Chipa Guazú" literally means "big chipa." And that's exactly what this dish is: a big, cheesy corn cake that's perfect for sharing with family and friends.
So if you're ready to discover the delicious world of Chipa Guazú, let's get started!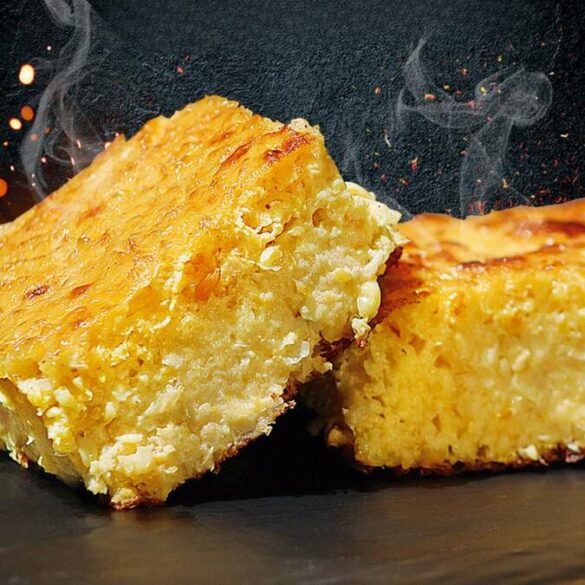 Ingredients
8 ears of corn (fresh)
4 eggs
8.8 ounces of cheese
1 cup of milk
2 onions
1 pinch of salt
1 pinch of pepper
Instructions
Start by grating the corn in a deep container using the thickest part of the grater. Set it aside for later.
Next, sauté the finely chopped onions in a pan with hot neutral oil until they become transparent and do not change color.
Once the onions are ready, add them to the grated corn and mix everything together.
Add the eggs to the mixture and mix well to combine.
Pour in the milk and continue mixing until you have a smooth batter.
Crumble the cheese with your hands and preheat your oven to 350°F.
When the oven is hot, add the cheese to the batter and mix well.
Pour the batter into a greased baking sheet (can be with oil or lard) and bake in the middle of the oven for about 35 minutes or until golden brown on top.
Notes
You can make this recipe with canned corn. If you're using canned corn, you can use a food processor to grind the corn kernels instead of grating them. Just add the milk little by little while processing the corn. The rest of the recipe remains the same.
The type of cheese used in traditional Chipa Guazú recipes can vary. Some recipes call for a specific type of cheese, such as Paraguayan cheese or Queso Paraguay, while others simply call for a generic "cheese." If you can't find Paraguayan cheese, you can use a mild white cheese that melts well, such as mozzarella or Monterey Jack.
Chipa Guazú is a versatile dish and you can add other ingredients to the recipe to suit your taste. Some variations of the recipe include adding diced bell peppers, chopped fresh herbs such as parsley or cilantro, or even diced cooked ham or bacon. You can also experiment with different types of cheese to find the combination that you like best.
Leftover Chipa Guazú can be stored in an airtight container in the refrigerator for up to 3 days. To reheat, you can place it in the oven at 350°F for about 10 minutes or until heated through. You can also reheat individual slices in the microwave for a quick snack.
you can make this recipe ahead of time. You can prepare the batter and pour it into the baking dish, then cover it with plastic wrap and refrigerate it for up to 24 hours before baking. When you're ready to bake it, just remove the plastic wrap and bake as directed in the recipe.